Mikolas solid, but Rangers let lead slip away
Orioles rally behind Flaherty's homer off Cotts in bottom of seventh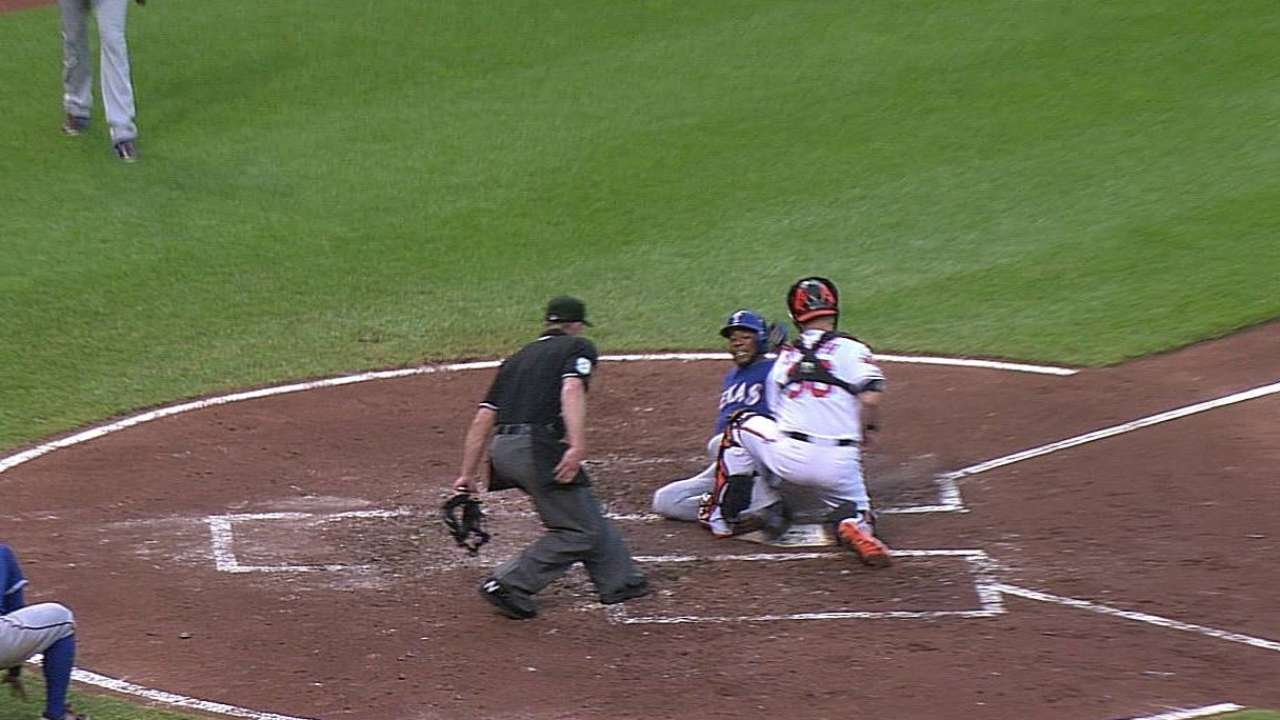 BALTIMORE -- Miles Mikolas was terrific for five innings in his first start for the Rangers on Wednesday night. Then everything unraveled with one out in the sixth, the Rangers saw their three-run lead slip away and their latest losing streak is now at four games.
The final blow was a seventh-inning home run by Ryan Flaherty off reliever Neal Cotts that gave the Orioles a 6-4 victory over the Rangers at Camden Yards. The Rangers have also lost 13 of their last 16 games.
"A bad day," said reliever Jason Frasor, who couldn't stop the sixth-inning bleeding when the Orioles rallied to tie the score. "We didn't do our job. I made it hard on Neal because I let our momentum slip away."
The game was stopped at 9:11 p.m. CT by light and intermittent showers plus the threat of heavy storms in the Baltimore area. It finally started raining hard at 10:05 p.m. CT.
"It was a lot of fun to be out there," Mikolas said. "I thought I pitched a pretty good game until the sixth. Things didn't go our way after that."
The Rangers let this one get away after Mikolas was given a 4-0 lead after three innings and seemed ready to make it stand. Mikolas gave up a one-out home run to Adam Jones in the fourth before retiring the next six batters. Four of them were on strikeouts. Then Mikolas did what he had not been doing at Triple-A.
He walked the next two batters. Mikolas had walked just three batters in 44 2/3 at Triple-A. Using that as a warning sign, manager Ron Washington went to the bullpen and brought in Frasor.
"He hadn't thrown that many balls the whole game," Washington said. "He was losing it. It was hot out there and I felt he was losing it. He did a great job. At that point, I brought in the two best guys I have, they just didn't get it done."
Frasor started out by moving up the runners to second and third with a wild pitch. Jones brought home a run with a sacrifice fly and Nelson Cruz drove in another with a line-drive single off the left-field wall. After Chris Davis walked, J.J. Hardy grounded a single up the middle that ticked off shortstop Elvis Andrus' glove as he tried to make a diving stop. Cruz scored to tie the game.
"I threw fastballs that started outside and then came back across the plate," Frasor said.
Cotts took over in the seventh but Flaherty hit a 3-1 fastball over the right-field wall to put the Orioles ahead. Cotts retired the next two hitters but walked Steve Pearce with one out. A balk moved him to second and he scored on a broken bat single by Jones.
"I threw a fastball and it caught the corner," Cotts said of the home run. "It was a little up, not down, down. Obviously he was sitting on a fastball and hit it a long way. It got ugly there in the seventh and I didn't help myself with a walk and the balk."
The Rangers gave Mikolas a lead before he threw his first pitch against Orioles starter Chris Tillman. Shin-Soo Choo led off with a single and scored on a pair of two-out singles by Adrian Beltre and Alex Rios.
Choo also started another rally in the third inning by drawing a leadoff walk. With Andrus at the plate, the Rangers went with the hit and run on the first pitch. Andrus swung at a pitch over his head, fouled it off and apparently caught catcher Caleb Joseph's glove. The play was ruled catcher's interference, only after Orioles manager Buck Showalter requested the umpires discuss the play among themselves and then forcibly disputed their conclusion that the play stood as called.
After Carlos Pena flied out, Beltre doubled down the right-field line and two runs scored. Beltre went to third on Rios' ground out up the middle and scored on Leonys Martin's infield single.
T.R. Sullivan is a reporter for MLB.com Read his blog, Postcards from Elysian Fields and follow him on Twitter @Sullivan_Ranger. This story was not subject to the approval of Major League Baseball or its clubs.