Padres sweep Reds behind Ross' shutout
Young righty allows just three baserunners; Rivera plates three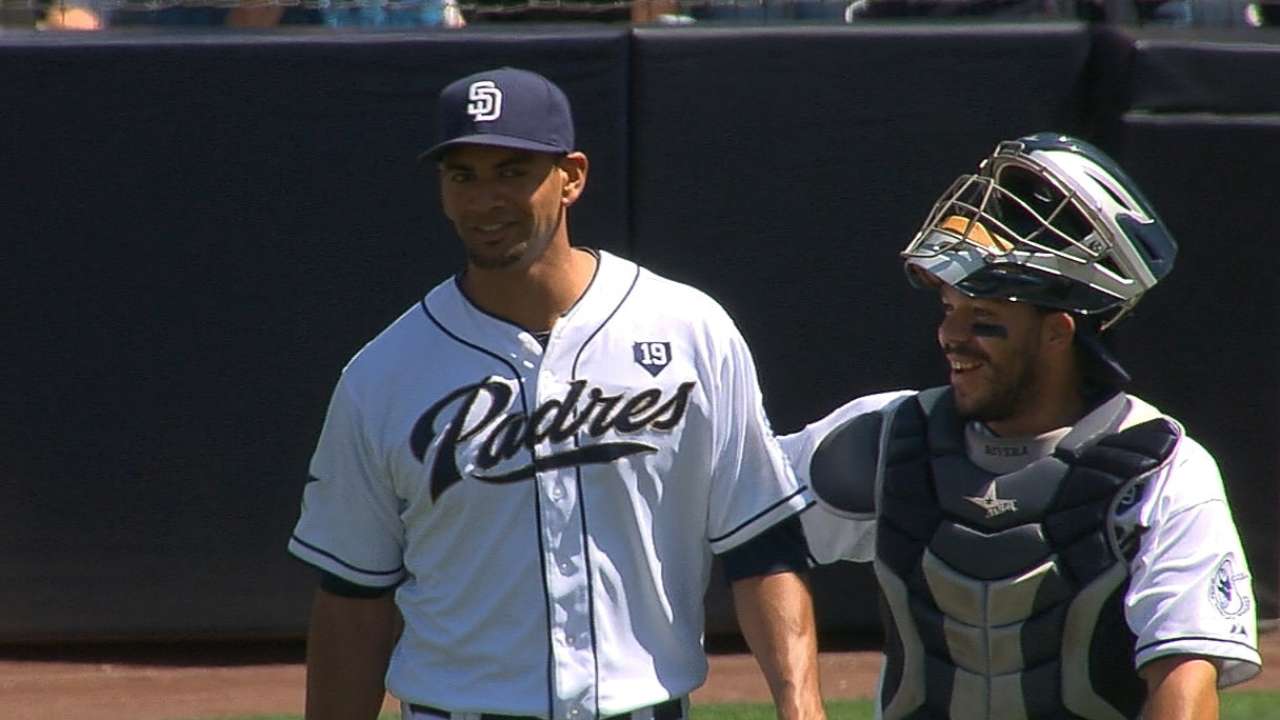 SAN DIEGO -- After getting hung out to dry by the Padres' offense in June, Tyson Ross finally got some early run support on Wednesday and responded by pitching the first shutout of his career to lead San Diego past Cincinnati in a 3-0 win that clinched the team's first three-game sweep of 2014.
Ross struck out nine, walked none and allowed just three hits to pick up his first win since May 31. The right-hander, who's usually reliant on his slider as an out pitch, instead dominated with his fastball that regularly touched 95 mph on the radar gun.
"I had great fastball command today, better than I've had all season," Ross said. "I really just kind of rolled with that and mixed in some sliders and changeups as well."
Ross threw 120 pitches, 87 of which were strikes. In his first full season as a starter, he's given up two earned runs or less in 12 of his 18 starts.
"I think today was a game where I think he really smelled the finish line," said Padres manager Bud Black. "We've talked about that, Tyson and I, that there was gonna come a time for this game. … We talked just briefly after the eighth and there was no doubt in my mind that he was going to go back out there and put a zero up."
Cincinnati came into San Diego riding a five-game winning streak having swept the National League West-leading Giants in four games, but now ends its West Coast road trip on a three-game skid that included two shutouts. The Padres, meanwhile, have won four in a row. San Diego finishes with a 5-1 record against Cincinnati in 2014.
Johnny Cueto was MLB's ERA leader (1.88) heading into the contest, but San Diego staked out a 3-0 lead against him in the first frame.
The Padres loaded the bases with singles by Chris Denorfia and Chase Headley and a Tommy Medica walk. Rene Rivera brought them all home with a two-out single to center that bounced off the glove of a diving Billy Hamilton, providing the only scoring play of the game.
"That at-bat, I didn't want to try to do too much because he's such a good pitcher," Rivera said. "I wasn't trying to swing hard, I just wanted to put the ball in play."
Ross certainly was due for some offensive support after the Padres scored just one run while he was on the mound in the entire month of June -- a run that came via a sacrifice fly by Ross himself, no less.
Cueto held the Padres scoreless for the rest of his outing to keep his ERA at a tidy 1.99. He allowed seven hits and three runs in seven innings, with three walks and eight strikeouts.
"Tyson made [the lead] hold up against the guy [Cueto] that's probably gonna start the All-Star Game," Black said. "That's what I like -- this guy's probably going to start the All-Star Game, and Tyson outpitched him."
Seth Smith, who signed a two-year, $13 million contract extension Wednesday morning, appeared to give the Padres a fourth run on a double in the fourth inning.
But after the run was initially put on the scoreboard to give San Diego a 4-0 lead, Reds third baseman Ramon Santiago stepped on the bag and Irving Falu was called out for missing third base as he wheeled home. Black challenged, but replay confirmed the call and Smith's hit was changed to a single.
Todd Frazier had two singles for Cincinnati, and Brayan Pena had a double. But that was all the Reds could muster against Ross, who's now given up just two runs in 25 innings against the Reds over his career.
"He kept most of us off balance," Frazier said. "I'm glad I got the two hits, but nobody was on. … We still got zero on the board. You can't really say too much about it."
The Padres are off on Thursday before heading into the end of their nine-game homestand with a three-game series against San Francisco that starts on Friday.
Will Laws is an associate reporter for MLB.com. This story was not subject to the approval of Major League Baseball or its clubs.