Reds silenced by Ross, Padres in finale
Cueto tosses seven strong innings, but bats held to three hits in loss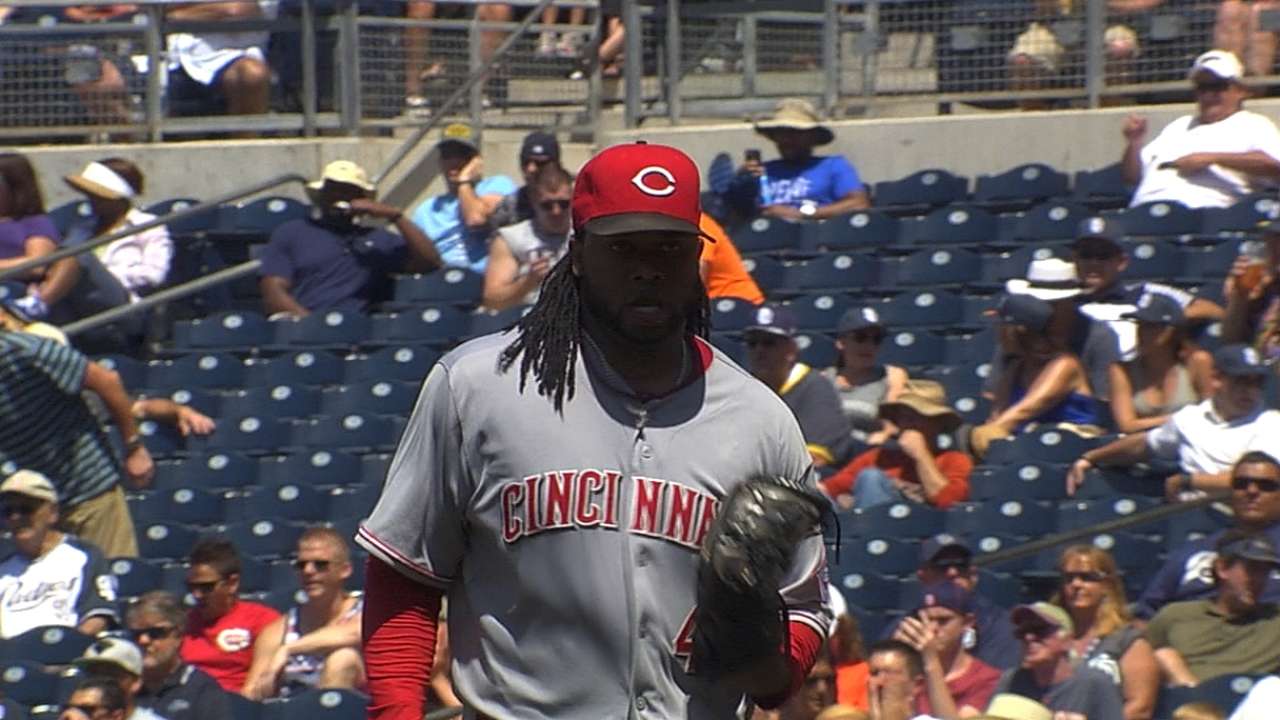 SAN DIEGO -- Normally six wins on a 10-game road trip that includes two stops on the West Coast would be reason to rejoice for the Reds. That was not the case this week.
Not when the trip started with six wins in seven games -- including a four-game sweep at San Francisco -- and ended with being swept in a three-game set at San Diego. That was how the conclusion was etched after the Reds were handed a 3-0 defeat by the Padres on Wednesday afternoon.
Cincinnati, shut out twice in the series and nine times for the season, was held to two runs over 27 innings by Padres pitchers.
"Anybody that is a fan of the Reds is going to be more than simply disappointed in this series; it was really a missed opportunity," Reds manager Bryan Price said. "You have to be resilient in the baseball season, we know that. The Giants didn't quit after we won four games in San Francisco and we're certainly not going to hang things up because we lost three here, but it hurts."
Now 43-41, the Reds missed a huge chance to take advantage of a rare skid by the first-place Brewers. Milwaukee (51-35) is still seven games up on them in the National League Central after it also lost three-straight games.
San Diego was held to one hit in the series opener and won. The second game saw the Reds set a season-high with 16 hits allowed. In the finale, Padres starter Tyson Ross gave up only three hits while striking out nine in his first career shutout.
"This is a series you hope to win two out of three, at least. We set our goals high every series," said Todd Frazier, who got a start at first base on Wednesday and had two of the hits. "You take four from San Francisco and [expect to] come back here to go at least 8-2 or 9-1 on the road and then this happens. ... They had great pitching. All in all, we know we're a better hitting team."
Reds starter Johnny Cueto gave up three earned runs and seven hits over seven innings, with three walks and eight strikeouts. The game turned during a tough situation Cueto has often escaped from, on a play that center fielder Billy Hamilton usually makes.
In the first inning, Cueto got into trouble by giving up singles to Chris Denorfia and Chase Headley before walking Tommy Medica to load the bases.
There were two outs when Rene Rivera hit a liner to right-center field. Hamilton appeared not to have a direct route to the ball, but still just missed a diving catch. The ball hit off the heel of Hamilton's glove and all three runs scored.
"I wasn't trying to swing hard, I just wanted to put the ball in play," Rivera said. "And with Billy Hamilton out there, I know he can get anything. When I hit it, I saw him running and thought I might have a chance. But I also thought that he's fast."
Hamilton acknowledged that he didn't have a good read on the liner.
"It's a play that's got to be made," Hamilton said. "That's all it is. It happens."
With the bases loaded the last three seasons, Cueto's opposing hitters came in 3-for-27. Cueto appeared frustrated with himself about pitching into the situation in the first place.
"That's part of the game," Cueto said through translator Tomas Vera. "I kept my head up and I continued going out and doing all I could."
Cueto, who is now 8-6 with a 1.99 ERA this season, did his part the rest of the way as he allowed only four more singles the rest of the game.
"He wasn't flawless, [but] he was really solid through six innings," Price said. "He had to pitch out of trouble and he did a nice job with that. We really struggled. Ross threw a great game and pitched better and won."
Even though the Reds' offense had improved in June, one area still lacking is comebacks. Cincinnati still hasn't overcome a deficit of more than two runs all season. The last time the Reds came back from down two runs was May 4 vs. the Brewers.
Ross didn't allow a hit until Frazier's two-out single in the fourth inning. The next hit was Frazier's one-out single in the seventh. Brayan Pena hit a one-out double in the eighth, but he was left stranded at third base.
Cincinnati, which finished 1-5 vs. the Padres this season, gets its first off-day after 16 games before a big three-game home series vs. the Brewers.
"We felt it was going good. Everything was going our way," Hamilton said. "But we've got to move on from here and play better. The off-day is going to be big for us. We've got a bunch of guys that really need a day off to get back rested up."
Mark Sheldon is a reporter for MLB.com. Read his blog, Mark My Word, and follow him on Twitter @m_sheldon. This story was not subject to the approval of Major League Baseball or its clubs.