Road-weary A's drop finale in Motor City
Sweep by Tigers ends fifth consecutive three-city road trip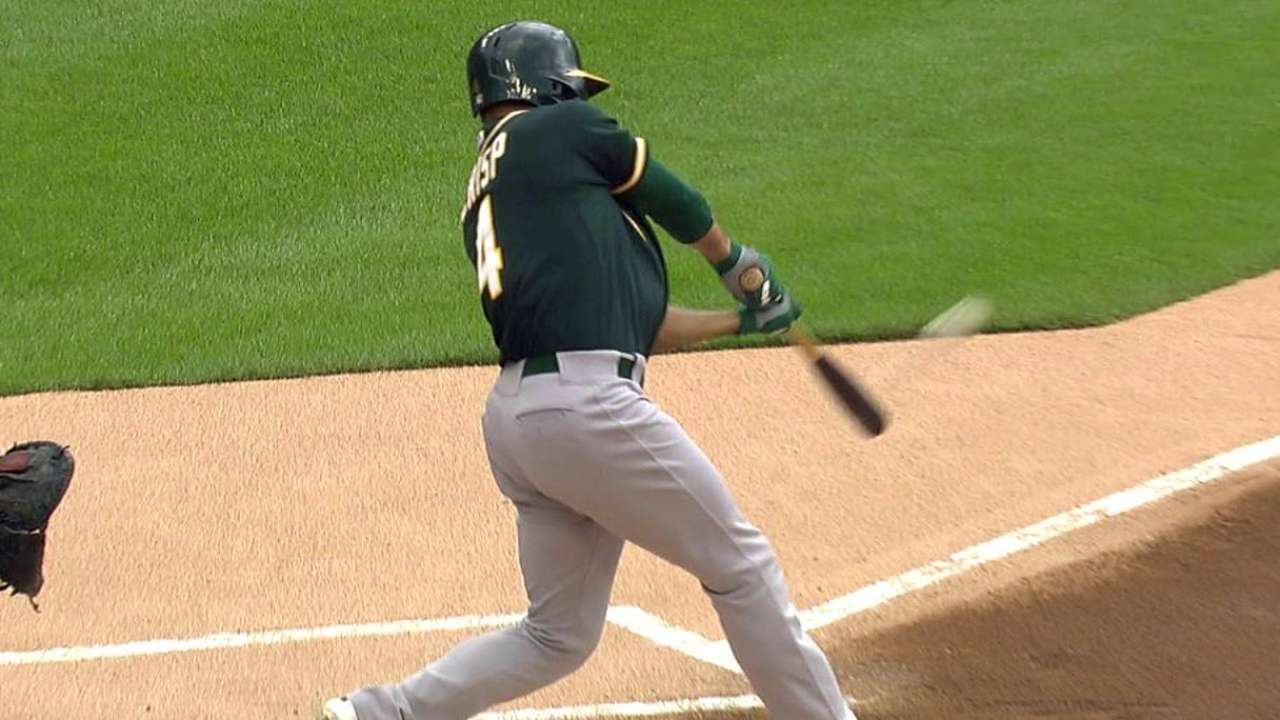 DETROIT -- Motown misery continued for the A's on Wednesday.
Swept out of Detroit by way of a 9-3 loss in the three-game series finale at Comerica Park, the A's can only hope they don't have to see the Tigers again before year's end.
Except manager Bob Melvin's already hungry for a rematch.
"I hope we do get to play them again," Melvin said after the game.
"It wasn't a very good series for us. Getting swept doesn't feel very good. … We feel like we can play with any team. They just beat us this series."
The two teams, of course, have clashed in the American League Division Series in each of the previous two years, the A's exiting at the hands of Justin Verlander in Game 5 on both occasions.
Verlander wasn't so much dominant in Wednesday's regular-season matchup, scattering nine hits and allowing two runs in six innings. The A's simply squandered multiple scoring opportunities, particularly right before they allowed six runs in the sixth -- a day after being shut out by a stellar Rick Porcello following Monday's devastating walk-off loss.
"These are guys that we've kind of treated as a rival, the A's," Verlander said. "Even though they're a West Coast team, and not in our division, with what's gone on the last couple years and in the playoffs, it's hard not to get a little bit of extra energy when you're playing these guys, and same for them."
Detroit won the season series over the A's, 5-2. Oakland claimed it last year, 4-3.
"You look at the overall series the last few years, it's probably pretty even," said Derek Norris. "Their pitching staff and our pesky hitters and our good staff and their aggressive hitters, it's a good matchup. It's just a matter of executing your pitches. If you do that, you beat them. If you don't, they beat you. Same thing in reverse."
Despite being on the wrong end of a three-game sweep for the third time this season, the A's still maintain the Majors' best record at 51-33. But the Angels are just 3 1/2 games back in the AL West, with the Mariners only trailing by 4 1/2.
The A's at least have to be relieved that a brutal stretch of five consecutive three-city road trips is in the rearview mirror, though they'll have to make it through the All-Star break without a day off.
The club went 4-11 in final cities during these three-stop swings, exiting Detroit looking rather fatigued after beginning the road trip 4-1.
Their energy was up from Tuesday's defeat, and Brandon Moss collected a career high-tying four hits in the affair, with Coco Crisp chipping in three. But the team as a whole stranded eight baserunners on the day -- including three in both the third and sixth innings -- while the Tigers excelled in clearing the bases.
Oakland's 2-0 lead, brought on by homers from Moss and Crisp off Verlander in the first, was quickly cut in half in the bottom of the inning, when Torii Hunter notched the first of his three RBI hits. His second one with two outs off A's starter Jesse Chavez knotted the game in the third, and the Tigers already carried a one-run advantage going into the six-run sixth.
Chavez was tagged for two runs in the inning, while Jim Johnson shouldered four, as his ERA ballooned to 5.94 in what continues to be a disappointing tenure in green and gold.
It was a tough situation for Johnson, who entered the game after Chavez issued back-to-back walks. Andrew Romine naturally set down a bunt to put runners at second and third, and Rajai Davis -- a thorn in the A's side this year -- grounded a two-run single up the middle for a 5-2 Tigers lead.
Johnson then allowed three more hits in a row.
"I think the sixth inning had a lot to do with how the game ended up," said Melvin. "We had first and third, nobody out, and couldn't score, and then they put up a six-spot.
"That's a tough spot I put [Johnson] in. They're going to bunt, and then he needs a ground ball and gets it, just up the middle. If he gets it in a little more, it's more at the shortstop. But that's what you're asking of him. That's why he's in that situation, to get a ground ball. It ended up being up the middle, and the gates kind of opened from there."
"He's been thrown in some tough situations as of late, but we're still looking for this guy to be a force for us down the stretch," said Norris. "Any guy that has that good of a sinker, ground-ball pitchers like that are at a premium. He's just gotta find some confidence."
The A's got a run back in the seventh on an RBI base hit from Moss, but nothing more. They finally head home but figure to be tested again in a four-game meeting with the Blue Jays, who swept them in a three-game set at Rogers Centre in May.
"Once you have a lead, you want to keep it," said Chavez, who has allowed nine runs in his last 10 innings. "We're not going to sweat it. It's one series, and we'll bounce back as a team."
Jane Lee is a reporter for MLB.com. This story was not subject to the approval of Major League Baseball or its clubs.