Peacock can't escape sixth in loss to Mariners
Allows four runs after going five scoreless; Hernandez hits first homer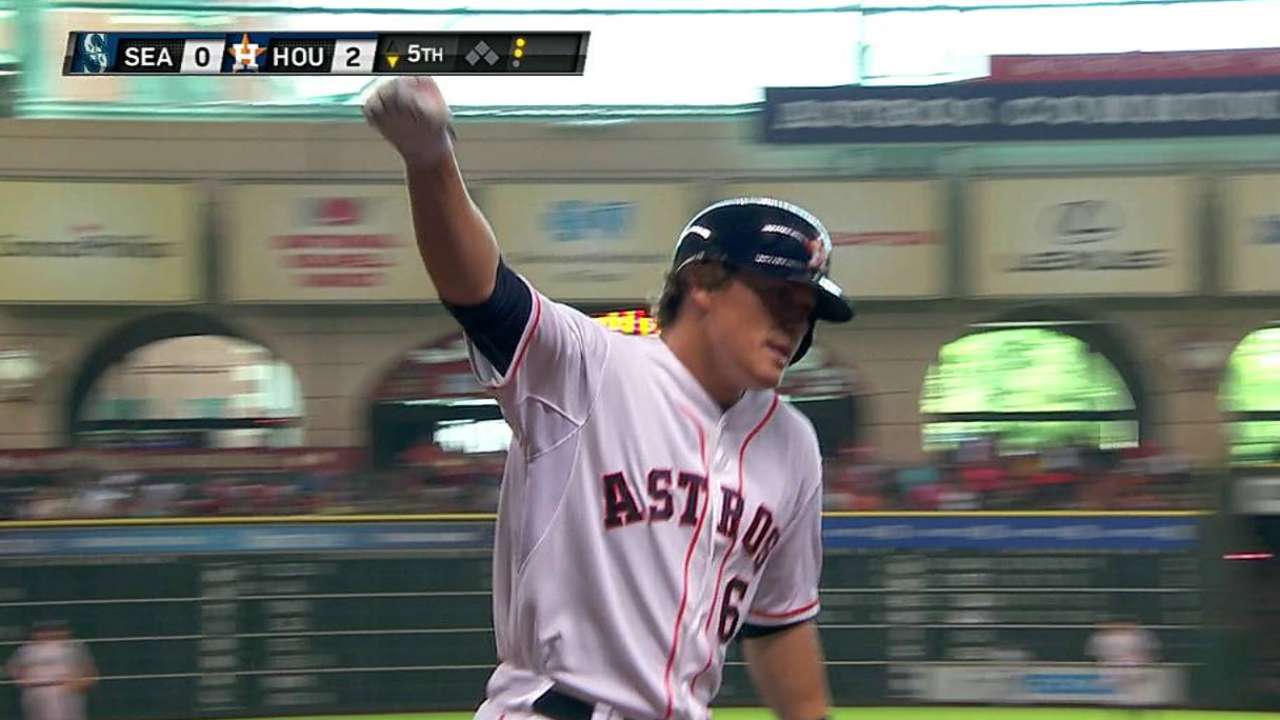 HOUSTON -- Brad Peacock held onto a cutting fastball for too long, and suddenly, whatever he had going for him left in a hurry.
For five innings, Peacock worked the Mariners, pitching on both sides of the plate, mixing in offspeed pitches, throwing his slider. He kept the scoreless Mariners off-balance, giving up just three hits entering the sixth.
And then he threw that cutter.
It hit Robinson Cano and put runners on first and second. He wouldn't record another out in the Astros' 5-2 loss, as the Mariners completed a sweep against Houston on Wednesday at Minute Maid Park.
"The best thing we've got going is that the Seattle Mariners are leaving town," manager Bo Porter said. "We won't have to play them tomorrow."
Peacock gave up one hit in each of the first and second innings, before working quickly in the next three. He walked one batter in those first five innings and struck out five. For Peacock, it was as good as a start will get, especially against a Mariners team that scored 23 runs in the series' first two games.
"You're talking about five innings of complete control," Porter said. "Making quality pitches, shutting them out for five innings."
Then Peacock gave up his third hit, to James Jones in the sixth, and his quality start evaporated. He hit Cano with the cutter and walked Kyle Seager to load the bases with one out before throwing a wild pitch that allowed the Mariners to score their first run. Logan Morrison then doubled to score two more, giving the Mariners a 3-2 lead.
After giving up an RBI single to John Buck that made it 4-2, Peacock was pulled for Anthony Bass, who made his first Major League appearance since going to the disabled list on May 11.
"I don't really know what happened there in the sixth, I just kind of lost it," Peacock said. "Don't really know why or how."
Peacock said he's lost his command in a couple of games this season, but never this drastically.
Bass went on to give up one run in 1 2/3 innings of his first game back, and the Mariners' 5-2 lead after that was plenty. Houston was held to two hits in its first seven innings by Mariners starter Chris Young, who earned his eighth victory.
The first hit was a third-inning home run to right field by Marwin Gonzalez. The second came from Enrique Hernandez, who hit his first career homer into the Crawford Boxes in left in his second Major League game and his first start. Hernandez's homer followed up his 2-for-2 performance in his first big league game on Tuesday. Hernandez was starting at designated hitter in place of Chris Carter, and finished by going 1-for-3.
Porter said he's not sure where, but Hernandez will play in Thursday's game against the Angels.
"He's swinging a good bat and that's why he was in the lineup today, and he'll be in the lineup tomorrow," Porter said.
The Astros will take the offensive production wherever they can get it, as the team has struggled to score runs in a stretch where they've lost five of their last six series. They hadn't been swept in a series of three or more games since losing to Oakland, April 18-20. They did lose both games of a two-game series at Washington in mid-June.
Mike Vernon is an associate reporter for MLB.com. This story was not subject to the approval of Major League Baseball or its clubs.