Dominant Young wins eighth as Mariners sweep
Righty allows two runs on two hits over seven; Morrison keys 4-run 6th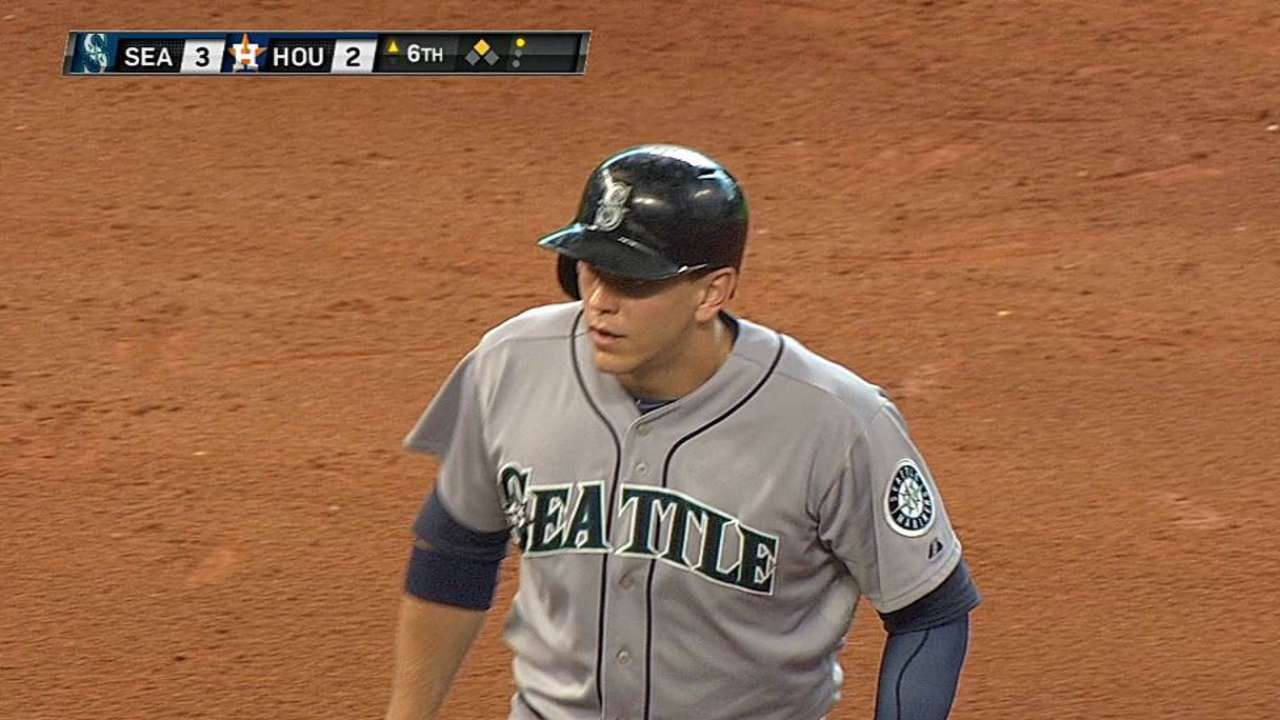 HOUSTON -- On a Mariners team suddenly elevating itself in the American League standings, one of the biggest surprises has been the lofty performance of 6-foot-10 right-hander Chris Young.
The big man continued an impressive comeback season on Wednesday with another strong outing as he allowed just two hits over seven innings to help the red-hot Mariners sweep the Astros with a 5-2 win at Minute Maid Park.
"I don't know where we would be without him," Seattle skipper Lloyd McClendon said, after Young improved to 8-4 with a 3.11 ERA. "He's done a tremendous job for us and today was no different. It was a quality start from start to finish. He gave us an opportunity to win."
And the Mariners have been doing that with regularity as they improved to 47-38 and pulled within 4 1/2 games of the A's in the AL West. It's the first time Seattle has been nine games over .500 since the end of 2007.
After blowing open a 13-2 win on Tuesday with seven runs in the sixth, Seattle won the series finale by posting four runs in that same frame against Astros starter Brad Peacock to overcome a 2-0 deficit.
Seattle outscored Houston, 28-8, in the three-game set for just its second series sweep ever against the Astros. The Mariners are 10-2 over their past 12 games and have won four consecutive series as they head into a three-game set starting Friday in Chicago against the White Sox.
The recent run support has been a welcome trend, and it finally carried over for Young after the Mariners had scored just 15 runs over his last six starts.
"As a pitcher, you try to be robotic out there and not worry about external things you can't control," Young said. "You try to make good pitches whether you're up 10, down 10, tie game, whatever it is. Your goal is to make a good pitch every single time. But obviously we're human and when you have the offensive support we've been getting and the way guys are swinging it, it's really exciting. I think it's a good sign for things to come."
Young's only two hits allowed were solo home runs to shortstop Marwin Gonzalez in the third inning and recent rookie callup Enrique Hernandez in the fifth. The 35-year-old allowed just one other baserunner on a second-inning walk and finished with eight strikeouts in a 99-pitch outing before McClendon went to his bullpen to start the eighth.
Young has greatly solidified Seattle's rotation since signing a one-year deal at the end of Spring Training, with the eight wins the most he's had in a season since going 9-8 with the Padres in 2007, before a series of shoulder issues cropped up. Opposing batters are hitting just .206 against him after Wednesday's 2-for-23 by the Astros, which is tied with teammate Felix Hernandez for the third-best mark in the American League.
"I was very pleased," Young said of his latest performance. "I felt for the most part I made very good pitches. I kept them off-balance, really had two good offspeed pitches today and good fastball command. There are going to be days you give up home runs and you hope they don't beat you. The guys came back and picked me up and the credit goes to them."
Peacock stifled the Mariners until the sixth, when the wheels seemed to come off after he hit Robinson Cano in the knee with a pitch with one out and one on. Peacock then walked Kyle Seager to load the bases before uncorking a wild pitch to score James Jones.
Logan Morrison followed with a two-run double just inside the right-field line before John Buck greeted reliever Anthony Bass with an RBI single to give Seattle a 4-2 lead.
"Early on we were pretty flat," said McClendon. "The guy was pitching pretty good and he threw the ball behind Robbie and it seemed to rattle the pitcher and seemed to energize us a little bit. So we were fortunate to get back into that ballgame."
Morrison has hit .267 with 14 RBIs since coming off the disabled list on June 10, helping provide some of the increased offense that was particularly noticeable in the three breakout games in Houston.
"Crooked numbers are always good when it's your side," Morrison said of the big innings. "With our pitching, we know if we put up one crooked number, we'll be fine. We have great pitching and great defense, so it's up to the offense to score runs and win ballgames. We've been able to do that recently. We know Cano is going to hit, and if me and Seager hit, I think that's going to be a big plus for us."
The Mariners added an insurance run in the seventh when Cano doubled and scored on Seager's base hit. Cano is hitting .323 on the season and Seager increased his team lead in RBIs to 59.
Left fielder Dustin Ackley went 3-for-4 with a double, making him 6-for-8 over his last two games to raise his average to from .214 to .231.
The Astros are 36-50 on the season, but had gone 19-15 prior to Seattle's arrival.
"The best thing we've got going is that the Seattle Mariners are leaving town," Houston manager Bo Porter said. "We won't have to play them tomorrow. We didn't play our best baseball, but tip your cap to the Mariners, they played really good baseball for three days and that's why they walked out of here winners these three days."
Greg Johns is a reporter for MLB.com. Follow him on Twitter @GregJohnsMLB as well as his Mariners Musings blog. This story was not subject to the approval of Major League Baseball or its clubs.