Yankees dip below .500 as losing streak continues
Despite early homers from Gardner, McCann, club drops fifth straight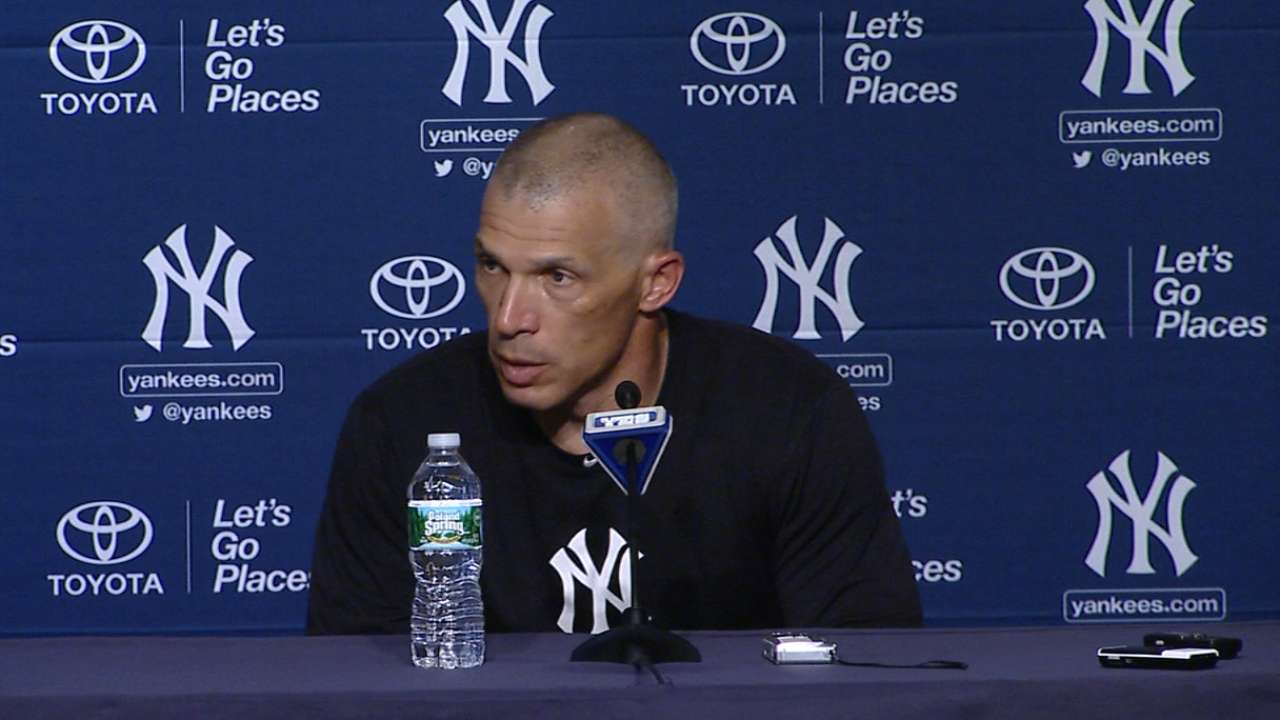 NEW YORK -- The puzzling part for the Yankees, and one of the topics that may have Joe Girardi scratching the top of his buzz-cut all the way to Minneapolis, is that they more or less do have the players that they wanted up and down the lineup. The results just don't match the expectations.
A disastrous homestand concluded for the Yankees on Wednesday afternoon with the team's season-high fifth consecutive loss. Sean Rodriguez homered and drove in three runs, leading the Rays to a 6-3 victory and a series sweep that dropped the Yankees (41-42) below the .500 mark.
"Can't change it. It's over with now," Yankees captain Derek Jeter said. "It's done with. Anything that has happened up until this point, you can forget about it. We need to play better. Talent doesn't win games. We need to go out there and perform."
The Yankees went 6-9 in a pivotal 15-game stretch against American League East competition, a statistic that Brett Gardner was surprised to hear. Nodding to the dreary mood in the clubhouse, Gardner said, "I thought you were going to say 2-13 or something."
This marks the latest in the season that the Yankees have been under .500 in Girardi's managerial tenure. They were under .500 after 85 games in 2007 under Joe Torre before rallying to win the Wild Card.
"This team never quits, and they won't quit," Girardi said.
Rays starter Jake Odorizzi limited New York to three runs in 5 2/3 innings, picking up his fourth win. Tampa Bay's bullpen hurled 3 1/3 innings of scoreless relief, including Brad Boxberger, who worked the ninth for his first save of the season.
The afternoon started off in promising fashion, as Gardner slugged a leadoff homer and Brian McCann took advantage of the short porch for his 10th homer. But Gardner's fourth-inning RBI single was their last big hit as they finished 1-for-9 with runners in scoring position.
"I can tell you that they're doing everything in their power to try to correct it," hitting coach Kevin Long said. "I'm doing everything in my power to try to correct it, and we're just going to stay at it. There's no simple formula."
Progress may have to be measured in small victories. For example, Long revealed that McCann eliminated a toe-tap from his stance, sweating out a late-night cage session at the Stadium after Tuesday's game. McCann was rewarded with a 2-for-4 day, lining into the shift for the final out.
"When you lose, it's irrelevant, but it was nice to find the barrel with what I've been working on in the cage. It paid off," McCann said.
Vidal Nuno held the Rays to three runs over the first five innings but allowed a leadoff hit to start the sixth. Rodriguez greeted Shawn Kelley with a tape-measure two-run blast that struck the wall of the loading dock in left-center field, and despite 10 hits, the Yankees couldn't push another run across.
"The only thing I can control is on the mound and what I'm throwing," said Nuno, who was charged with four runs (three earned) and lost for the third time in four starts.
Tampa Bay's first run scored in the third inning, when a Nuno pitch to Brandon Guyer ticked off McCann's glove for a passed ball that allowed Kevin Kiermaier to come home.
Rodriguez singled in a run in the fourth before being thrown out at second base by right fielder Alfonso Soriano, on a play that was challenged by the Rays and confirmed by replay, and Guyer stroked a run-scoring single to tie the game in the fifth.
Despite the extended losing spell, Jeter said that he has not seen shoulders sagging or attitudes souring in the Yankees' clubhouse.
"You play this game, you're going to struggle," Jeter said. "When a lot of people struggle at the same time, it looks worse than it really is. It's going to happen. Teams are going to struggle. You point to any team in baseball, and they'll go through a stretch like this."
With the Stadium emptying on a sweltering afternoon, New York kicked it around in a sloppy ninth inning, as Yangervis Solarte threw the ball into right field for an error and Kelly Johnson bobbled a run-scoring grounder before settling for the out at first base.
"I still believe in this team," Girardi said. "There's talent in that room, we just need to play better. And it's a lot of different phases, you can look at almost every phase and say we need to play better. We've got to find a way to get it done."
Bryan Hoch is a reporter for MLB.com. Follow him on Twitter @bryanhoch and read his MLBlog, Bombers Beat. This story was not subject to the approval of Major League Baseball or its clubs.