Vargas pins Twins in Royals' rubber-game win
Lefty fires seven shutout innings, while Ibanez belts first HR in return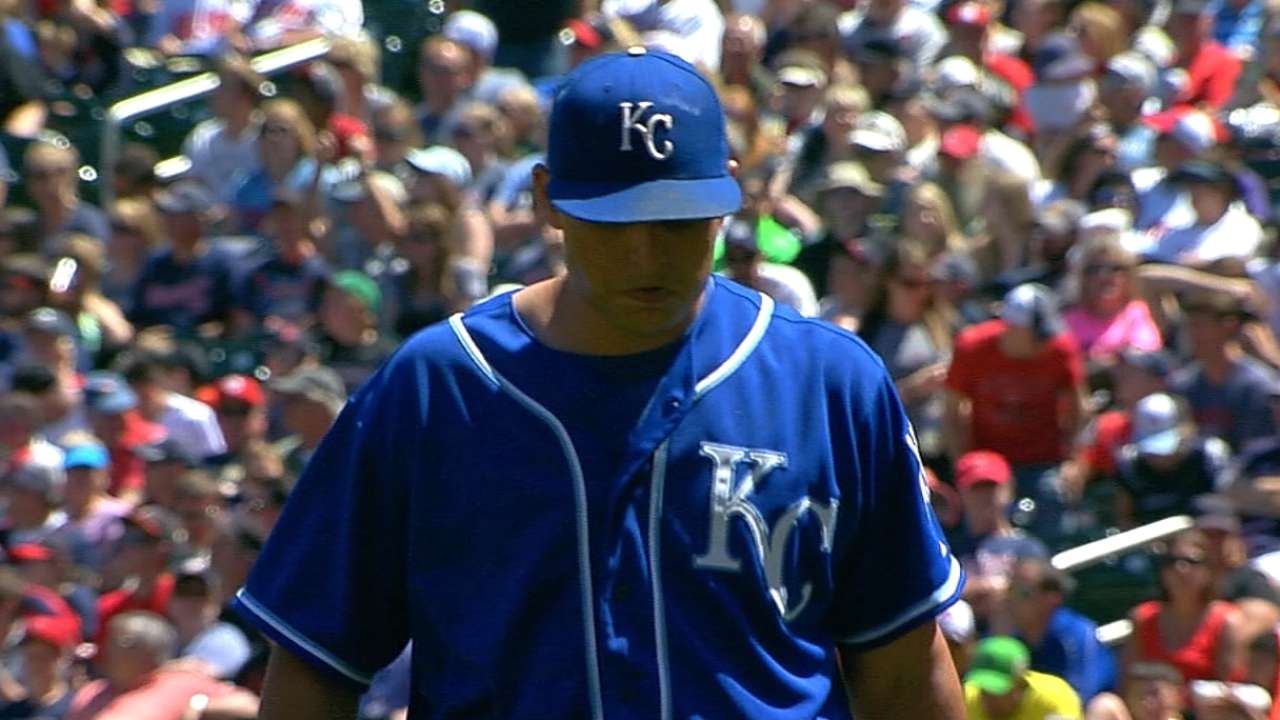 MINNEAPOLIS -- Jason Vargas and the Royals' bullpen have enjoyed a certain amount of success this season and that continued in Wednesday afternoon's 4-0 victory over the Twins at Target Field.
Vargas, a veteran left-hander, picked up his second win against Minnesota in as many decisions this season by firing seven shutout innings, while relievers Wade Davis and Greg Holland were their usual dominant selves in the rubber game.
"We're built around pitching and defense," manager Ned Yost said. "We have an outstanding bullpen, as you saw tonight. Our starting pitching has been very consistent and very, very good. And our defense has been spectacular."
Facing a Joe Mauer-less Twins lineup, which had scored 10 runs in Tuesday's middle game, Vargas didn't allow a hitter to reach third base.
"He really knows his game plan when he's out there," first baseman Eric Hosmer said. "He just fires strikes and lets his defense work. He's a fun guy to play behind, because you're on your toes every pitch."
The Twins managed to reach second against Vargas twice, but both times occurred with two outs. Trevor Plouffe grounded out to shortstop Alcides Escobar in the fourth, and Brian Dozier rolled out to third baseman Mike Moustakas in the fifth.
"He was in and out all day," Dozier said. "He kept us off-balance."
Offensively, the Royals got the job done early by jumping on starter Kevin Correia in the second inning. The right-hander gave up three straight hits to the bottom of the order -- Omar Infante, Moustakas and Jarrod Dyson -- as Kansas City grabbed a 2-0 lead.
"We know that that takes a little pressure off us offensively, that we can go into a game, score two runs and protect it for the most part," Yost said. "We've been getting a lot of production out of the bottom of the order. We feel like our lineup is really balanced, and we got opportunities to score runs up and down the lineup."
After Salvador Perez was thrown out on a fielder's choice, Infante moved Raul Ibanez to third with a ground-rule double into the third-base-line seats. Moustakas followed with a single to right field to score Ibanez, and then Dyson plated Infante with a single up the middle.
Meanwhile, Vargas was humming, as the 31-year-old redeemed himself after a poor performance against the Angels last Friday (four innings, six runs).
"He just wasn't sharp the last time out," Yost said. "He was real sharp today."
Vargas, who threw 111 pitches on Wednesday, was never in any serious trouble, but he kept his focus throughout.
"They've got some guys in the lineup that can change the game pretty quick, especially when it's a two-run ballgame," said Vargas, who is 2-0 with a 0.86 ERA in three starts against the Twins this year. "They score just as easily from first as third if the ball goes over the wall." Davis fired a 1-2-3 inning in the eighth before Holland came on in the ninth to collect his American League-leading 24th save. Neither All-Star candidate saw action in the first two games of the series.
Ibanez belted his first home run in his second stint with the Royals in the eighth to make it a 3-0 lead. The homer was his first in a Kansas City uniform since Sept. 22, 2003, a span of 3,936 days, and he's the oldest player in franchise history to go deep at age 42 .
"You're just really hoping for a tack-on run or two somewhere over the course of that game because if one guy gets on, they're one swing away from tying the ballgame up," Yost said. "So when Raul hit that home run, that was a huge run."
Eric Hosmer's RBI single in the ninth capped the scoring for the Royals, who remain 4 1/2 games behind Detroit in the American League Central race following the Tigers' 9-3 win over the Athletics on Wednesday.
Alex M. Smith is an associate reporter for MLB.com. This story was not subject to the approval of Major League Baseball or its clubs.