Early runs don't hold up in Brewers' walk-off defeat
Braun's two-run triple highlights three-run third inning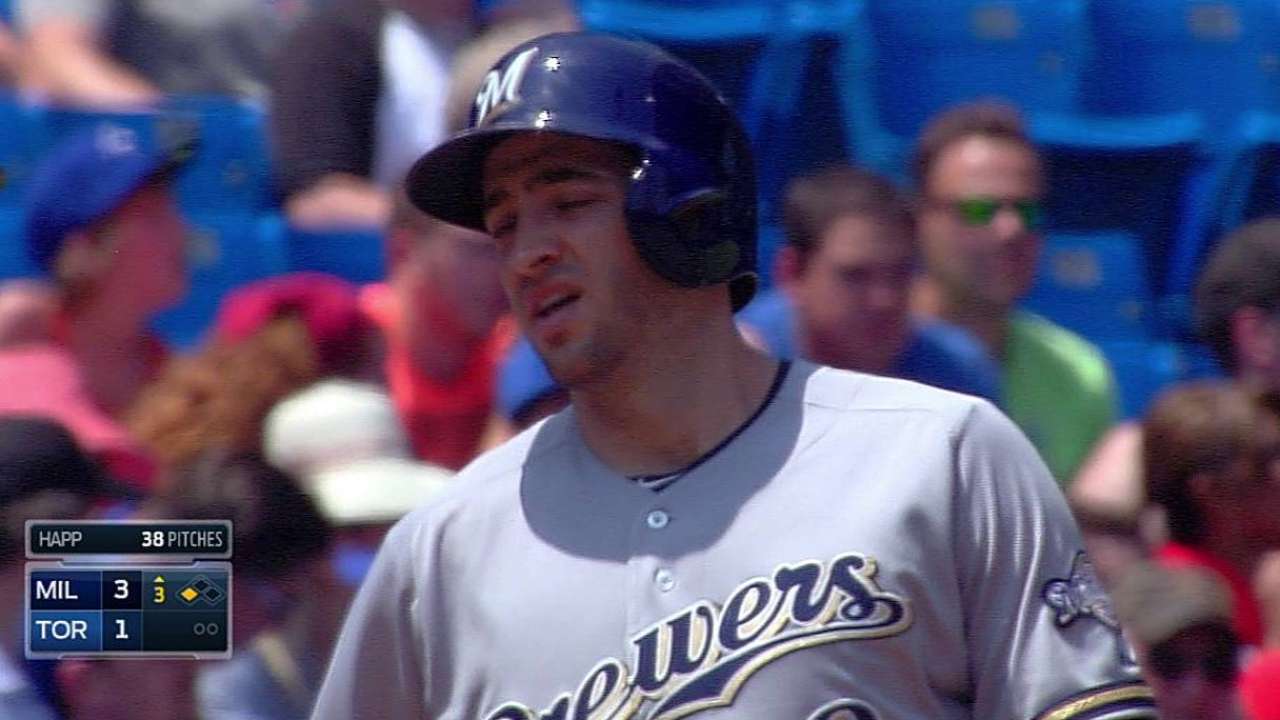 TORONTO -- It was only a two-game set, but a sweep is a sweep. For the Brewers, it marked the first time they were on the wrong side of one this season.
Blue Jays slugger Juan Francisco burned his former team by hitting a tying home run in the fourth inning and Edwin Encarnacion beat the Brewers with a three-run shot with two outs in the ninth, 7-4, at Rogers Centre on Wednesday afternoon.
The Brewers' losses left the Dodgers as the only Major League team yet to be swept.
"[The Blue Jays] are a good team. First place against first place," said Brewers right-hander Brandon Kintzler, who threw the game's final pitch. "It wasn't like they were blowout games."
Tuesday's Canada Day opener was a one-run game before Toronto scored twice in the eighth inning to make it 4-1. Wednesday's finale was just as tight, with the Brewers opening a 4-1 lead in the third inning before Francisco tied it in the fourth.
The teams remained tied into the bottom of the ninth, when Kintzler took over in a two-on, no-out situation and spryly got the first out at third base on Anthony Gose's bunt before striking out Darin Mastroianni.
After falling behind Encarnacion in the count, 3-1, Kintzler threw a slider that the slugger didn't miss. It was Encarnacion's 26th home run this season and his 20th in his last 44 games.
"Like I told [Kintzler] when I talked to him on the mound, 'This guy can beat us,'" Brewers catcher Martin Maldonado said. "He was throwing pretty good sliders, strike-to-ball, a little bit off the plate. And that one just stayed on the zone too much."
"At 3-1, either I should just bounce a sinker and walk him, or throw a slider away, off the plate," Kintzler said. "It definitely didn't go where I planned it. But it was the best stuff I've had in a long time, so that's a good sign. It just didn't work out."
Was Encarnacion surprised he saw a pitch to hit?
"I don't know if I was surprised," Encarnacion said. "I had prepared in my mind to get ready for hit, and if they pitch me, I'll do the best I can do. I was looking for something I could make a good swing on."
Brewers starter Wily Peralta battled his emotions and the Blue Jays for six innings, allowing four runs on nine hits, including a pair of homers, taking away a no-decision that preserved his streak of five consecutive winning decisions.
He lost his opportunity to win in the fourth inning, when, with one out in a 4-2 game, Peralta threw a first-pitch slider down and inside to Francisco, the slugger who was released by Milwaukee at the end of Spring Training when the Brewers opted to go with Mark Reynolds and Lyle Overbay at first base. Francisco scored some payback by golfing that low pitch for a two-run home run that tied the game at 4.
The Brewers were well aware of Francisco's power.
"Oh yeah. That's why he's still in baseball," Maldonado said. "One pitch can change everything."
The Brewers did all of their scoring against Toronto starter J.A. Happ in the early innings, getting a run on Carlos Gomez's two-out single in the first inning and three more in the third, when Ryan Braun hit a two-run triple and scored on a sacrifice fly.
Happ then settled into a rhythm. Jonathan Lucroy's sac fly was the first of 13 consecutive Brewers batters retired by the left-hander before Maldonado bunted for a single in the seventh. Happ had no other trouble in the inning.
"Again, we're still chasing pitches out of the zone," Brewers manager Ron Roenicke said, repeating a recent critique. "They did a nice job of pitching, but we need to be better than that. Our pitchers did a nice job of holding them down. Wily comes out and then we do a nice job, and you think we're going to score a run and we don't."
Both Roenicke and Blue Jays manager John Gibbons were ejected in quick succession in a scoreless eighth. It was Roenicke's first ejection this season, and he lamented the Brewers' first losing sweep.
"We've been OK. Today was a tough game to lose," Roenicke said. "We score early and then Wily was all over the place again with his command. He did manage to give us innings and keep it tied. But we've got to get him locked in better and making some consistent pitches."
Adam McCalvy is a reporter for MLB.com. Read his blog, Brew Beat, and follow him on Twitter at @AdamMcCalvy. This story was not subject to the approval of Major League Baseball or its clubs.