Leake unable to find groove against Padres
Game ends on overturned call as Reds leave bases loaded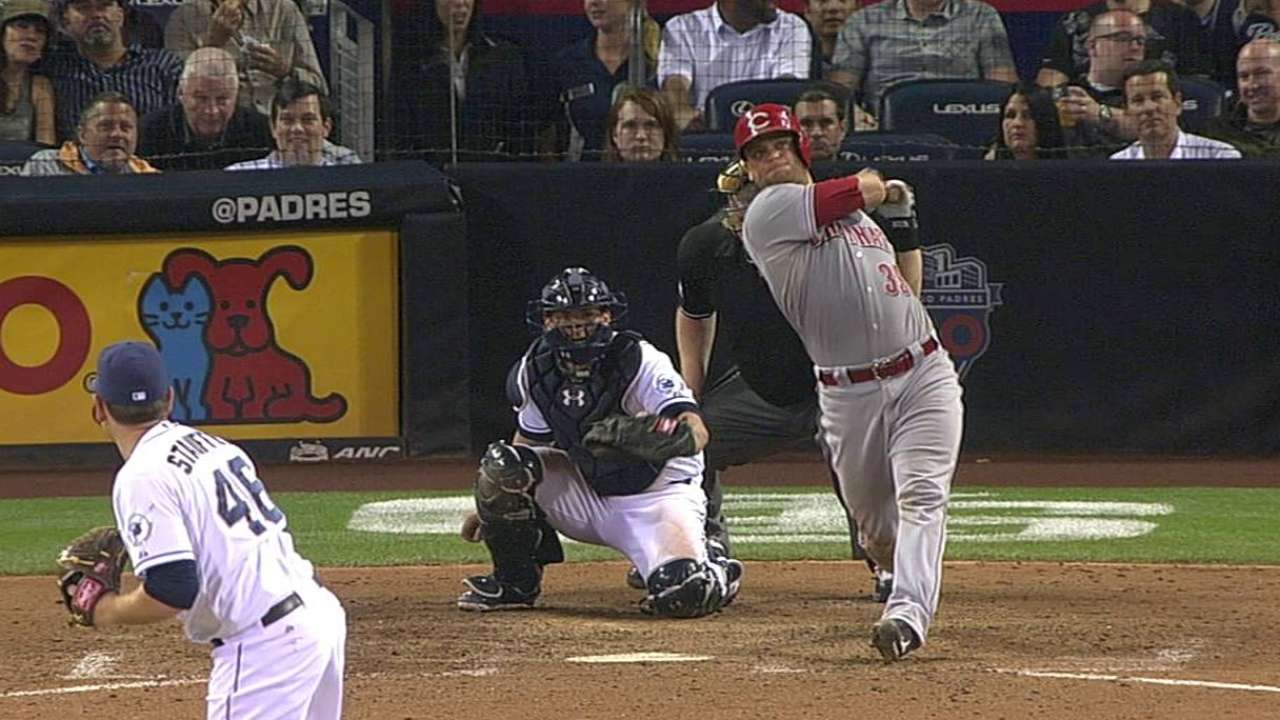 SAN DIEGO -- The Reds already had six wins on their 10-game road trip before reaching San Diego for the final three-game series. Drawing an offense-starved Padres club, a strong trip certainly had the potential of becoming an exceptional one.
Now there's the scope of a lackluster finish looming as the Padres handed the Reds back-to-back defeats following an 8-2 loss on Tuesday night. Cincinnati is 6-3 on the road trip with Wednesday afternoon's finale still to come.
"We haven't played a good two games, they haven't been our best by any means," Reds manager Bryan Price said. "[Monday] was a competitive game, today things got out of hand later in the game."
There was plenty not to like about Tuesday for the Reds.
• On Monday, the Reds gave up a season-low one hit and lost by a 1-0 score. On Tuesday, they tied the season high with 16 hits allowed -- which previously happened on May 10 vs. the Rockies and June 20 vs. the Blue Jays.
• Cincinnati's five series win streak, and seven series unbeaten streak, is kaput.
• San Diego, which batted .171 for the month of June, had its season high of hits in the game. After it had scored five runs combined in the previous five games, the club had surpassed that total by the seventh inning.
"It's crazy, but a win is still a win," Padres third baseman Chase Headley said. "If you look at last night, we probably could have just as easily had five hits. But that happens in baseball. We swung the bats better today."
• The Reds, which scored 20 runs during the five-game win streak that was snapped on Monday, have been held to one run in two games vs. the Padres.
• For only the second time in the Majors, the game ended on the outcome of a managerial replay challenge. The Reds' two-out bases-loaded rally was killed when a safe call at second base was overturned for the final out.
Mike Leake pitched 5 2/3 innings and gave up three earned runs and a season-high 11 hits -- the most by a Reds pitcher this season. Leake, who struck out 12 Giants over eight innings in his previous outing, did not walk a batter and struck out four this time.
The game started ominously for Leake, who saw his 0-2 pitch to first batter Seth Smith hit into the right-field seats for a homer and 1-0 Padres lead. Three-straight two-out singles came in the San Diego second inning with Padres pitcher Ian Kennedy's roller through the right side scored Alexi Amarista.
"They found a lot of holes. They hit me and they made me work at trying to keep the ball down," Leake said. "Really, all in all, I'm not that disappointed. They hit some good pitches that were decent pitches. I made a couple of mistakes, obviously the first at-bat. The rest weren't actually bad mistakes like that one. Good job by them battling and hitting me early in counts."
Kennedy gave up one run over six innings on Todd Frazier's two-out broken-bat RBI single in the fifth inning that scored Zack Cozart. After the Reds scored in the fifth, the Padres scored against Leake in the bottom half.
The game blew open against the Cincinnati bullpen in a disastrous bottom of the seventh as Logan Ondrusek allowed four runs, three earned. It included a booming two-run homer to left field by Carlos Quentin. With J.J. Hoover on the mound, Joey Votto muffed an Amarista ground ball to first base and then threw wildly to the bag for a two-error play that scored another run.
"All in all, not a very well played game," Price said.
San Diego added another run in the eighth against rookie Carlos Contreras but the Reds did not fold quietly. Facing Tim Stauffer, Devin Mesoraco started the ninth with his 15th homer of the season. Stauffer was put in a two-out bases-loaded jam when pinch-hitter Ryan Ludwick grounded to third base. Headley fired a throw for a force play at second base, but Frazier was ruled safe. Padres manager Bud Black successfully challenged the call, leaving Price fuming about the conclusion.
"I'd certainly hope that would be one of the things that is changed with this, because to walk off the field with your jaw on the ground is not a good way to leave the field," Price said. "You have enough of those games that break your heart at the end. This is an 8-2 ballgame, it may be inconsequential, but that's not the way to end the game. It just isn't."
Mark Sheldon is a reporter for MLB.com. Read his blog, Mark My Word, and follow him on Twitter @m_sheldon. This story was not subject to the approval of Major League Baseball or its clubs.