Lincecum follows no-hitter with another gem
Right-hander hurls eight shutout innings, escapes jam in fourth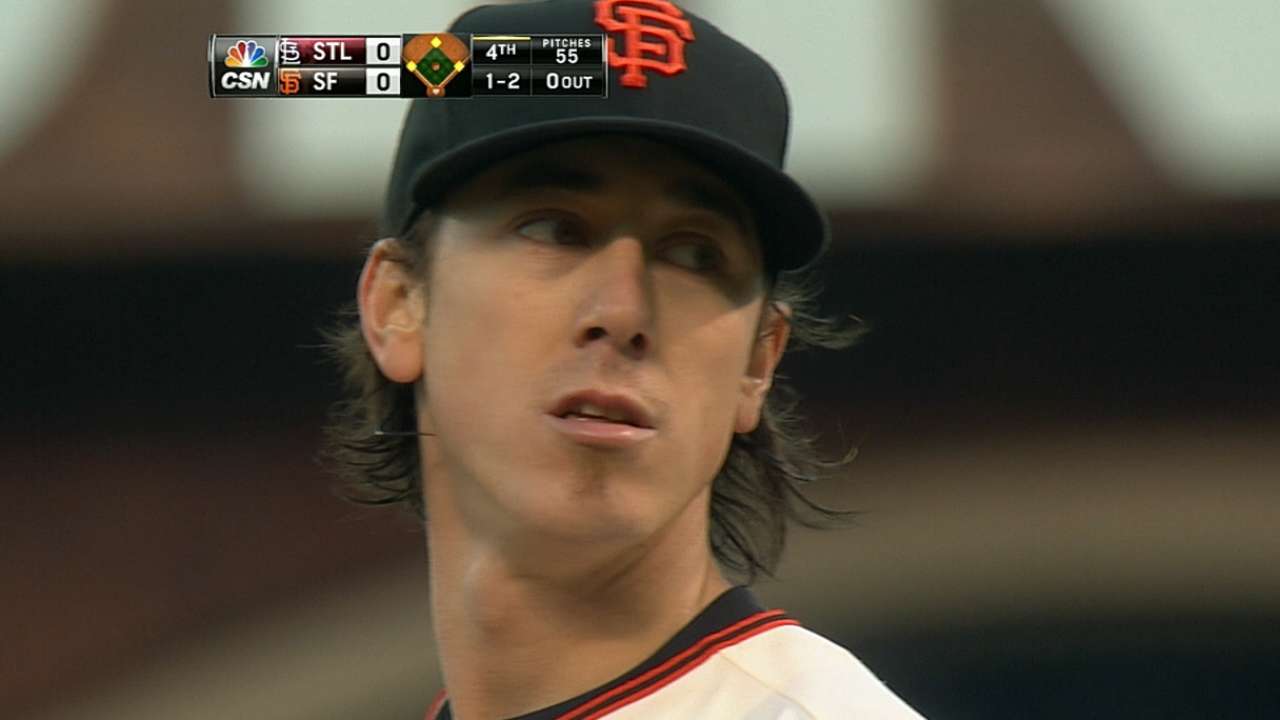 SAN FRANCISCO -- Tim Lincecum, who made history with his nine-inning effort last Wednesday, shaped Tuesday night's outcome against the St. Louis Cardinals with his fourth-inning performance alone.
Lincecum escaped a bases-loaded, nobody-out jam without permitting a run, propelling the Giants to a 5-0 triumph that leapfrogged them past the Dodgers back into first place in the National League West. The right-hander proceeded to allow four hits in eight innings, thrilling an AT&T Park crowd hungry for Giants heroics following Cincinnati's four-game sweep.
Lincecum didn't come close to duplicating the no-hitter he authored against San Diego in his previous outing. Allen Craig's one-out single in the second inning erased any fantasies of a Johnny Vander Meer feat. But Lincecum's stubborn excellence in that fourth inning alone inspired the Giants, who lost 15 of their previous 19 games.
"It prevented us from getting down and [facing] an uphill climb," said Giants manager Bruce Bochy, whose club won its first series opener after dropping six in a row.
"For him to pitch out of it, it definitely gets you fired up," said right fielder Hunter Pence, whose single led off San Francisco's half of the fourth. The Giants proceeded to draw upon the momentum Lincecum generated to score three fourth-inning runs on Buster Posey's RBI double and Pablo Sandoval's 100th career homer. San Francisco chased Cardinals left-hander Marco Gonzales, who made his second Major League start, while adding a pair of runs in the fifth.
This was a doubly encouraging evening for the Giants -- not just because of their victory, but also given Lincecum's sustained effectiveness. Even with all those wondrous games he pitched during his 2008-09 Cy Young Award-winning seasons, he never had recorded back-to-back outings of eight innings or more. Until now.
Lincecum downplayed comparisons between this game and his no-hitter.
"You have to treat it differently," he said.
But, in a somewhat eerie parallel, he threw 73 strikes in 113 pitches -- exactly as he did in his gem against the Padres.
In both games, Lincecum collaborated seamlessly with catcher Hector Sanchez.
"We threw what we wanted to and things worked out for the best," Lincecum said. "Things were working. Nothing was crazy nasty or anything like that -- 93, 94 [mph] -- but I was trying to put them in good spots and keep them off balance."
Lincecum admitted that his goal in the fourth inning was to limit St. Louis' scoring as much as he could after Jhonny Peralta doubled, Matt Adams singled and Yadier Molina was hit by a pitch to fill the bases.
"I was hoping I could make them hit a double-play ball," Lincecum said.
Lincecum indeed generated a double play of a different sort. He struck out Craig and Jon Jay on sliders that nearly burrowed themselves into the dirt behind home plate, then ended the threat by retiring Daniel Descalso on a grounder to second base.
That squandered opportunity seemed to deflate the Cardinals, who moved only two runners into scoring position afterward and have endured 24 consecutive scoreless innings.
"That was a really frustrating part of the game," Craig said. "Being up in that spot, that's a spot I look forward to. I wasn't able to make something happen. That's extremely frustrating. I thought [Lincecum] made some good pitches, but I battled and it just didn't happen. If we can get something in play and spark something, you don't know what's going to happen with the guys behind me. That's a tough place to strike out."
The Giants are 11-6 in games started by Lincecum, whose personal record is two games above .500 (7-5) this late in the season for the first time since he was 11-9 in mid-August 2011.
Chris Haft is a reporter for MLB.com. Read his blog, Haft-Baked Ideas, and follow him on Twitter at @sfgiantsbeat. This story was not subject to the approval of Major League Baseball or its clubs.