Cardinals' scoring funk continues in loss to Giants
Gonzales tagged for five runs in 4 1/3 innings of second MLB start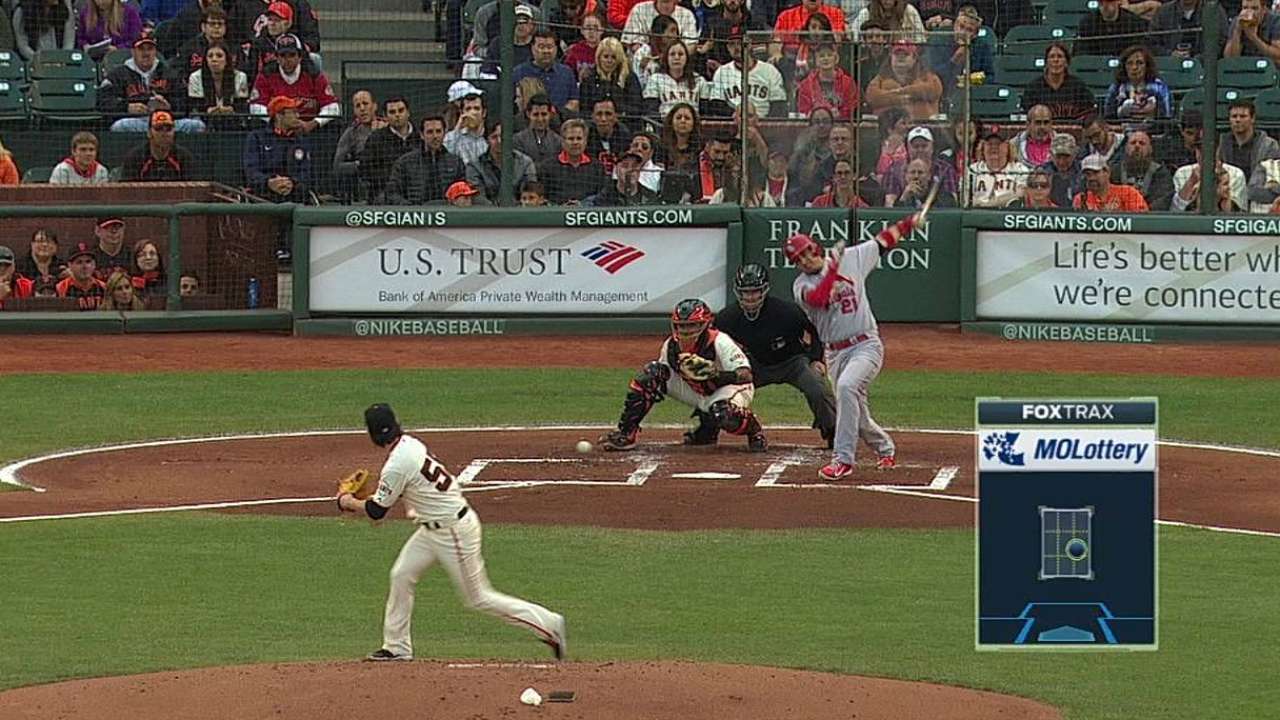 SAN FRANCISCO -- A scoring opportunity missed turned into a momentum shift unstopped Tuesday, as the Cardinals could not pull themselves out of a scoring rut despite matching up against a Giants team that had lost 12 of its last 14 at home.
This one would end as a 5-0 win for the Giants, who jumped on rookie starter Marco Gonzales the second time through the order and knocked him out of the game in the fifth. The Cardinals couldn't similarly get to Giants starter Tim Lincecum as their scoreless drought ran to 24 innings.
That is not to say, however, that they were absent of chances.
"Right there in the fourth, that's what we were looking for," manager Mike Matheny said. "You need that big hit that really does put them on their heels a little bit and puts some wind in our sails."
Instead, the Cards only further sailed off course.
St. Louis was on the cusp of breaking out of the offensive funk, loading the bases against Lincecum, who was making his first start since throwing a no-hitter. But Allen Craig, so reliable in such situations a year ago, went down swinging at a slider in the dirt. So did Jon Jay. A groundout by Daniel Descalso ended the threat.
"That was a really frustrating part of the game," said Craig, who had singled off Lincecum in an earlier at-bat. "That's a spot I look forward to. I thought he made some good pitches, but I battled and it just didn't happen. If we can get something in play and spark something, you don't what's going to happen with the guys behind me. That's a tough place to strike out."
"I was hoping I could make them hit a double-play ball," Lincecum added, "But they struck out, so it worked out."
It would be the last time the Cardinals would threaten. Lincecum retired 15 of the final 17 batters he faced in his eight-inning start.
"Not that we had a lot of air in us to take out, but you could feel it," Matheny said. "That was a big opportunity that we had and we just couldn't do anything with it. When a guy is making good pitches and you get him on the ropes, you have to make him bleed a little bit. That one slipped away."
Lincecum walked off the field to a standing ovation from the sellout crowd at AT&T Park in the fourth, and their celebrating continued as the Giants proceeded to ambush Gonzales.
The script was familiar, as Gonzales had stumbled in the same inning in his Major League debut. He allowed five runs to the Rockies in the fourth last week. This time, he surrendered three, the big blow a two-run homer by Pablo Sandoval.
The Giants opened the inning with four straight hits; both of the run-scoring ones came on elevated sinkers. Inconsistency in commanding his curveball and with his cutter still a work in progress, Gonzales was left with little way to fool the Giants. And so they anticipated the fastball and reacted to his changeup.
"It was real simple," Gonzales said. "The first time through the lineup, I was able to command all my pitches for strikes and get ahead of hitters. The second time through, I just started leaving some things up. That's kind of what you look for as a pitcher to be able to throw your whole arsenal for strikes. It wasn't up to my standard, but I'm hoping to learn from that."
The inning ended with an 11-pitch showdown against Lincecum, who ran Gonzales' pitch count to 67 with the extended at-bat. It took Gonzales 33 pitches to get through the inning; he had cruised through the first three on 34.
San Francisco scored twice more in the fifth, an inning in which Gonzales allowed four of the first five batters to reach. His night ended with consecutive walks, two of the four he issued on the night.
"We saw him pretty much the same [as last time], where you saw some very good innings and you saw some very good pitches," Matheny said. "And then they kind of snowballed on him and there were mistakes. ... He's capable of making good pitches all the way through, and we just haven't seen that quite yet."
Whether the Cardinals have Gonzales make another start will depend upon the readiness of Joe Kelly, who threw 49 pitches in a rehab start Tuesday.
And then there is figuring out the offense. While the Cardinals have faced a string of accomplished starters over the past five games, the lack of production has become concerning. The club has been shut out in three of those games, won only one and is a combined 3-for-29 with runners in scoring position.
"It's been really good, probably some of the best in baseball," Craig said. "We have to keep pushing. We can't think about that stuff. We have to stay positive."
Jenifer Langosch is a reporter for MLB.com. Read her blog, By Gosh, It's Langosch, and follow her on Twitter @LangoschMLB. This story was not subject to the approval of Major League Baseball or its clubs.