Hitting outburst helps sends Kennedy past Reds
Smith sets tone with leadoff HR, notches three of Padres' 16 hits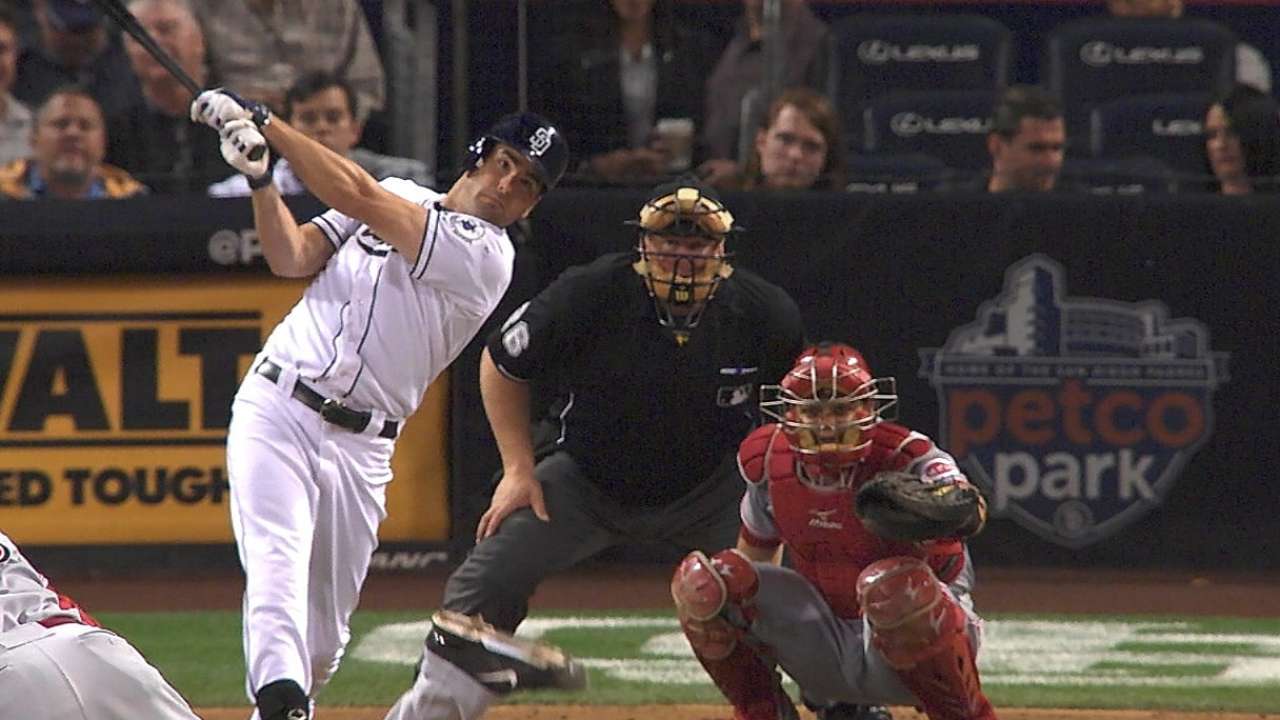 SAN DIEGO -- One day after completing June with the worst team batting average for a month in baseball history, the Padres exploded for the most hits they've had this season, bludgeoning Cincinnati early and often in an 8-2 victory Tuesday night.
On Monday, San Diego won with just one hit to end June with an MLB-record .171 batting average. On Tuesday, however, the Padres (37-47) brought in July with 16 hits, as every starter had a hit for the first time in 2014. The win clinched their season series against the Reds (43-40) and pushed San Diego into sole possession of third place in the National League West.
"It's crazy, but a win is still a win," said third baseman Chase Headley. "If you look at last night, we probably could have just as easily had five hits. But that happens in baseball. We swung the bats better today."
The game ended when a call was overturned via replay, as Headley's throw to second base to get Todd Frazier was initially called safe but overturned after Padres manager Bud Black challenged the ruling. It was just the second time since full instant replay was instituted at the beginning of the season that a game ended with a call being reversed on a challenge.
"You know what that is? 2014. We're in a new age," Black said. "I'm glad it went our way."
The Padres now have a three-game winning streak after losing the first two games of their homestand, and Cincinnati has lost two in a row after heading into San Diego with a five-game winning streak.
Ian Kennedy (6-9) struggled through June, posting a 5.46 ERA in five starts, but he was plenty effective Tuesday. The veteran right-hander leaned on excellent fastball command across six innings, allowing one run on seven hits and one walk with five strikeouts.
"I was throwing the fastball down for strikes," Kennedy said. "When I see it going straight, exactly where I want it and not tailing or cutting, that's when I know I'm staying through the ball and not pulling off."
Kennedy now ranks third in the NL with 116 strikeouts, behind just Stephen Strasburg and Johnny Cueto -- the Reds' starter for Wednesday's series finale.
Mike Leake (6-7), a San Diego native, had his run of success against the Padres end. He first pitched in Petco Park last year, hurling seven shutout innings for the Reds. In mid-May, he once again dominated his hometown team, holding the Padres to one run and two hits in eight innings.
But it didn't take San Diego very long to jump on Leake this time around.
Seth Smith, slotted into the leadoff spot for the second straight game, hit an 0-2 fastball into the right-field stands to kick-start the first inning, instantly equaling the Padres' hit total from a night before and snapping his 0-for-17 skid.
"When a guy hits a leadoff bomb to start the game, that relieves a little pressure," Black said. "There's a little bit of momentum that happens in the dugout. And quite honestly, we haven't had that. It's good to feel it, and we've got to try and sustain it the best we can."
The homer was the ninth of the year for Smith, surpassing his season total from last year, and the first leadoff dinger of his career. He ended up a triple short of recording the first cycle in franchise history and was walked in his last at-bat by Carlos Contreras, who received some light boos as a result.
"You always want to score first," Smith said. "And that first run ... I'm not a pitcher, but I know pitchers like it when they have a lead."
Kennedy also helped himself in the second inning with a two-out RBI single that gave San Diego a 2-0 lead.
Carlos Quentin, who came into the game on a 1-for-22 skid, doubled and homered for his first game with multiple extra-base hits this year.
Quentin started by doubling down the left-field line in the first -- but was promptly erased after making a baserunning error, appearing to forget there was only one out in the inning when Yasmani Grandal popped up to the third baseman.
Quentin made up for it later, however, launching a two-run homer in the seventh that was a no-doubter the second it left his bat. That was part of a four-run seventh that put the game out of reach.
"It's good to see 'Q' get a big swing and three RBIs," Black said. "That was great to see. The bats came alive tonight."
Leake gave up 11 hits and three earned runs in 5 2/3 innings, with no walks and four strikeouts.
"Really, all in all, I'm not that disappointed," Leake said. "They hit some good pitches that were decent pitches. ... Good job by them battling and hitting me early in counts."
Will Laws is an associate reporter for MLB.com. This story was not subject to the approval of Major League Baseball or its clubs.