Staked to early lead, Stras dominates Rockies
Right-hander strikes out eight, gives up one run in 7 2/3 innings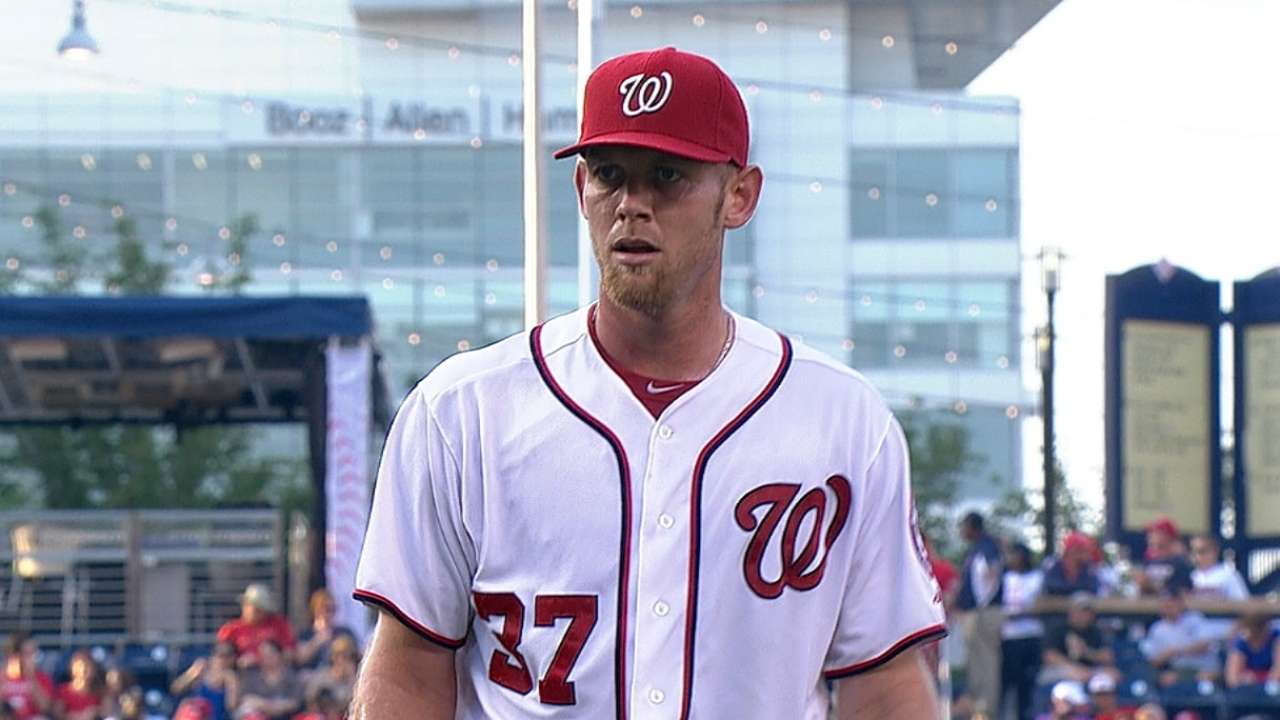 WASHINGTON -- Whatever mechanical issues Stephen Strasburg had on the mound last Thursday against the Brewers, they vanished Tuesday night as the Nationals pounded the Rockies, 7-1, at Nationals Park.
Strasburg pitched 7 2/3 innings, allowed one run on five hits, struck out eight batters and walked one, despite having an irritation on his right thumb. It's nothing serious, according to manager Matt Williams. Strasburg is expected to make his next start.
Unlike his previous start, in which he allowed seven runs in 4 2/3 innings, Strasburg's changeup was crisp and he wasn't opening up his front side too quickly. But Williams saw something else.
"I think strike one was the biggest difference," the skipper said. "He got ahead of a lot of hitters tonight. His curveball and changeup were effective. He went deep in the game. He threw a lot of pitches [111], but he was in command. That's the biggest difference. He didn't fall behind guys. For him, that's important."
Strasburg said he tried to execute pitches better and wasn't trying to reinvent anything on the mound. He threw 21 pitches to the first three hitters of the game, then settled down and managed to go into the eighth inning.
"I was able to command the fastball a little bit better," Strasburg said. "They were fouling them off. I wouldn't say they were great pitches. I was able to execute the pitch a little bit better. I had them put it in play and make weak contact."
The Rockies scored their only run against Strasburg in the eighth inning, when DJ LeMahieu hit a home run over the left center-field fence. Strasburg followed with a strikeout of Charlie Culberson, but a walk to Corey Dickerson ended his night.
"When he throws 94, 95, 96 [miles per hour], [Strasburg] has to have command of that and be able to get the secondary stuff over," Rockies first baseman Justin Morneau said. "I would say we paid attention during the game to his breaking ball.
"He was able to throw it over today. If you're looking at a guy and he's bouncing his curveballs, your plan is to pay attention to it and attack the fastball. But he had that, he had his changeup he was able to mix in. When you do that with that kind of velocity, then it makes it difficult for a guy to hit."
With the roster at full strength, the Nationals are showing how strong they are on offense. Since Bryce Harper's return to the lineup, the Nationals have scored 14 runs in two games.
"We've had a lot of opportunities the last couple of days -- a lot of guys out there." Williams said. "That's what you ask for. We've had a lot of opportunities with guys in scoring position and guys have come through."
Outfielder Jayson Werth noticed that the lineup was more balanced. Before Harper's return, it was stacked with right-handed hitters.
"For the better part of the last few weeks, just the way we are going about it, the pitching has been great, the defense has been good. The offense is coming around. I like the way we are setting up here going into July," Werth said.
According to catcher Wilson Ramos, opposing pitchers don't want to face the Nationals' lineup.
"They don't want to go through us, because we have a pretty good lineup," Ramos said. "Everybody can hit. That's what we have to do to win games. We have to put everything together."
It was Werth who got things going early in Tuesday's game. The Nationals scored in the first inning against Rockies left-hander Christian Friedrich. With runners on first and second and no outs, Werth doubled down the left-field line, scoring Denard Span and Anthony Rendon.
Two batters later, Werth came home on a sacrifice fly by Ryan Zimmerman to make it a 3-0 game.
"That's what the game is all about -- putting pressure on the other team and taking advantage of opportunities," Werth said. "That's what we have done the last couple of nights. We have a long way to go. I like our team. I like where we are at."
Three innings later, Strasburg got in on the action and played a role in Washington's four-run frame. Strasburg keyed the offense when he hit a one-out double to right field. Strasburg and Span later scored on a double by Rendon. It was not a good outing for Friedrich, who lasted 3 1/3 innings and allowed five runs on five hits and four walks.
Werth followed and knocked in his third run of the game, doubling to right-center field, scoring Rendon. A few minutes later, Werth came home on a wild pitch by reliever Chad Bettis.
The Nationals have now won four consecutive games, improving their record to 45-38, and they are one-half game behind the Braves in the National League East.
Bill Ladson is a reporter for MLB.com and writes an MLBlog, All Nats All the Time. He also can be found on Twitter @WashingNats. This story was not subject to the approval of Major League Baseball or its clubs.