Friedrich hit early, Rockies can't recover
Lefty charged with five runs on five hits, four walks in 3 1/3 innings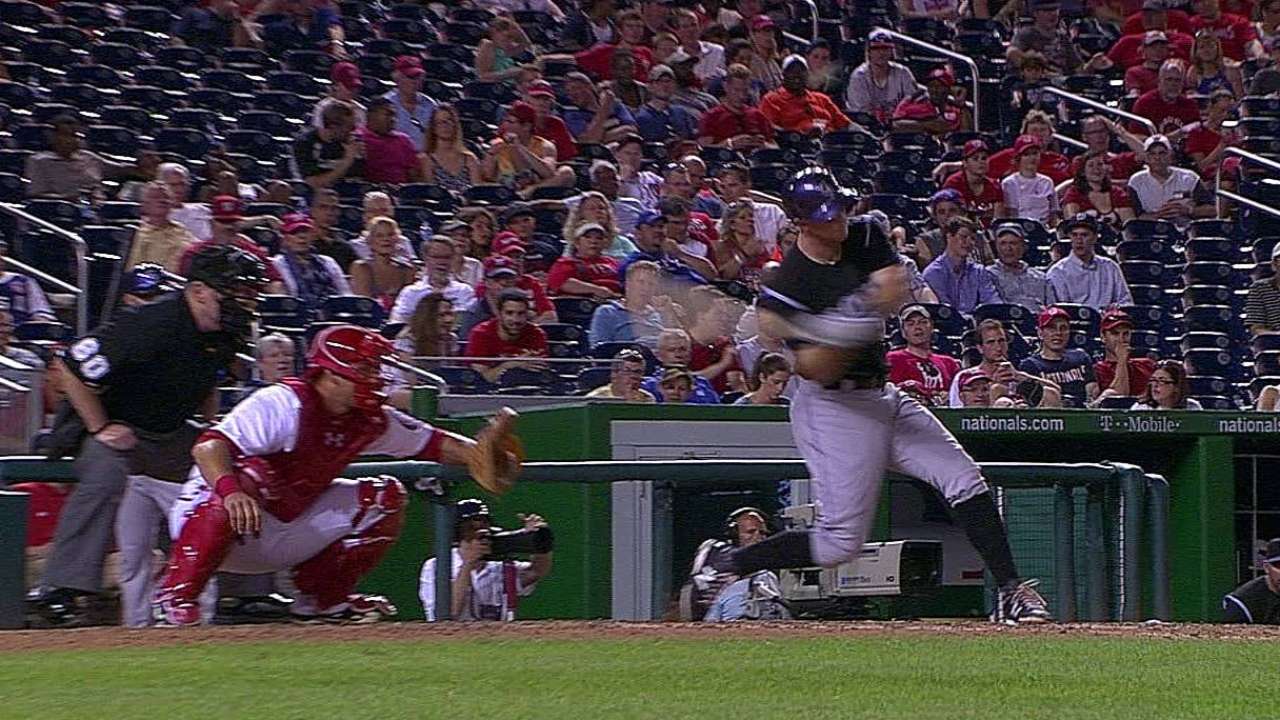 WASHINGTON -- It took two long and difficult trips through the lineup for the Rockies to pull starting pitcher Christian Friedrich on Tuesday night.
Friedrich managed 3 1/3 innings and gave up five runs on five hits and four walks in a 7-1 loss to the Nationals at Nationals Park in front of 26,033.
"It's always frustrating," said Friedrich (0-3), who has a 9.54 ERA in three starts since being called up from Triple-A Colorado Springs. "You can't be going out in the fourth when you're trying to give your team a chance to win. I've put them behind two games in a row. But you learn from it and go after the next one."
After an 8-20 June, the turn of the calendar did not give the Rockies any better luck. They lost for the 13th time in the last 15 games.
"We've just got to turn that around," Rockies manager Walt Weiss said.
The assignment was difficult even before the first pitch. Seeing signs that shortstop Troy Tulowitzki, who has been nursing a right middle toe injury, and center fielder Charlie Blackmon, needed rest, Weiss started a lineup that needed to play perfectly defensively and hang on against Nats starter Stephen Strasburg (7-6).
Even with that, they still would have required solid work from Friedrich (0-3), who had given up 14 runs (nine earned) on 16 hits in his first two starts covering 10 innings after a callup from Triple-A Colorado Springs.
None of what the Rockies needed happened.
Friedrich walked the first two batters, and it didn't get much better. Jayson Werth hit a one-hop smash that caused third baseman Ryan Wheeler to throw his glove up in self-defense. It ended up being a two-run double. Two batters later, Ryan Zimmerman's sacrifice fly gave the Nats a 3-0 lead. It took two more batters and 34 pitches total for Friedrich to escape the inning.
After scoreless second and third innings, Friedrich gave up a Strasburg double with one out in the fourth. Denard Span singled before Weiss removed Friedrich, 19 batters after he started.
Friedrich, one of the latest of the 12 starters the Rockies have called on this year, needed 84 pitches for 10 outs. Further complicating things, righty Juan Nicasio is at Colorado Springs trying to find his stride and pitching on the same schedule as Friedrich. Tuesday night against Oklahoma City, he gave up just two runs in five-plus innings, but needed 99 pitches to make it that far.
"I'm not going to make any decisions right now," Weiss said. "Just keep rolling."
Reliever Chad Bettis promptly gave up doubles to Anthony Rendon for two runs and Werth for one.
Bettis, who has struggled in the Majors and spent more time in Colorado Springs than with the big club after making the Opening Day roster, gave up two runs on five hits, one walk and two wild pitches in two innings.
"I was a little more erratic than I would have liked to have been," Bettis said.
The Nationals took advantage of the uneven Rockies pitching.
"We've had a lot of opportunities the last couple of days," Nationals manager Matt Williams said. "A lot of guys out there. That's what you ask for. We've had a lot of opportunities with guys in scoring position and guys have come through."
By the seventh, Weiss removed first baseman Justin Morneau, hoping to rest him and try again Wednesday as the Rockies attempt to avert a sweep. DJ LeMahieu averted the shutout Tuesday with a solo homer in the eighth off Strasburg. But Strasburg held the Rockies to five hits and struck out eight in 7 2/3 innings.
But on a night when it took until the eighth to reach Strasburg, the Rockies couldn't afford to fall behind three runs after one inning and seven before the game had reached the midpoint.
"There's not much you can do when a guy who's got that kind of stuff is able to command the zone, work ahead and do what he did tonight," Morneau said. "Three runs with the offense that we have isn't impossible, but we just couldn't get anything going."
Thomas Harding is a reporter for MLB.com. Follow him on Twitter @harding_at_mlb. This story was not subject to the approval of Major League Baseball or its clubs.