Price downs Yanks with 12th quality start
Lefty allows one run over seven innings; Loney hits go-ahead homer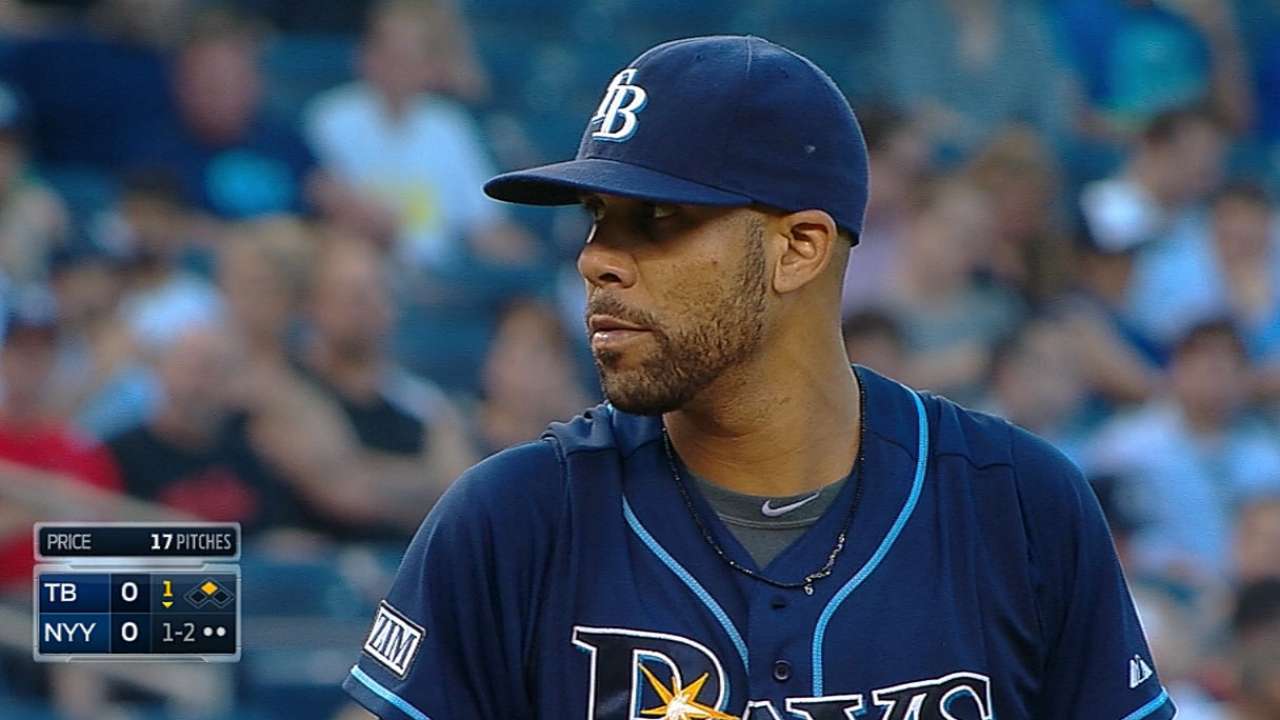 NEW YORK -- David Price resides on a different planet these days.
On Tuesday night, the Rays' ace posted his 12th quality start of the season by limiting the Yankees to one run in seven innings to lead Tampa Bay to a 2-1 win at Yankee Stadium.
The Rays have won four straight. Since June 11, the Rays (37-49) are 13-7, and they are 5-1 on the current 11-game road trip to remain 9 1/2 games behind first-place Toronto in the American League East.
"We've been playing really well," Rays manager Joe Maddon said. "You have to pitch well to beat [Yankees starter Hiroki] Kuroda today and David did. The bullpen was very good. We got enough runs. ... Just a normal game, great pitching and we got enough points. That's how we win it."
Price moved to 7-7 on the season while striking out nine and lowering his ERA to 3.50. He has struck out 63 batters over his last 46 2/3 innings and bettered his mark against the Yankees to 10-5 with a 3.72 ERA in 23 career starts.
Rumors of Price being traded before the July 31 non-waiver Trade Deadline are still prevalent. The ace wants to stay put, so the only thing he can control is what he does on the mound, which is convincing.
"I love that," Maddon said. "Stay here David. Pitchers and players like David make managers much smarter."
Price refuses to allow trade rumors to be a distraction.
"I just play baseball," Price said. "That's my job. My job's not to worry about what's going on in the front office or on anybody else's team. My job is to go out there to give us a chance to win and that's what I try to do."
Meanwhile, the offense scored just enough against Kuroda to win.
Matt Joyce opened the fourth with a single to the opposite field off Kuroda and made a hustling play to advance to third on Evan Longoria's single to left. One out later, hot-hitting Logan Forsythe singled through the middle to give the Rays a 1-0 lead.
The Yankees answered when Derek Jeter doubled off Price to lead off the bottom half of the inning and moved to third on Jacoby Ellsbury's single to center. One out later, Ellsbury got caught in a rundown trying to steal second. Shortstop Ben Zobrist's throw hit Ellsbury in the back, allowing Ellsbury to reach second and Jeter to score the tying run.
"I'm gonna miss seeing Jeter out on the field, but I'm not gonna miss him in the box," said Price of the retiring Yankees captain. "I feel like if I had a lineup full of 40-year-old Derek Jeters, I might not make it through the fifth. It's tough, man. He is who he is, that's what makes him special."
James Loney homered off Kuroda to lead off the sixth, which turned out to be the winning margin.
Kuroda allowed two runs on nine hits and a walk while striking out seven, but he came away with his sixth loss of the season.
"[Price] did what he usually does," Yankees outfielder Brett Gardner said. "He stays out of the middle of the plate, and when he misses middle it's 95 [mph] up in the zone and hard to get on top of that. He's just a real good pitcher, and right now we're not doing a good job as a team of putting together at-bats. It's a shame, because Hiro pitched really, really well. It's basically a wasted start."
Jake McGee pitched a scoreless eighth before Maddon went to deposed closer Grant Balfour to pitch the ninth.
Maddon's reason for going with Balfour originated from Balfour showing good stuff in Monday night's win and the fact he spotted Balfour walking through the hotel lobby with his grandmother.
Balfour walked Carlos Beltran on five pitches to start the inning. He then recovered to strike out Brian McCann looking to bring Brian Roberts to the plate.
Roberts homered Monday night to send the game into extra innings. This time he flew out to center field before pinch-hitter Kelly Johnson walked, leaving the Yankees' fate up to Yangervis Solarte. Balfour ended the drama by retiring him on a groundout to first for the third out of the inning, preserving the win and earning his 11th save of the season.
"He needed to do that tonight," Maddon said. "He needed to do that for his own mental edification, stability.
"Moving forward, for us to really make a really loud noise this year, everybody's got to do their job. Everybody's got to participate. You can't just lay it on one or two guys and think that it's going to work fine for the whole year. It doesn't work that way."
Bill Chastain is a reporter for MLB.com. This story was not subject to the approval of Major League Baseball or its clubs.