Lively bats, triple play fuel Tribe's rout in LA
Chisenhall among four with two RBIs; replays aid 7-2-4 stunner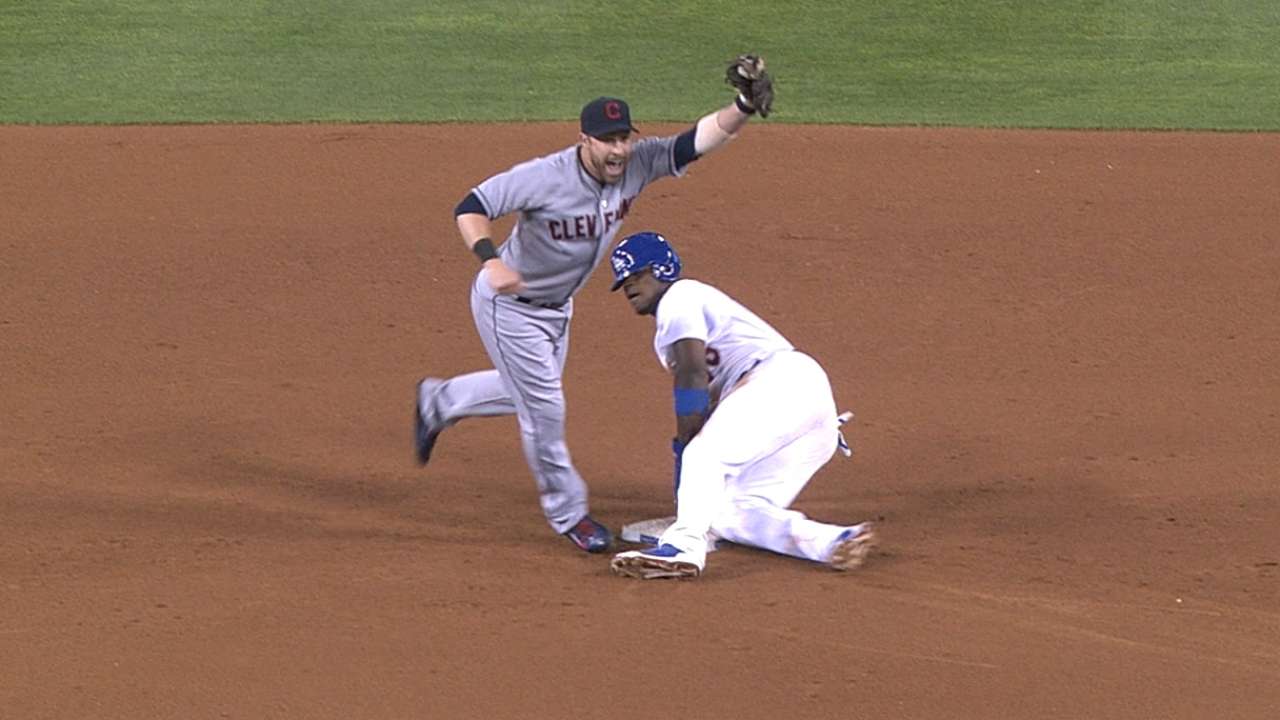 LOS ANGELES -- The Indians needed a game like this. They have been in need of a night when, even with some persistent problems present, things still tilted their way and led to a win.
A wild night at Chavez Ravine did wonders for Cleveland on Tuesday.
The Indians' offense woke from its recent slumber to lead the way to a 10-3 Interleague victory over the Dodgers to even this three-game series. Cleveland turned in unlikely triple play -- one aided by a pair of instant-replay challenges -- and overcame another rough start from sinkerballer Justin Masterson.
"That was kind of a crazy game," Indians manager Terry Francona said. "There was a lot going on."
Following consecutive games in which they were limited to one hit and no runs, the Indians (40-43) enjoyed a solid all-around showing from their lineup. The Tribe headed into the game with just three hits in 63 at-bats across 21 straight scoreless innings. Cleveland broke free of that spell with 13 hits, including three in a three-run push in the first.
Slumping hitters Nick Swisher and David Murphy even got in on the action.
Swisher, who entered the evening mired in a 6-for-49 skid since returning from the disabled list, contributed a pair of hits. In the third inning, he sent a pitch from Dodgers righty Josh Beckett off the wall in left-center for a two-run double. Murphy, who was 1-for-44 heading into the game, collected three hits and two RBIs.
Beckett, who entered the game with a 2.02 ERA and no runs allowed in his past two starts, was chased after giving up five runs in five innings.
It was that kind of game for the Tribe.
"Once again, we know what we're capable of," Murphy said. "When we play like we're capable of playing, good things usually happen and we usually like the results. Tonight, that was the case. We were in one of those mindsets tonight where we were going to battle and fight and do whatever we could to win the game."
The outpouring of offensive helped Cleveland avoid the potential damage of another forgettable outing from Masterson, who was charged with three runs on seven hits in three-plus innings. Masterson, who used two extra days between starts to rest a sore right knee, has surrendered eight runs on 14 hits with seven walks in seven innings combined in his past two turns.
Michael Brantley (RBI double) and Lonnie Chisenhall (two-run home run) helped propel the Indians to a 3-0 lead in the first inning, but Masterson nearly gave it back in the home half of the frame. The Cleveland right-hander yielded a two-run homer to Adrian Gonzalez and needed 37 pitches to get out of the inning, which was extended by a missed-catch error at first base by Swisher.
Masterson's woes and Swisher's defense (eight errors this year) have been issues all season long, but it did not end up costing Cleveland on Tuesday.
"The offense was great. The bullpen was great," Masterson said. "I think we, as a team, feel very fortunate. We hadn't been hitting as well as we'd like to the last couple games. Being able to put up some runs like that, I think everyone was really excited."
Helping the Tribe's cause was an improbable 7-2-4 triple play in the fourth inning, aiding Masterson in avoiding more runs on his line. Masterson exited with runners on the corners and no outs, leaving rookie lefty Kyle Crockett with a mess to clean up. Crockett needed only four pitches to get three outs on one play.
Gonzalez sliced a pitch from Crockett to left field, where Brantley made the catch for the first out. Dee Gordon tagged up at third and sprinted home, but Brantley's relay to catcher Yan Gomes was in time to complete a double play. While Gomes tagged Gordon, Los Angeles' Yasiel Puig tried to advance from first. Gomes fired to second baseman Jason Kipnis, but Puig was deemed safe.
First, Francona challenged the safe ruling at second base, and the call was overturned following a brief review. Next, Dodgers manager Don Mattingly emerged from the home dugout and challenged the out call at the plate. The ruling would stand as called, giving the Indians their first triple play since they turned one against the White Sox on April 3, 2011.
"It was great," said Brantley, whose 10 outfield assists are tied with Oakland's Yoenis Cespedes for the Major League lead. "It got us out of the inning -- that was the best part about it. Just being a part of it is something special. It was fun, it's exciting and it was a big lift for the team."
The win as a whole was much-needed for Cleveland.
"It was nice to let the guys loosen up a little bit," Francona said, "because we had had a couple tough nights."
Jordan Bastian is a reporter for MLB.com. Read his blog, Major League Bastian, and follow him on Twitter @MLBastian. This story was not subject to the approval of Major League Baseball or its clubs.