A's unable to back solid Mills in loss to Tigers
Southpaw fans six in six frames, but bats stifled by dealing Porcello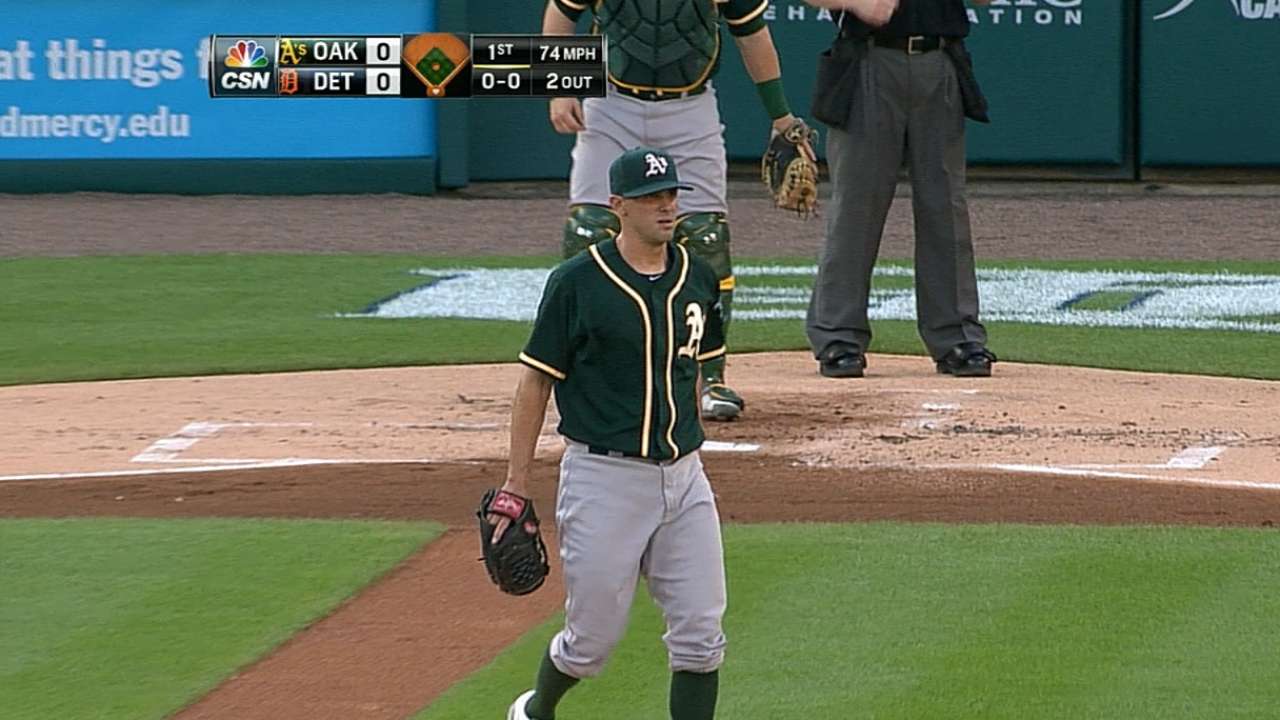 DETROIT -- For a second straight night, the A's exited Comerica Park in silent fashion.
Baseball's highest-scoring offense had just been shut out for only the fourth time all season, unable to do much of anything Tuesday against a brilliant Rick Porcello in a 3-0 loss, which spanned just two hours and 13 minutes -- marking the shortest game played by Oakland this year.
The A's had won four straight and 11 of 14 before landing in Detroit, where they've been humbled by a club that's dealt them one too many disheartening losses in recent years.
They now head into Wednesday's finale against Justin Verlander having already dropped the season series to the Tigers, who lead it by a 4-2 margin.
It will also mark the end of the A's fifth consecutive three-city road trip.
"Might be a little bit of a different lineup," manager Bob Melvin said before the game. "We're dragging a little bit. This is our fifth three-city road trip in a row, and at times we've been out of gas at the end. We've had a lot of guys that have played a lot of innings, so it might look different."
Tuesday wasn't about the lineup, though. It was about Porcello, who extended his scoreless streak to 25 1/3 innings and became the first Tiger since Jack Morris in 1986 to toss back-to-back shutouts.
The right-hander needed only 95 pitches to do it, facing just four batters over the minimum against a typically patient A's club that didn't draw a single walk.
"We're usually a patient team, but the guy's out there throwing first-pitch strikes to everyone, he's rarely behind," said Brandon Moss. "It gets to a point in a close ballgame where you can't just keep allowing him to get ahead. You have to swing the bat. I thought he did a really good job.
"I don't think he was overpowering. He just went out and pitched a great ballgame. He threw a ton of strikes, ahead of almost everyone, mixing it up with offspeed pitches and kept the ball on the ground. He pitched his game, and it was a great game."
Porcello, who didn't strike out a single batter but induced 17 ground-ball outs, is the first Major League pitcher since Jeff Ballard on Aug. 21, 1989, to toss a complete-game shutout without a walk or a strikeout.
"We went over the scouting report before the game," Porcello said. "We knew what we wanted to do with these guys. I faced them earlier in the season, was a little erratic but was able to be somewhat effective. So I knew coming into tonight that if I made some adjustments, we had a good opportunity to be successful."
Porcello recorded 19 outs with three pitches or fewer, a superb outing that overshadowed a respectable one by A's lefty Brad Mills.
Oakland's newest rotation member, making his third start in green and gold, limited the Tigers to three runs on six hits -- including J.D. Martinez's two-run homer in the sixth -- and three walks with six strikeouts in six-plus innings.
"Those are guys I've never faced before, the majority of them," said Mills. "They're a formidable lineup, so it's a challenge.
"I feel like I've given the team a chance to win. Come out and make them swing. That's my job, to keep them in the game regardless of what the other guy is doing."
"You give up three runs to a team -- one on a ground ball, the other on a homer -- and you don't get anything," said Melvin, "That's a pretty well-pitched game, we just couldn't help him out."
Said Moss: "I think he's done a great job. We gotta score runs for him. We just didn't do that. We didn't even really come very close.
"We've played some games where the energy is lacking a bit, but today I think for the most part we were in it, putting the ball in play. Tonight was just frustration by our players getting beat, he was pitching a great game, and we didn't like it very much."
Jane Lee is a reporter for MLB.com. This story was not subject to the approval of Major League Baseball or its clubs.