Porcello extends scoreless streak with shutout of A's
Righty is first Tiger since Morris in '86 with back-to-back shutouts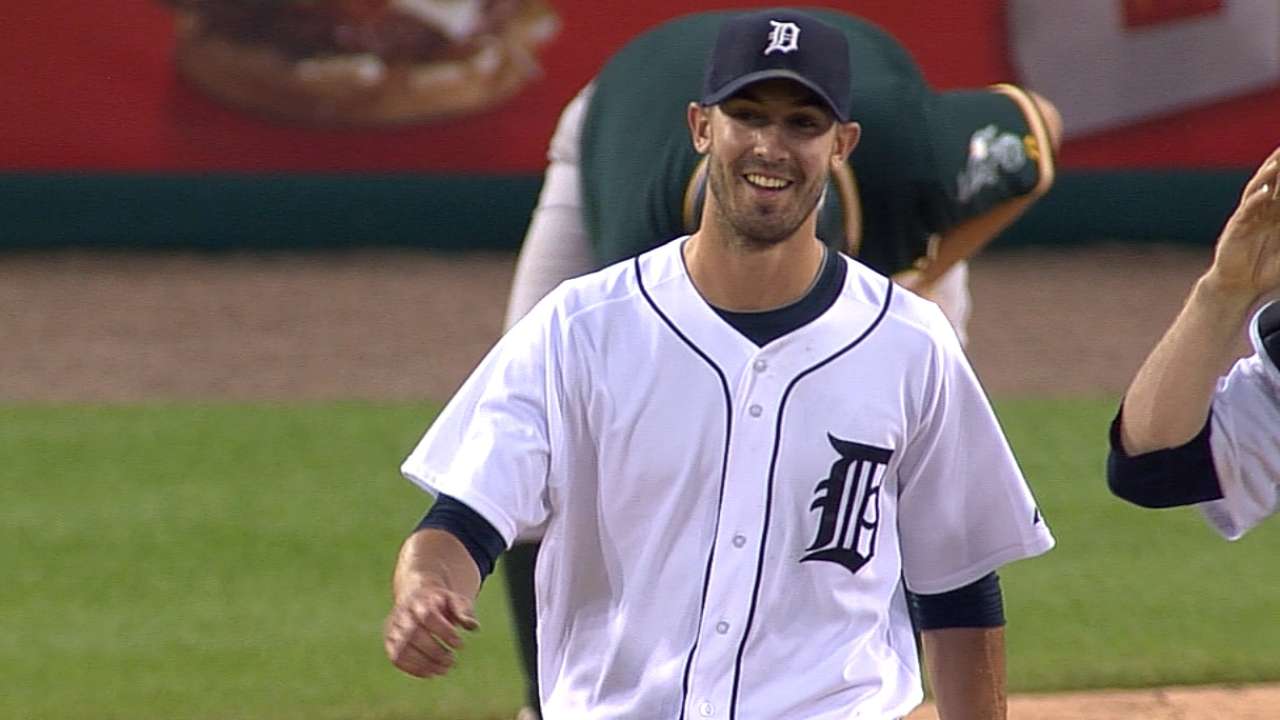 DETROIT -- The team with the best run differential in baseball ran into the Tigers pitcher who hasn't given up a run since mid-June. It wasn't Max Scherzer, Anibal Sanchez or Justin Verlander, but the 11-game winner and Major League co-leader in wins.
Not only did Rick Porcello win that matchup with the A's on Tuesday, he blanked the highest-scoring team in baseball for his second straight shutout, and he made it look easier than the 3-0 margin would suggest.
No runs, four hits, no walks, no strikeouts -- and seemingly no chance. It took just 95 pitches over 2 hours, 13 minutes. As clean and efficient of a performance as a pitcher can produce.
"That's quite a run he's on right now," A's manager Bob Melvin said. "You've gotta give him some credit. Good sinker, good changeup, mixed in breaking balls to keep you off balance. A lot of balls on the ground."
As well as Porcello has pitched this season, credit has been hard to find outside these parts. The numbers that have emerged are making it unavoidable.
"If his sinker's down, that's what's going to happen," manager Brad Ausmus said. "That's when he's good."
The last time Porcello gave up a run, the United States men's national team still hadn't played its World Cup opener. The Tigers still hadn't fallen out of the lead in the American League Central, and Torii Hunter was still wearing Zubaz gear.
That was June 15, when Kurt Suzuki's sixth-inning single brought in Kendrys Morales in a three-run Twins sixth inning. Porcello retired Sam Fuld to hold the threat there, retired the side in order in the seventh, and proceeded to shut down each opponent he has faced since. He tossed six scoreless innings in Cleveland in his next start, then blanked the Rangers on three hits last Thursday in Texas.
With 25 1/3 consecutive scoreless innings, it's no longer a hot stretch for Porcello -- it's a historically stingy one. No Tigers starter has held opponents without a run for that long since Jack Morris tossed 31 shutout innings from July 9-18, 1986.
Morris' three shutouts in that stretch were the last back-to-back shutouts posted by a Tiger until now.
"You trying to jinx me right now?" Porcello asked jokingly.
At 11 wins, it's no longer also just a hot start. Porcello is tied with Yankees ace Masahiro Tanaka. Both are 25 years old, born less than two months apart. While Tanaka counts as a rookie, having made the jump from Japan in the offseason, Porcello's sixth Major League season is becoming his breakout campaign.
"Honestly, I think you could always see it," teammate Austin Jackson said. "You could see it in his demeanor. You could see it in his attitude. He was always a competitor. I know you hear that a lot about guys, but it's the truth about him."
Jackson sees the mound presence. Max Scherzer sees the pitching.
"He's just absolutely pounding the bottom of the zone," Scherzer marveled. "He's attacking guys. He's not walking guys. His sinker has teeth. His breaking pitches are going where they want them to. Everything's by design.
"He's getting a grasp for pitching with four pitches and executing it every single batter. That's the difference."
Porcello cited extra work with pitching coach Jeff Jones for the difference in the sinker. It had so much movement in his last start that catcher Alex Avila said he simply lined up his mitt over the plate for a target and let the sinker do its thing. With rookie Bryan Holaday behind the plate Tuesday, the movement was the same.
"That's basically all you can do," Holaday said. "The thing is moving and it's moving late."
Seventeen of the 27 outs Porcello recorded came on ground balls, and none of the hits were that well struck. A pair of fly balls to deep center field were about as close as Porcello came to getting hit hard.
"He threw a ton of strikes and got a ton of ground balls," A's right fielder Brandon Moss summarized. "We're usually a patient team, but the guy's out there throwing first-pitch strikes to everyone. He's rarely behind. It gets to a point in a close ballgame where you can't just keep allowing him to get ahead. You have to swing the bat."
They didn't miss often, but they got next to nothing to show for it. Not since then-Oriole Jeff Ballard blanked the Brewers on Aug. 21, 1989, had a Major Leaguer tossed a shutout with neither a hit nor a walk. No Tiger had done it since Dizzy Trout in 1944.
"I would've liked to record one strikeout," Porcello said, "but I'll take the game that I had tonight over anything."
Jason Beck is a reporter for MLB.com. Read Beck's Blog and follow him on Twitter @beckjason. This story was not subject to the approval of Major League Baseball or its clubs.