Dodgers miss too many chances against Tribe
Los Angeles leaves 10 on base; Cleveland pulls off triple play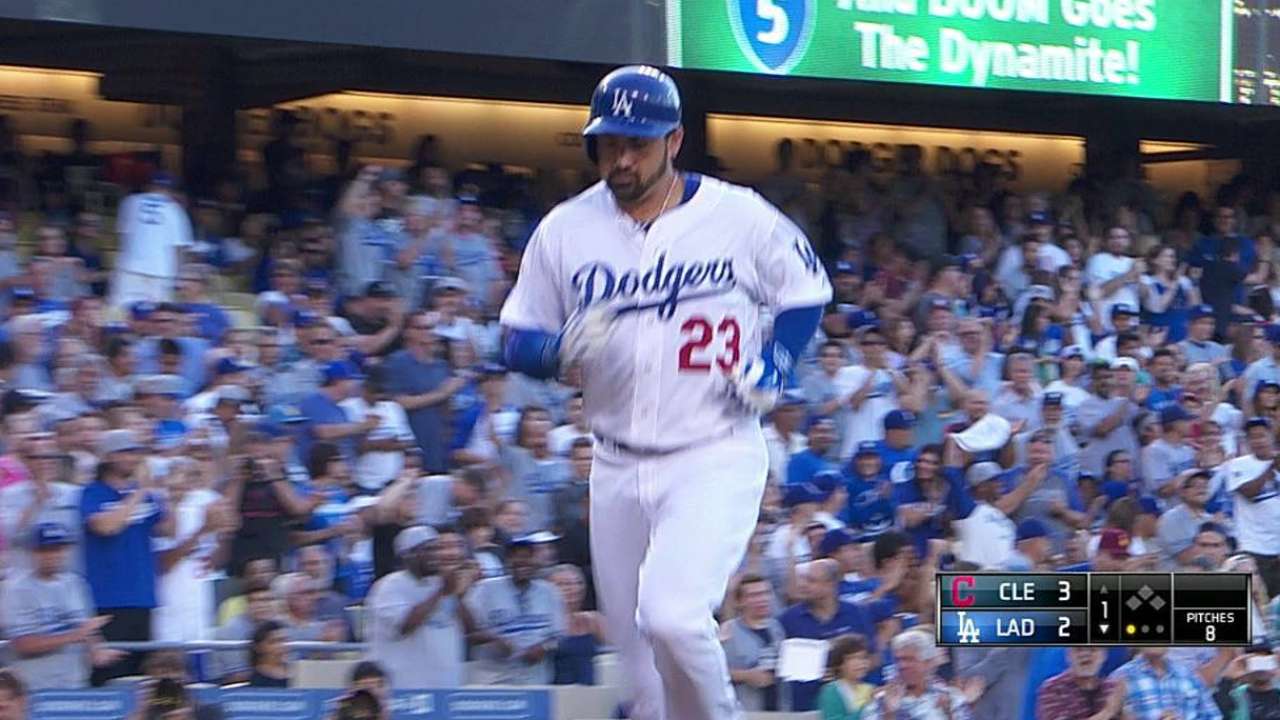 LOS ANGELES -- The Dodgers had already stranded the bases loaded twice in Tuesday night's 10-3 loss. For their third disappearing act, they would require a softly hit fly ball, two baserunning gaffes, one overturned call and one that would stand.
And -- just like that -- magic.
The Dodgers were down, 5-3, in the bottom of the fourth inning with Dee Gordon on third and Yasiel Puig on first. Indians left-hander Kyle Crockett entered the game to face lefty slugger Adrian Gonzalez. Four pitches in, Gonzalez delivered a shallow fly ball to left fielder Michael Brantley, who charged in to make the catch. Gordon tagged and was thrown out at home and Puig tagged and was called safe at second, but only for a moment.
Cleveland manager Terry Francona was the first out of the dugout. He won his appeal -- Puig was called out at second after a replay review. Then came challenge No. 2. Dodgers manager Don Mattingly had umpires check on the play at home. He wasn't as lucky. Gordon remained out.
It was a double review and a rare 7-2-4 triple play -- a balancing complement to a wild offensive night in which the Dodgers consistently came close, only to come up short.
"It really was a game that I think just shows us that we still got a lot to continue to work on," said Mattingly, who seemed frustrated with his team's baserunning decisions. "And tonight had a lot of teaching opportunities for us as we move forward. We just have to continue to get better. And it's just one of those games that shows you you're not where you want to be."
In the first five innings, the Dodgers stranded the bases loaded three times and wasted a first-and-third opportunity on the triple play. They entered the game in sole possession of first place for the first time since April 24 and were riding a three-game winning streak. They couldn't make it a season-high four.
"I'm not really irked about not getting four," Mattingly said. "I'm irked about not getting one.
"You see the game, so you see the plays I'm talking about."
The Dodgers tallied 10 hits -- pitcher Josh Beckett helped his cause with two leadoff doubles -- but the 10 men they left on base prevented them from picking up unusually shaky outings by Beckett and three relievers.
Beckett allowed five runs on six hits in five innings, dropping to 5-5 on the season. He entered Tuesday's game riding a 14-inning scoreless streak, and the Indians entered as victims of back-to-back one-hit shutouts. But it took a third of an inning for all of that to change.
After leadoff hitter Michael Bourn grounded out on Tuesday night's first pitch, Beckett's outing quickly unraveled. Asdrubal Cabrera singled to right, then advanced on an errant pickoff attempt. The next hitter, Brantley, drove in Cabrera with a double to deep right-center field. Then four-hole hitter Lonnie Chisenhall fulfilled his cleanup-hitter duties, driving a Beckett curveball over the fence in right field to establish a 3-0 Indians lead.
"I was leaving them up," said Beckett, who has dealt with general soreness between his starts but didn't use that as an excuse Tuesday.
"I was ahead in some of those counts whenever I was giving up hits. I'm in counts where I think it's the right pitch, but I'm just not executing the way I need to execute."
The Dodgers' offense responded quickly, with a two-run home run off the bat of Gonzalez in the bottom half of the first. They loaded the bases after a Nick Swisher error at first extended the inning, but eight-hole hitter Carlos Triunfel struck out to end the threat.
An inning later, the Dodgers would strand the bases loaded again on an Andre Ethier groundout, wasting back-to-back doubles to start off the frame.
With a two-out Swisher double, the Indians plated two more runs in the top of third, before tacking on two insurance runs against reliever Jamey Wright in the sixth and three runs off of Paul Maholm in the eighth.
"It's definitely one of those nights where they seem to have the big hit or have some things go their way," catcher Drew Butera said. "But it's baseball. That's why you play a lot of games."
The Dodgers hinted at coming back against starter Justin Masterson, who threw 85 pitches and gave up three runs on seven hits and three walks. They chased him from the game with no outs in the fourth, then stunted their own rally with the triple play.
The Dodgers loaded the bases again in the fifth, down 5-3 with no outs, but Butera and pinch-hitters Hanley Ramirez and Clint Robinson each struck out to neutralize the rally and ultimately close the book on the game -- they'd tally just one hit in the last four innings.
It was their final disappearing act.
Michael Lananna is an associate reporter for MLB.com. This story was not subject to the approval of Major League Baseball or its clubs.