Rookie Hernandez provides bright spot in tough loss
Cosart, bullpen struggle to slow down hot-hitting Mariners lineup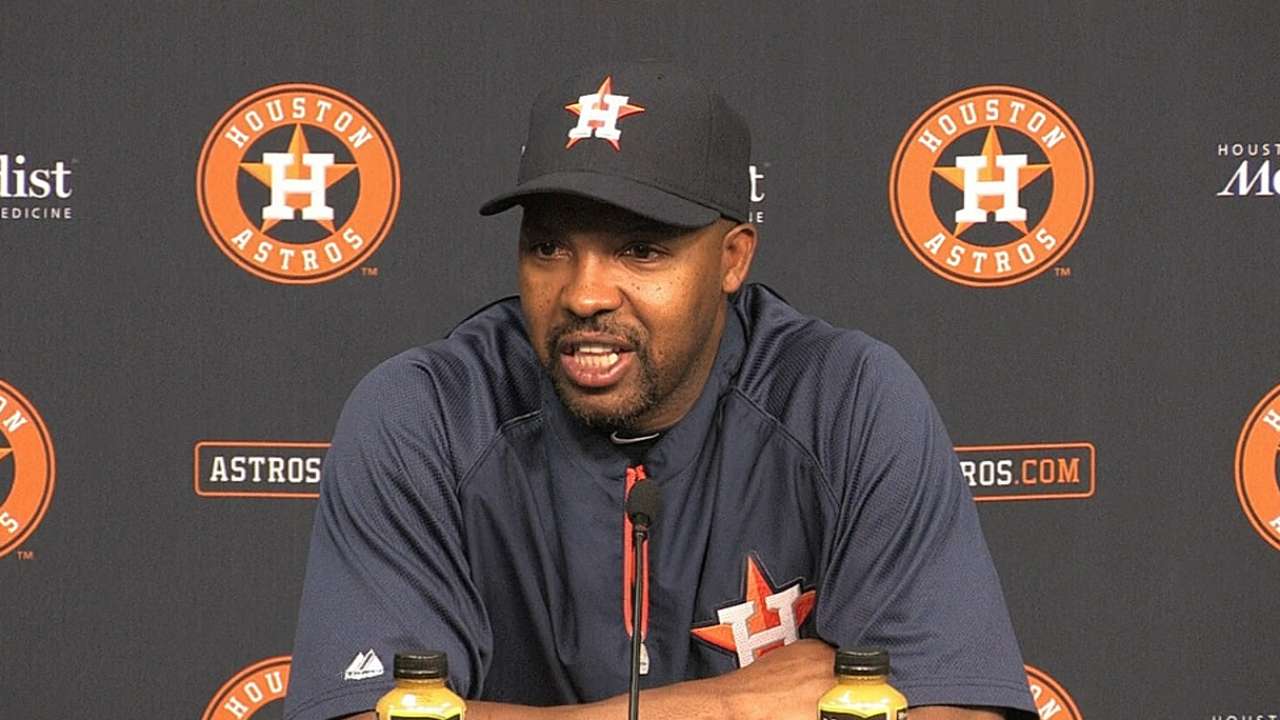 HOUSTON -- In almost any other tough loss, it would be hard to find a reason to smile, but on Tuesday night, there was a family who flew to Houston from Puerto Rico for a 22-year-old making his Major League debut.
In fact, the 13-2 Mariners rout over the Astros made it possible for the Hernandez family to see Enrique, whom they call Kiké, come up to bat in the seventh inning.
With Minute Maid Park clearing out and the Astros losing by double-digits, Hernandez got the chance to come in for Jose Altuve. When he approached the batters box, a few rows of his family -- his parents from Puerto Rico, extended family from San Antonio, girlfriend from California and host family from Corpus Christi -- chanted "Ki-Ké! Ki-Ké!" over and over.
Pitch one from Dominic Leone: ball. Pitch two: a line-drive that launched off his bat to deep right-center field, where balls often go to die at Minute Maid Park. The location and power was the perfect combination for an RBI ground-rule double, as it one-hopped onto the Astros bullpen and ended up in Hernandez' locker an hour or so later. The Hernandez family jumped up and down and shouted and screamed and made it known they had come to see their loved one.
"As soon as I got to second and turned around and saw that my family was on the big screen," Hernandez said, "and those faces, the emotions that they were showing, that's the moment that I'll never forget about."
Yet Hernandez wasn't the only Astros player making his Major League debut Tuesday night. It was Domingo Santana who arrived Tuesday with more hype and more of a following. Yet Santana never had a chance to make noise in his Astros debut. He was facing Hisashi Iwakuma.
Santana, the third top Astros prospect to be called up since mid-April, went 0-for-4 with three strikeouts and one run in his Major League debut in Houston's loss to the Mariners, who notched season highs in runs and hits (18) and have won the first two games of a three game stint against the Astros.
"This is just one of those nights where the bats came alive and we were swinging well," Mariners manager Lloyd McClendon said. "We haven't had one of those all year."
The only time Santana batted against someone other than Iwakuma, came in that seventh inning against Leone, and Santana got on base on an error from Brad Miller. He would score on the Hernandez double.
Jarred Cosart struggled early, giving up three runs on four hits in his first two innings. He threw three scoreless innings until the sixth, when he gave up a two-run double to Robinson Cano, who later scored. He was taken out of the game after giving up six runs, four walks and nine hits in 5 2/3 innings.
"It all comes down to walks," Cosart said.
Sure, it looked like Darin Downs giving up four earned runs in 1/3 of an inning would be one of those struggles to point out, but that was before Hernandez swung again in the ninth inning. On the fourth pitch he faced, he knocked a single to center field that once again sent the Hernandez family into a frenzy. After all, he became the third Astros player to hit an RBI-double in his first-ever plate appearance two innings earlier.
The call up for Santana was expected to happen sometime this season. Hernandez was just hoping for a chance in September. He got his July surprise and capitalized.
After it was over, and the Astros had lost, the front row behind the Astros' dugout was cluttered with fans. Some chanting "Ki-Ké! Ki-Ké!" others just wanting an autograph. He stayed and signed for a while before walking down the first-base line to have a private moment with his family. There were hugs and high-fives and more high-fives and more hugs.
"That there," manager Bo Porter said, "is what you call the bright spot of a dark night."
Mike Vernon is an associate reporter for MLB.com. This story was not subject to the approval of Major League Baseball or its clubs.