Lucas' walk-off single wins it in 11th
Marlins end skid as Alvarez stays hot with seven strong innings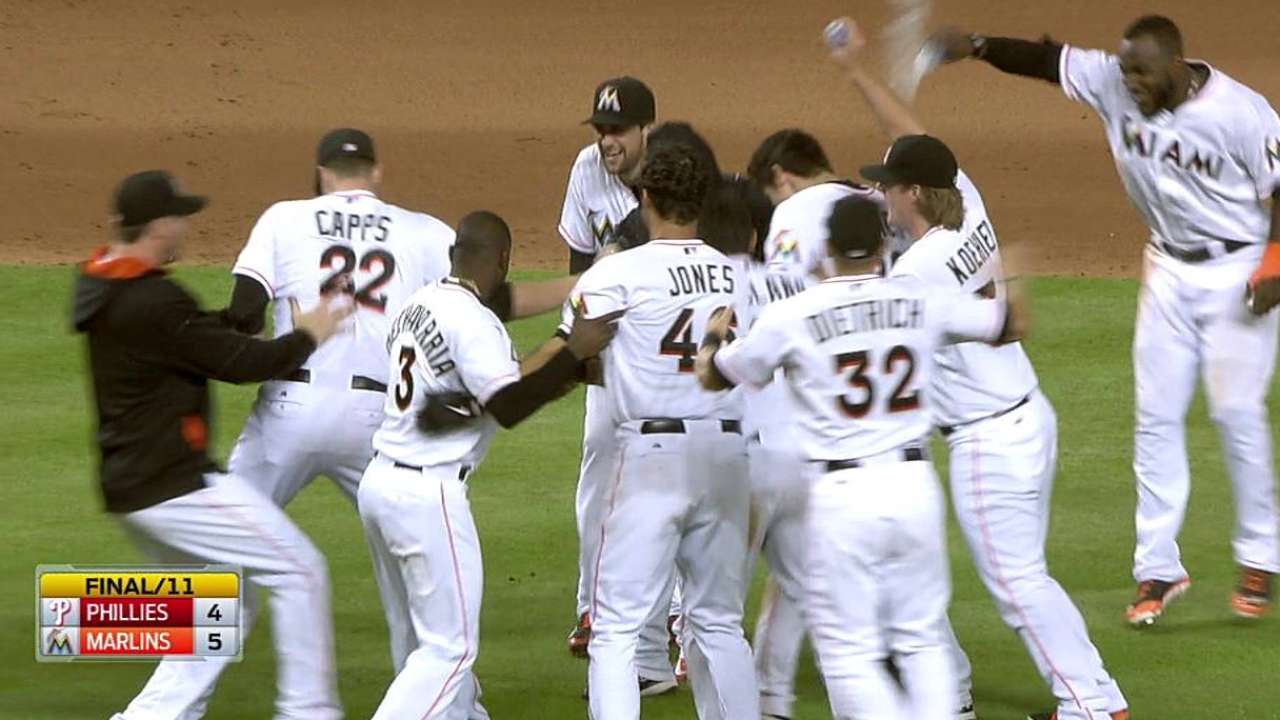 MIAMI -- Ed Lucas put an end to the Marlins' extra-inning misery with a walk-off single in the 11th inning that lifted Miami to a 5-4 win over the Phillies on Tuesday at Marlins Park.
Lucas' single to right snapped Miami's four-game losing streak and improved the club to 5-8 in extra-inning games. Since June 6, the Marlins have played seven extra-inning games and lost five of them, including three in a row.
The Marlins recorded their 14th comeback win and seventh walk-off and it was all thanks to what Lucas called the "goon squad," otherwise known as the Marlins' bench.
"They don't get a lot of at-bats but they play a huge role," manager Mike Redmond said. "You saw that tonight."
Pinch-hitter Jeff Baker, who was batting at a .198 clip off the bench before Tuesday, led off the inning with a single off Phillies reliever Justin De Fratus. Baker advanced to second on Christian Yelich's sacrifice bunt.
With Giancarlo Stanton on deck, De Fratus tried to go after Lucas but got himself in a bind with two straight balls. Although he bounced back to a 2-2 count, Lucas figured De Fratus would throw a fastball. And he did, which gave Lucas the chance to hit the pitch over the head of first baseman Ryan Howard and down the right-field line, leaving Marlon Byrd unable to make a play and Baker able to score the winning run.
"I faced De Fratus a couple times and he has a good slider -- and I knew that -- but I also knew I had the big guy [Stanton] behind me and he probably didn't want to walk me," Lucas said.
The Marlins have now won each of Henderson Alvarez's last nine starts. That matches the club record set by Chris Hammond in 1993, when the team won all nine of Hammond's starts from May 19 to July 22.
But it wasn't all good for the Marlins.
A pair of two-out, solo homers off reliever Kevin Gregg in the eighth inning, when the Marlins were up 4-2, were enough to undo the work Stanton and Alvarez had done to keep the Marlins from extending their losing streak to five games.
While Alvarez gave up just two runs in seven innings, Stanton had a 2-for-3 night that included two walks (one intentional), a strikeout and his 61st RBI of the season. That gave him his league-leading 30th multi-hit game of the year.
If on-field performance is anything to go by, Stanton didn't seem bothered by rumors that he was on the trading block before the game. He drove in the Marlins' go-ahead run in the fifth inning and ended up scoring the team's fourth run of the game on a wild pitch with two outs.
And the threat of him causing more damage was the key to Lucas' heroics in the three-hour, 37-minute contest. Since the Phillies walking Stanton was inevitable, Redmond called for Yelich to bunt and get a runner in scoring position. If Lucas made an out, Stanton would have gone to first, but at least it would have brought up Casey McGehee, who was the last Marlin to hit a walk-off in the 10th inning against the Pirates on June 15.
"It's tough to center it all around what [the pitcher is] going to do to [Stanton] because they're going to pitch around him every single time," Redmond said. "I figured we get [Baker] down there, we get two shots to get it done. If Eddy doesn't get it done they walk Stanton and we got Casey up there [with runners on] first and second. I still felt good about that situation."
It didn't seem like July was going to get off to to a good start, as the Marlins made a mental error that allowed a run to score in the first inning. Yelich and Marcell Ozuna were both converging on a routine fly-out to right-center field. As Yelich dove to get the ball, Ozuna slowed down, which allowed the ball to roll past him when Yelich was unable to capture it. Jimmy Rollins reached second on the double and ended up scoring the Phillies' first run on a Chase Utley single.
As a result, Alvarez had to throw 22 pitches to get through the inning.
But the right-hander, who has become the Marlins' ace in the absence of Jose Fernandez, managed to extend two different streaks on Tuesday. Despite getting into some jams and throwing 97 pitches in his no-decision, he allowed two runs or fewer for the eight straight game.
And he hasn't given up a homer in nine straight starts (61 innings).
"He's really come back this season and kept throwing the way he had last year," Lucas said. "Especially with us losing Jose, he's really picked us up in [his] absence and been our ace. He doesn't go out there and strike out a million guys, but he has that nasty two-seamer and gets groundballs and keeps the infielders involved. He's been outstanding for us."
Maria Torres is an associate reporter for MLB.com. This story was not subject to the approval of Major League Baseball or its clubs.