Tired Koji struggles in ninth as bats stay quiet
Sox's offense held to three runs or less for 14th time in past 17 games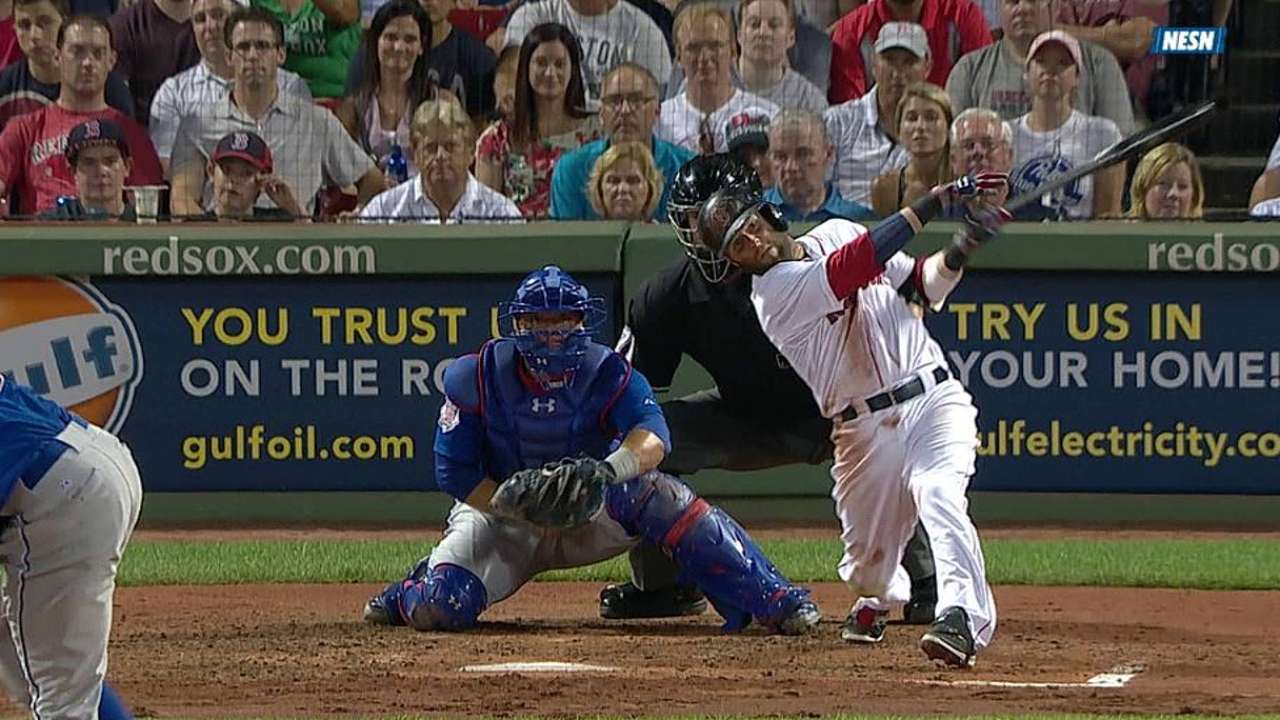 BOSTON -- Koji Uehara admitted fatigue was a factor in him giving up a run in the top of the ninth that led to the Red Sox suffering a 2-1 loss to the Cubs on Tuesday night at Fenway Park.
And it goes without saying that the defending World Series champions are more than fatigued from being unable to produce hardly even a semblance of offense.
The latest pitcher to mow down the Red Sox was journeyman right-hander Edwin Jackson, who came into the game with a 5.22 ERA.
"He pitched the game of his life today," said Red Sox slugger David Ortiz. "Everyone has been doing that against us. The pitching we've been facing lately -- pitchers go from being [terrible] to being good. It's unbelievable. This guy has an ERA near 6.00. He was making pitches and I was like, 'Seriously, dude, if you pitched like that, your ERA would be 2.50.'"
As the calendar flipped to July, the hope was that a new storyline would emerge, one in which Boston clubbed the ball on offense and gave their pitchers some breathing room.
Instead, it was an all too familiar one for a team that scored three runs or less for the 14th time in 17 games.
A night after Jake Arrieta came four outs away from no-hitting Boston, Jackson looked strong on the Fenway mound, giving up six hits and a run over six innings. Jackson walked four, but the Red Sox couldn't muster enough offense to make him pay.
"[Arrieta] mixed up pitches real well and I wanted to come out and do that today," Jackson said. "[Welington Castillo] and I were able to get into a nice groove and mix up the pitches and keep them off-balance. This is a tough team to face and a tough lineup. We want to keep them off-balance as much as we can."
The game ended with Dustin Pedroia trying to beat out an infield tapper, which manager John Farrell challenged with a replay. But in fitting fashion, that didn't work either, as the call was confirmed.
"Well, with the ability to challenge and the challenge remaining, it's a bang-bang play from the dugout," said Farrell. "We couldn't tell from the angle that Rizzo stretched to receive the ball off the dirt. Just using every available opportunity to us."
Clay Buchholz produced a strong performance for the Red Sox in his second start back from the disabled list, but he was left with a no-decision.
By the time Uehara took the ball for the ninth, the game was locked in a 1-1 tie. And for the third time in his last seven outings, Uehara was scored on.
"I think it's a little bit of fatigue," Uehara said through an interpreter. "I think the command of my split is not quite where I want it to be."
How can Uehara combat the fatigue?
"I probably need to get younger," quipped the 39-year-old Uehara.
The righty seemingly went through all of last season's World Series championship ride slump-free, but he's proving to be at least a little human this season, though his ERA is 1.40 even after his "slump."
"His stuff looks the same," said catcher A.J. Pierzynski. "They hit a couple of pretty good pitches tonight. That's it. Those things happen. He's looked pretty darned good all year. He gave up a run. These things happen."
Anthony Rizzo led off the ninth with a single up the middle. Starlin Castro followed by ripping a double to left to put runners on second and third with nobody out.
All Luis Valbuena needed was to hit a flyball, and that's what he did, lofting it deep enough for a sacrifice fly to right that Mookie Betts didn't have a play on.
"I mean, Rizzo hit a ball six inches down off the plate away," said Pierzynski. "Castro didn't hit a bad pitch. Valbuena hit one just hard enough to score the run. Those things happen sometimes."
Though it's hard to take much solace in the big picture at the moment for the Red Sox, Buchholz's performance could be constituted as a good sign. He gave up five hits and a run over 6 1/3 innings, walking none and striking out two.
"This is the second straight start since being activated he's pitched very well," said Farrell. "I thought he had good stuff, probably one of the better fastballs he's had for the entire season. I thought he threw a number of really good curveballs. And yet we're in a situation where we've got to get some help in the seventh inning, which [Andrew] Miller came in and did a great job."
The Sox threatened against Jackson in the second, when Mike Napoli led off with a walk and Pierzynski clubbed one off the wall. But Pierzynski was perhaps too aggressive and was thrown out by several feet trying to stretch it to a double.
"Trying to get in scoring position," said Pierzynski. "That's it."
And there would be another baserunning miscue to end the inning, as Stephen Drew was picked off after straying too far off first.
"We tried to get a little early motion with Stephen to see what their coverage was and [it was] a little bit too aggressive. [Drew] ends up kind of in no-man's land," said Farrell.
By the end of the night, it came down to Uehara, and that didn't go well either. But he will try to show up to work with more energy in the coming days.
"Just get some sleep and my body rhythm -- get sleep, eat well," Uehara said. "I think it comes down to the basic stuff."
For the Boston bats, a revival will come down to equally basic stuff -- such as cashing in on scoring opportunities.
Ian Browne is a reporter for MLB.com. Read his blog, Brownie Points, and follow him on Twitter @IanMBrowne. This story was not subject to the approval of Major League Baseball or its clubs.