Valbuena's sac fly helps Cubs edge Red Sox
Before celebrating, Chicago waits 47 seconds for final out confirmed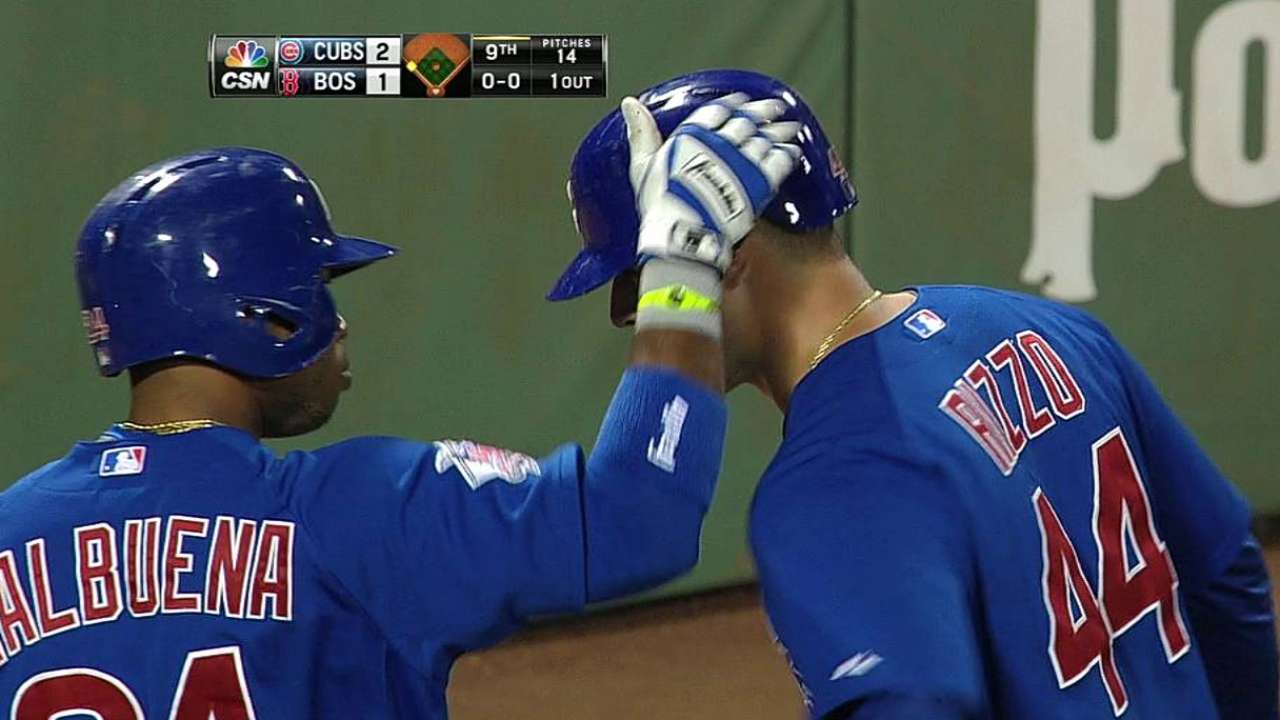 BOSTON -- The Cubs won their first regular-season series at Fenway Park on Tuesday since a four-game sweep of the Boston Braves, May 20-24, 1915. They just had to wait an agonizing 47 seconds to know whether they did or not.
Anthony Rizzo doubled and eventually scored on Luis Valbuena's tie-breaking sacrifice fly in the ninth to lift the Cubs to a 2-1 Interleague victory in front of a sellout crowd of 36,748 at Fenway Park, and take the series.
"It's a young team, and it's nice to come in here with this atmosphere," Rizzo said. "We know we can compete with everyone, and I think this is a big confidence builder for everyone on the team."
It's just unlikely, considering the Cubs' position in the National League Central this season.
With the game tied at 1 in the ninth against Koji Uehara, Rizzo singled to center, ending an 0-for-13 stretch. He reached third on Starlin Castro's hard-hit double and scored on Valbuena's sacrifice fly to right.
"That was the game," manager Rick Renteria said of Valbuena's at-bat. "I think he fell behind and started working and what a great at-bat. He was able to put enough of the barrel on the baseball to get it deep enough to score a run."
Actually, Valbuena was ahead 2-0, then Uehara evened the count at 2-2. Valbuena eventually hit a 3-2 splitter, and hit it just enough.
"These things happen," Red Sox catcher A.J. Pierzynski said. "I mean, Rizzo hit a ball six inches down off the plate away. Castro didn't hit a bad pitch. Valbuena hit one just hard enough to score the run. Those things happen sometimes."
The Cubs weren't sure the game was over in the ninth when Dustin Pedroia hit a grounder to Valbuena at third. Pedroia thought he beat the throw, but first-base umpire Jerry Meals called him out. Boston manager John Farrell challenged the call, and after a 47-second review, the play was confirmed and the game was over.
"If he calls him safe there, and it's going to be really hard to overturn, and if he calls him out, and it would be really hard to overturn," Rizzo said. "The call went our way, which is nice. It's a bang-bang play, and I think he got it right, the replay showed."
What was it like waiting on the field?
"I thought he was out, and everyone else thought he was out," Rizzo said. "It's nerve wrecking, especially with [David Ortiz] coming up."
Chicago starter Edwin Jackson did not get a decision, but he did post his first quality start since May 17, giving up one run on six hits and four walks over six innings.
Jackson got some help. Right fielder Nate Schierholtz dove to rob Brock Holt of a potential extra-base hit and end the third, and Justin Ruggiano made a leaping catch to snare Xander Bogaerts' fly ball, ending the fourth and stranding two runners.
"It was a prime example of a great, well-played team game," Jackson said. "We had defensive plays all around."
With two outs in the fifth, Jackie Bradley Jr. doubled, moved up on Holt's single and then scored on Pedroia's hit that Castro deflected with his glove. Ortiz walked to load the bases, but Castro was able to run down Mike Napoli's grounder up the middle and flip to Darwin Barney in time for the force at second.
"Those balls could've easily been hits, and the outcome could've been different," Jackson said.
Ruggiano doubled to open the sixth, Barney singled and Ruggiano scored on Chris Coghlan's fielder's choice as Pedroia deflected the ball to shortstop Stephen Drew to tie the game.
What may have helped Jackson even more was watching Jake Arrieta's performance Monday in a 2-0 Chicago win. He held the Red Sox hitless through 7 2/3 innings.
"[Arrieta] mixed up pitches real well and I wanted to come out and do that today," Jackson said. "[Welington Castillo] and I were able to get into a nice groove and mix up the pitches and keep them off-balance. This is a tough team to face and a tough lineup. We want to keep them off-balance as much as we can."
The Red Sox have been struggling offensively, and Jackson didn't make it any easier.
"He pitched the game of his life today," Ortiz said of Jackson. "Everyone has been doing that against us. The pitching we've been facing lately -- pitchers go from being [terrible] to being good. It's unbelievable. This guy has an ERA near 6.00. He was making pitches and I was like, 'Seriously, dude, if you pitched like that, your ERA would be 2.50.'"
Carrie Muskat is a reporter for MLB.com. She writes a blog, Muskat Ramblings, and you can follow her on Twitter @CarrieMuskat. This story was not subject to the approval of Major League Baseball or its clubs.