Players share thoughts as voting heats up
Ortiz shows respect for DH leader Cruz; Blackmon hoping to play in Classic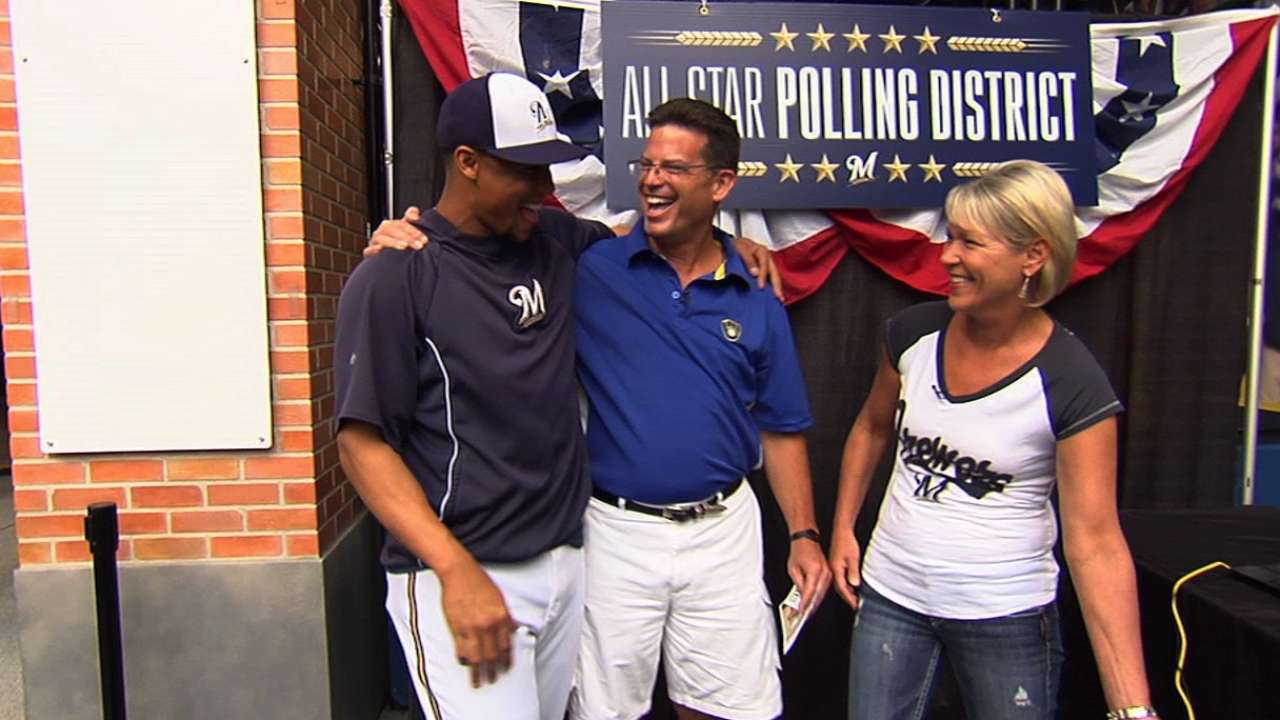 NEW YORK -- Now that you've seen the final American League and National League weekly updates on your All-Star Game MLB.com Ballot Sponsored by Experian, it's time to ask the guys in uniform what they think of the voting.
David Ortiz of the Red Sox is a nine-time All-Star who has found himself this season among a deserving batch of candidates: designated hitter. Nelson Cruz of the Orioles continued to lead there handily with 2,944,267 votes, followed by Ortiz (1,948,211), Victor Martinez of the Tigers (1,822,927), Edwin Encarnacion of the Blue Jays (1,590,498) and Brandon Moss of the A's (949,009).
"It's going good," Ortiz said after taping a segment as in-studio guest for "Off the Bat," airing at 11 ET/PT Tuesday night on MTV2. He doesn't seem to mind Cruz's status in the vote. "There are a lot of guys doing well, and the fans appreciate the fact that they can see those players in the All-Star Game."
With voting set to end at 11:59 p.m. ET on Thursday, the NL's leader in home runs and RBIs continues to be on the outside looking in for a starting berth. Giancarlo Stanton of the Marlins was an All-Star in 2012, and he is expected to be back this time, pacing the NL with 21 homers and 60 RBIs entering Tuesday, and a .999 OPS that trails only the NL's top vote-getter, Troy Tulowitzki of Colorado (1.064).
Will Stanton still get there as a starter? Andrew McCutchen of the Pirates leads NL outfielders with 3,173,810 votes, followed by Carlos Gomez (3,169,748) of the Brewers and Yasiel Puig (3,001,907) of the Dodgers. Stanton has 2,681,019, a figure still surmountable when considering the massive volume of votes that are submitted in the final days of balloting.
"That's just a testament to him," Miami third baseman Casey McGehee said, when told that Stanton will be among the Marlins' all-time leaders in homers by the break (Mike Lowell tops the list with 28 in 2003). "It truly doesn't matter what ballpark he's in. He's been on some kind of tear. He's been consistent, too.
"It's not just the home runs. He's getting on base, taking his singles. Look at his average. That's the average of a guy who is strictly a contact guy. He's getting hits and does all that damage, too."
Charlie Blackmon of the Rockies continues tracking toward what could be a 30-30 season (12 homers and 15 stolen bases entering Tuesday), and he continues to rank in the top six of NL outfield candidates. Blackmon was an early leader in the voting, and in the latest update, issued Tuesday, he had Stanton and Ryan Braun standing between him and the top three.
"The All-Star Game is really something that was out of the question for me coming into this year," Blackmon said in a recent appearance in the Edward Jones Chatting Cage on MLB.com. "My big goal for the year was just make the team.
"I played OK early, and now, all of a sudden, we're talking about All-Star ballots. I'm honored to be in that conversation. There obviously are a lot of really, really good players -- especially the outfield, where you're going to find some of the most talented guys that put up the best offensive numbers."
Blackmon is not one to lobby for himself off the field, but he had fun with the notion when asked what he might choose if he could come up with a campaign slogan.
"You know, I don't want to go out and tell everybody I think I deserve to be on the All-Star team," Blackmon said. "But I really want you to vote for me because I want to go. Big-time. So let's make that happen if we can."
At third base in the NL, Aramis Ramirez (1,790,777) of the Brewers continues to hold a slight advantage over seven-time All-Star and five-time fan-elected starter David Wright (1,555,717) of the Mets, and two-time All-Star and 2012 starter Pablo Sandoval (1,406,026) of the Giants. Still looming within reach in fourth is St. Louis' Matt Carpenter (1,323,021).
Carpenter got a taste of Midsummer Classic action last year, selected as a reserve at second base to replace starter Brandon Phillips for the sixth inning at Citi Field.
"That would be great," Carpenter said of going again. "Last year, first All-Star appearance, in New York City, was a real thrill for me, something I'll never forget for the rest of my life. And then obviously to get an opportunity to do it again, that's something that never gets old. I would be extremely honored and excited to be there. It's quite an accomplishment."
Fans may submit up to 25 online ballots, but they can also earn a one-time bonus of 10 additional online ballots. To access these additional online ballots, you must be logged into your MLB.com account when you submit any online ballot. If you do not have an MLB.com account, register on the site in accordance with the enrollment instructions for a free MLB.com account.
The 2014 All-Star Game will be played at Target Field on Tuesday, July 15. The All-Star rosters will be unveiled on the Taco Bell All-Star Selection Show at 7 p.m. ET Sunday on ESPN, with further details to follow on MLB.com. Immediately following the announcement of the AL and NL All-Star rosters, fans can begin voting to select the final player for each league's 34-man roster via the 2014 All-Star Game MLB.com Final Vote Sponsored by Experian. Fans will cast their votes from a list of five players from each league over the balloting period.
And the voting doesn't end there. The final phase of All-Star Game voting will again have fans participating in the voting for the Ted Williams All-Star Game Most Valuable Player Award presented by Chevrolet. During the Midsummer Classic, fans will vote exclusively online at MLB.com via the 2014 All-Star Game MLB.com MVP Vote Sponsored by Pepsi, and their voice will represent 20 percent of the overall vote that determines the recipient of the Arch Ward Trophy.
MLB.com will provide extensive online coverage of the All-Star Week festivities.
The 85th All-Star Game will be televised nationally by FOX, in Canada by Rogers Sportsnet and RDS, and worldwide by partners in more than 200 countries via MLB International's independent feed. ESPN Radio and ESPN Radio Deportes will provide national radio coverage of the All-Star Game. MLB Network and SiriusXM will also provide comprehensive All-Star Week coverage. For more information, please visit allstargame.com.
Ortiz is executive producer for the entire season series of "Off the Bat." In this latest half-hour episode, which he taped in-studio while at the MLB Fan Cave for last weekend's series vs. the Yankees, Ortiz has a wide-ranging conversation with co-hosts Sway and Chris Distefano about everything from baseball to music to fashion.
This week's episode also includes segments featuring Transformers star Mark Wahlberg talking to "Off the Bat" correspondent Melanie Iglesias about the theoretical acting prospects of Ortiz, Derek Jeter, Jimmy Rollins and other MLB stars, and Yankees closer David Robertson "ticket bombing" random fans in the streets of New York.
Previous episodes have featured in-studio guests Bryce Harper, Adam Jones, CC Sabathia, Robinson Cano, David Price, Chris Archer, Eric Young Jr., Dee Gordon, Pedro Alvarez, Josh Donaldson, Gomez, Moss, Jose Bautista and Cardinals pitchers Adam Wainwright, Shelby Miller and Michael Wacha. All-Star ballot discussion by the guests has been a popular topic over the past month.
"It's been great," Ortiz said of the series. "It's a combination of sport and music, something that you don't see too often, so I really liked the idea, and working with it has been great."
Mark Newman is enterprise editor of MLB.com. Read and join other baseball fans on his MLB.com community blog. This story was not subject to the approval of Major League Baseball or its clubs.