Bucs come alive late, walk off on Davis' heroics
Pirates rally for three runs in ninth after being shut out through eight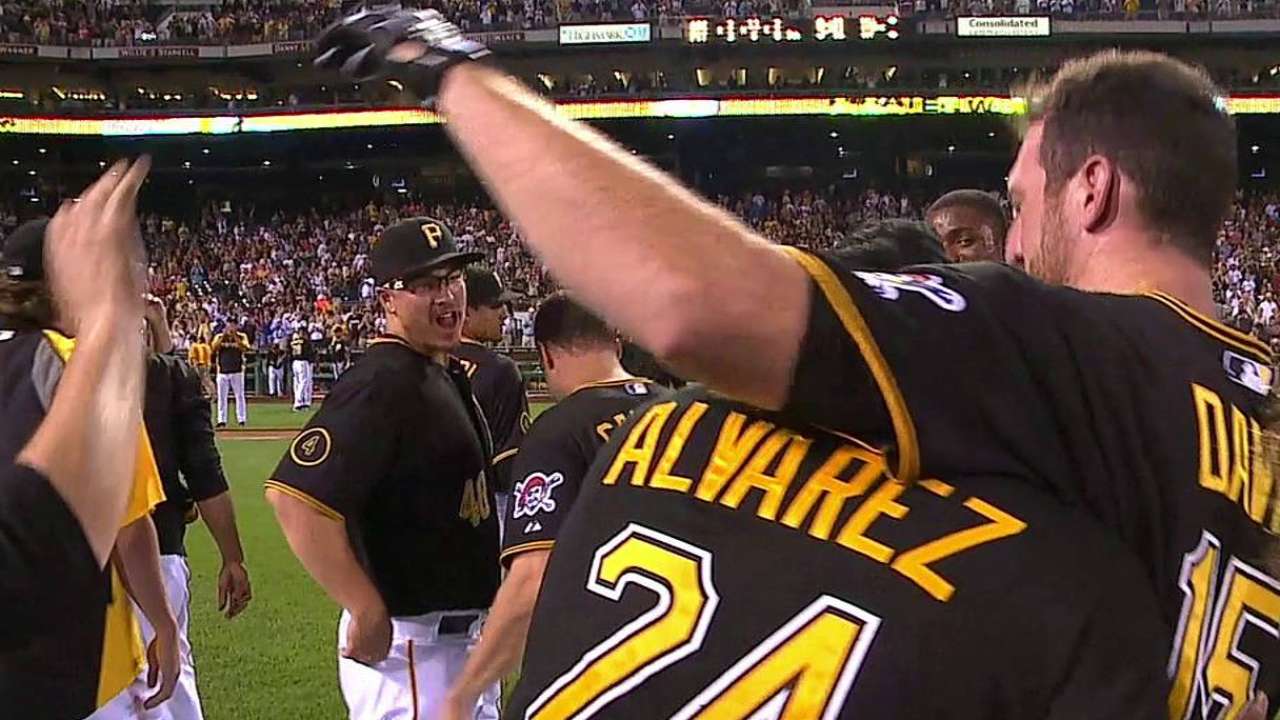 PITTSBURGH -- The Pirates' first eight innings at the plate on Tuesday were full of empty swings and some well-hit frustrations. Their final swing of the night even resulted in a broken bat, but the noise of splintered wood was quickly drowned out by PNC Park basking in yet another walk-off win.
Ike Davis' softly hit RBI single capped a furious and improbable three-run rally in the ninth inning that lifted the Bucs to a 3-2 win over the D-backs. It was the Pirates' eighth walk-off this season -- the most in the Majors.
Arizona starter Wade Miley stymied the opposition during the first 24 outs. He gave up two hits, and only one of them left the infield. But Neil Walker and Gregory Polanco -- in his first career pinch-hitting appearance -- doubled that hit total to start the ninth, and reliever Addison Reed replaced Miley.
With one out, Starling Marte stepped to the plate and after missing two sliders, Marte got one more. This pitch was up, and Marte belted it to center field. He missed a walk-off homer by a few feet, but he plated Walker and Polanco while a throwing error allowed Marte to advance to third.
"I was looking for one pitch that I could hit to the outfield," Marte said. "… I struggled the first two pitches, but I was still looking for a pitch I wanted. He threw me a slider and I had a good chance to hit the ball."
Reed, who blew his fourth save of the season, called his third pitch to Marte "terrible."
"It was an 0-2 count, missed my spot again. I was trying to get it away," Reed said. "I was trying to duplicate the second pitch. Start it out on the black, outside corner and have it go out of the strike zone. And I hung it, left it right out over the middle of the plate and he's a good hitter, you can't do that to a guy like him."
With Marte representing the winning run 90 feet away, Reed intentionally walked Andrew McCutchen to get to Davis. On a 1-0 pitch, Davis lifted an inside fastball just over the reach of first baseman Paul Goldschmidt to push the Pirates (43-40) three games above .500 for the first time since April 10, when they were 6-3.
"He threw like a 92 mph cutter in off the plate -- and somehow I hit it," Davis said.
The dramatic ninth took Jeff Locke off the hook for a loss and deservedly so. The lefty tied a career-high and matched Miley by completing eight innings. Locke pitched around two hits in both of his first two innings, but couldn't escape the fifth unblemished when he gave up three consecutive two-out singles to Goldschmidt, Miguel Montero and Aaron Hill.
Their hits, coupled with a pickoff play which went array when first baseman Gaby Sanchez threw the ball into right field, led to a 2-0 D-backs lead. They would be the only runs Locke allowed, however, and he struck out three to just one walk on 105 pitches.
"When you have a guy like Miley out there, he was efficient and was getting outs. He kept sending me out there, and it was easy to get in a good rhythm," Locke said of the game's speedy pace.
Locke has pitched into the eighth in three of his last four outings -- something the lefty never did in the 2013 season when he was an All-Star selection for a standout first half. Locke spent a good portion of 2014 in Triple-A, but in five outings since being called up last month, he has a 2.48 ERA.
"The play we weren't able to make in the fifth compounded things for him, but even that didn't wrinkle him," Pirates manager Clint Hurdle said. "There was an out to be had, and when we didn't convert it, they add two. He stayed focused. He seems to be on a very, very good path."
The D-backs nearly struck for more in the ninth against newly acquired reliever Ernesto Frieri. The right-hander gave up three hits, but right fielder Josh Harrison took a run away from Arizona when he threw out Gerardo Parra at the plate. Frieri, in his second appearance in a Pirates' uniform, collected his first win.
Miley pitched what Hurdle called an "excellent ballgame," and was perfect through 4 2/3 innings before giving up an infield single to Jordy Mercer on a ball that didn't get past the pitcher's mound. Miley finished with 10 strikeouts and didn't walk a batter.
For eight innings he didn't give the Pirates a chance to win. But they only needed the ninth.
"We had a couple taken from us this year. It happens," Davis said. "We're going to battle until the game is over and going from a good chance of losing to winning is always a great feeling."
Stephen Pianovich is an associate reporter for MLB.com. This story was not subject to the approval of Major League Baseball or its clubs.