Shields, Royals pay for misplays vs. Twins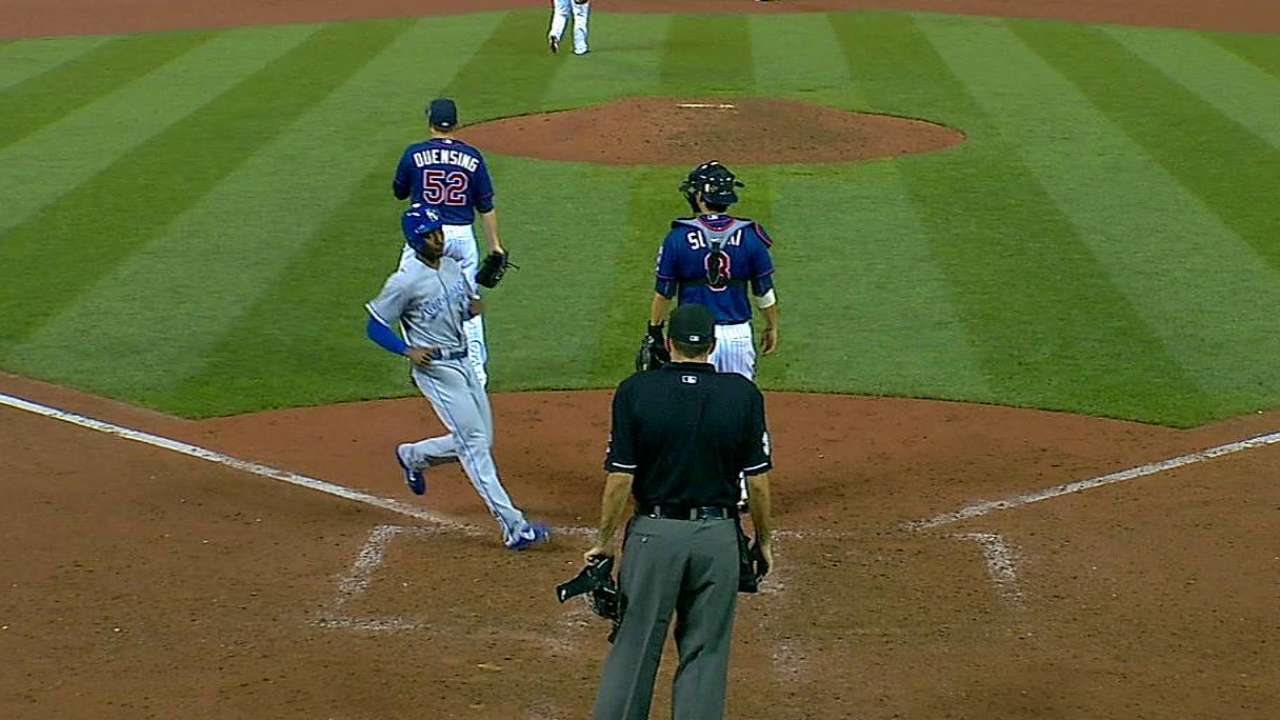 MINNEAPOLIS -- The silence was most telling.
On Tuesday, one night after an impressive victory, the Royals faltered in almost every way. But the biggest difference after their 10-2 loss to the Twins at Target Field was in the clubhouse atmosphere: No ear-splitting music that could be heard well behind the locked double doors. No dancing. No laughter.
Just the sound of a pennant race put on hold.
The eerie quiet was broken only by a terse interview with starter James Shields, who put up his shortest outing (five innings) in 18 tries and gave up at least four earned runs for the third straight game.
"I'm letting my team down," Shields said.
When Shields finished speaking, he stared into space while the media slowly left the room. With his performance declining and his team dropping another game to the division-leading Tigers, who defeated the Athletics, Shields had reason to be unnerved.
But the blame for this loss did not rest squarely on his shoulders.
It was a game full of miscues, and the first warning sign flashed when the score was tied at 1 in the third inning.
With two outs, the Twins' Chris Parmelee pounded a routine fly ball into shallow left field. But as the ball dropped, neither third baseman Mike Moustakas nor left fielder Alex Gordon gave up their chase. The two nearly collided, and the ball bounced out of Gordon's glove, onto his wrist and, finally, onto the turf.
"[Gordon] did call Moose off," manager Ned Yost said. "That ball was hit in no man's land. They both did it right. I think Gordy just didn't think he was going to get there until the last second, and then realized he had an opportunity to get there. And they both got there at the same time."
Shields suddenly had runners on second and third, and the veteran Kendrys Morales at the plate.
Morales poked a grounder to the right of shortstop Alcides Escobar, who made an athletic effort to stab the ball and make a jump throw back to first, but the throw took Eric Hosmer well off the bag, and Minnesota claimed a one-run lead.
The fourth inning was no better. After walking Sam Fuld to load the bases with one out, Shields gave up an infield bloop to Eduardo Nunez. Hosmer fielded the ball, but seeing that he would not be able to make the throw home for the forceout in time, he turned to throw to Shields at first, but Shields was still off the bag.
"I thought he was going home," Shields said. "It was kind of an in-between play. I wasn't covering the bag right there. That's my fault."
Four pitches later, Joe Mauer laced a double to left field that scored two more runs and made the score 5-1.
After allowing four earned runs on nine hits, Shields took the loss.
"There's no level of concern," Yost said. "That's the wrong word. He's just not sharp right now. He's going through a pretty extended little streak -- four starts or so -- where he hasn't been exceptionally sharp."
Meanwhile, the offense didn't do too much after Moustakas' single in the second inning scored Omar Infante. In his first game action since rejoining the club, Raul Ibanez was silent after an early single.
Gordon had runners on first and third in the fifth with two outs but waved at a four-seam fastball from Twins starter Ricky Nolasco, who took a break from a porous season to quiet the Royals' bats.
"I felt OK," Nolasco said. "I was trying not to do too much. It's always nice to get a ton of runs. The offense did a great job today scoring a ton of runs to make my job a little bit easier."
Following Shields' exit, Kansas City's relievers -- who threw 3 1/3 scoreless innings in the series opener -- could not contain the Twins.
Michael Mariot entered the game in the sixth and promptly gave up three runs, thanks in part to a fielding gaffe by second baseman Infante, who tried but could not barehand a grounder by Trevor Plouffe. Mariot made way for Francisley Bueno, who surrendered two more runs on a Fuld single.
Danny Valencia added a run with a double in the eighth, but it was scant consolation for the Royals, who lost ground in the American League Central and are now 4 1/2 games back.
Alex Smith is an associate reporter for MLB.com. This story was not subject to the approval of Major League Baseball or its clubs.