Twins break out the lumber for quality Nolasco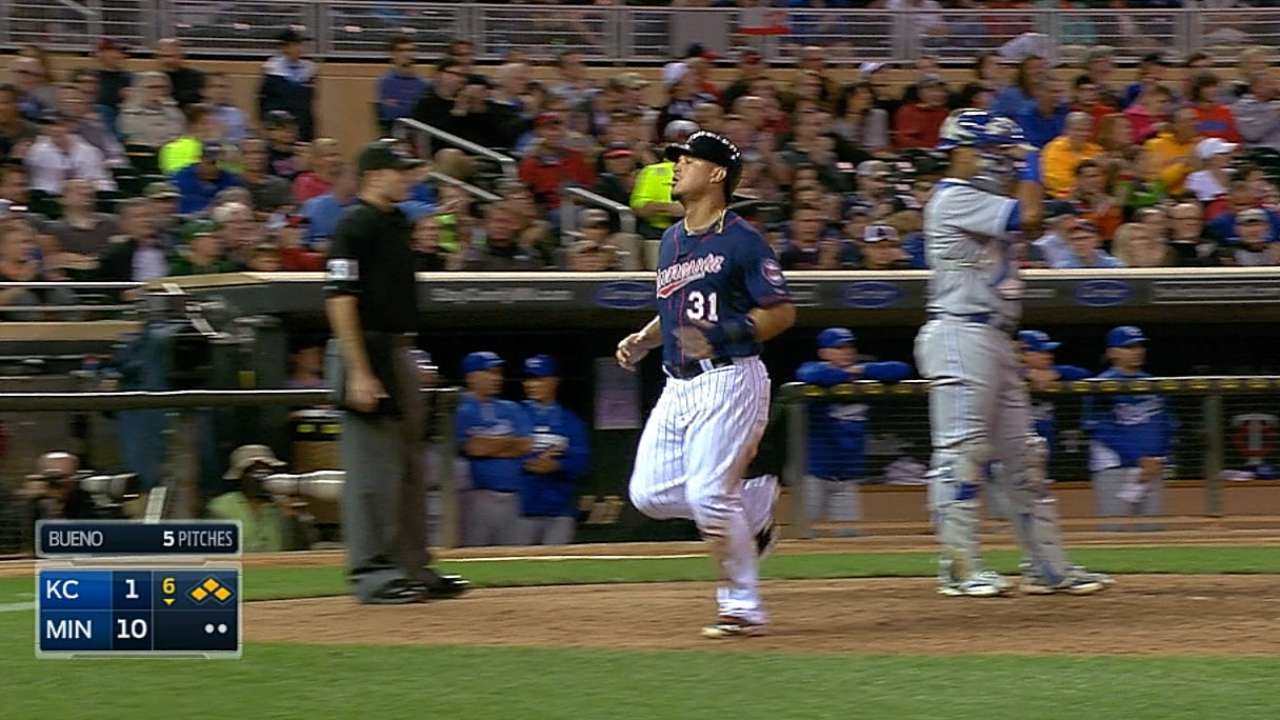 MINNEAPOLIS -- If the Twins are to snap out of their recent funk and get back on track in the second half of the season, they're going to need plenty of help from the offense and from right-hander Ricky Nolasco.
The Twins have had trouble scoring recently, and Nolasco has struggled in the first season of the five-year, $49 million contract he signed over the winter.
But the Twins saw good signs from both on Tuesday night, as Nolasco turned in his first quality start in more than a month, and the offense finally broke out in a 10-2 win over the Royals at Target Field. Eduardo Nunez paced the offense with three hits, three runs and two RBIs, and Chris Parmelee chipped in with two hits, a run and an RBI.
"It was nice," manager Ron Gardenhire said. "The offense came alive. A lot of good things happened with Nunez and Parmelee at the top. Pretty much everybody had a hit who started the game."
It was an especially positive effort by Nolasco, who had been scuffling and hadn't registered a quality start since May 30. He was solid in this one, giving up just one run on eight hits over six innings. It helped him earn his first win since June 4 and lowered his ERA to 5.49. The lone run he allowed came on an RBI single from Mike Moustakas in the second inning.
"I was trying not to do too much," said Nolasco, who had better fastball command this time. "It's always nice to get a ton of runs. The offense did a great job today scoring a ton of runs to make my job a little bit easier."
As Nolasco noted, the Twins provided plenty of offense, reaching double digits in runs for the first time since April 11 and just the fourth time this season. The Twins had scored just eight combined runs over their previous four games.
"We just kept tacking on some offense," Gardenhire said. "Like I've said before, we needed to take some pressure off our pitching, and we did that."
Minnesota hit right-hander James Shields hard, as he gave up five runs (four earned) on nine hits over five innings for his first loss since May 2.
"Tonight I actually thought I made some pretty good pitches," Shields said. "They just found a lot of holes today. It's really frustrating that I'm not getting outs. I'm letting my team down.
The Twins scored early on a double from Parmelee in the first inning that extended his career-high hitting streak to 11 games. They scored another run in the third on an infield single from Kendrys Morales, but the run was unearned, as it was keyed by a rare error from left fielder Alex Gordon.
The early lead was a rarity for the Twins, who trailed early in their previous six games, five of which were losses.
"When you're losing a lot of games and you score first, you feel excited and motivated," Nunez said. "So scoring in the first inning was important for us, because we've been struggling for a week."
Shields gave up three more runs in the fourth after loading the bases with one out. Nunez sent home the first run with an infield single, then Joe Mauer plated two runs with a double to left before exiting the game with a strained right oblique, an injury sustained on the swing.
Minnesota broke open the game with a five-run sixth inning after Shields departed. Nunez started the rally with a solo homer off reliever Michael Mariot before the Twins scored another run, aided by an error from second baseman Omar Infante on a grounder hit by Trevor Plouffe. Mariot then walked Kurt Suzuki with the bases loaded and was removed for left-hander Francisley Bueno, who surrendered a two-run single to Sam Fuld.
The Royals scored their second run in the eighth on a two-out double by former Twins infielder Danny Valencia off reliever Brian Duensing, but the game was well in hand by that point.
The Twins are hoping that the offensive output can carry over, but it may be without Mauer, who will be re-evaluated on Wednesday and could hit the 15-day disabled list.
"I've never had this happen before," Mauer said. "I hope it's a lot sooner than what guys in the past have had."
Rhett Bollinger is a reporter for MLB.com. Read his blog, Bollinger Beat, and follow him on Twitter @RhettBollinger. This story was not subject to the approval of Major League Baseball or its clubs.