Hutchison's 10 K's pave way in Canada Day win
Home runs by Bautista, Rasmus back right-hander in Interleague clash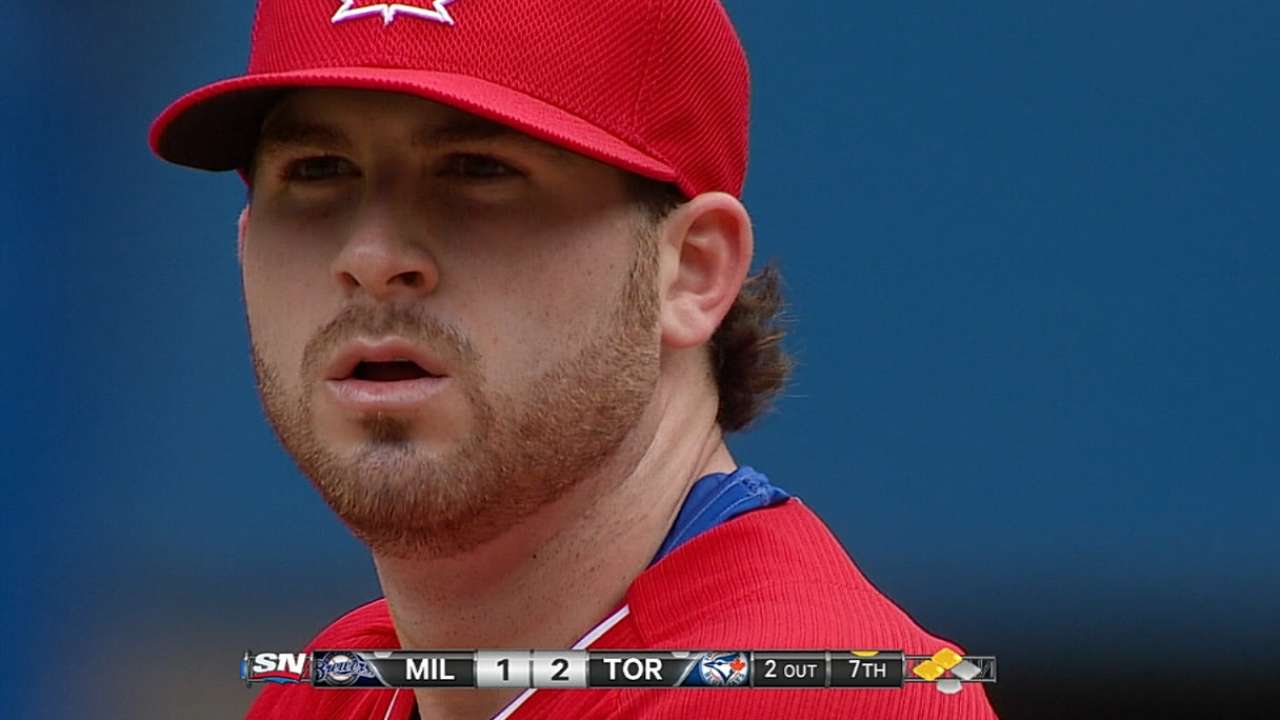 TORONTO -- If Drew Hutchison keeps pitching the way he did on Tuesday afternoon, all of the talk about home vs. road splits will come to a screeching halt.
The right-hander has been enjoying a successful year in Toronto's rotation, but almost all of Hutchison's good starts have come on the road. The numbers at home haven't been pretty, and the questions seemed to increase with every poor outing he had at Rogers Centre.
Hutchison picked a good time to enjoy his best home outing of the season as he logged a career-high 10 strikeouts, while Jose Bautista returned to the Blue Jays' lineup and homered in his first at-bat en route to a 4-1 victory over the Brewers in a Canada Day matinee.
"I was able to establish my fastball both inside and outside, four-seamer and two-seamer, and then go from there," Hutchison said. "I was able to make big pitches and be aggressive."
Hutchison entered the game with an 8.13 ERA at home compared to 2.23 on the road. Rogers Centre has the reputation of being a hitters' ballpark, but such a large discrepancy between the home and away numbers were very unusual. The club had been insisting for weeks the early home stats were an anomaly, and now it has some evidence to support that theory.
At the very least, Tuesday's performance should be enough to silence the remaining critics for the time being. Hutchison carried a perfect game into the fifth inning, and the only real difficultly he encountered came in the seventh. The seven innings were a season high at home, while the one earned run was a season low at Rogers Centre.
The outing ranks with Hutchison's shutout of Texas on May 16 and seven scoreless innings vs. Detroit on June 3 for his best starts of the season. He is 6-6 with a respectable 3.81 ERA in 17 starts, and he is two-thirds of an inning shy of reaching the 100-inning plateau for the first time in his career.
"I think he threw the ball really well," Brewers manager Ron Roenicke said. "I think he knew what he wanted to do against us, and he did it really well. We chased balls out of the zone.
"He's got good life on his fastball, and when he's throwing it up, it's hard to catch up to. And he knew what he was doing. We kept chasing it."
Hutchison's solid outing against an aggressive hitting team also bought some him leniency from manager John Gibbons in the seventh. With two outs and a pair of runners on, Hutchison got ahead in the count 1-2, but he eventually walked Mark Reynolds on eight pitches to load the bases.
Left-hander Aaron Loup and right-hander Dustin McGowan were ready in the bullpen, but Gibbons decided to stick with Hutchison, who had thrown 101 pitches at that point. The move paid off as Jean Segura hit a fly ball on the second pitch of his at-bat to end the inning.
"I know Hutch pretty good, when he's on, he's on," Gibbons said of Hutchison, who allowed one run on three hits and two walks. "He has that knack of working out of some jams, and I thought today his fastball was really good, whether it was the extra day [of rest] or what have you.
"Even with the walk to load the bases, he got ahead of [Reynolds], he was trying to get him to fish out of the zone. It wasn't a case of losing it. Of course, he got the big out to finish it, but when he's on, he's on. He can be really good."
Bautista made his return to the starting lineup after missing more than a week with a strained left hamstring. Bautista's first at-bat was a memorable one, as he crushed a 3-2 changeup over the left-field wall. Bautista's 16th blast of the season was his first since June 6.
Toronto added another home run in the fifth on a solo shot by Colby Rasmus. Both homers were charged to Brewers right-hander Marco Estrada, who has surrendered a Major League-leading 26 long balls this season. Estrada pitched around those two homers and allowed the two runs on six hits, along with one walk and two strikeouts.
The Blue Jays scored a pair of insurance runs in the eighth on an RBI triple by Melky Cabrera and an RBI double by Edwin Encarnacion. Closer Casey Janssen then retired the final three batters of the game to record his 13th save of the season.
"It was a good ballgame," Gibbons said. "We played good today and an important day for us. To win a game, it seems like it had been a while. Canada Day in front of a nice crowd, you don't want to lay an egg on that day. It was a good day for us."
Gregor Chisholm is a reporter for MLB.com. Read his blog, North of the Border, and follow him on Twitter @gregorMLB. This story was not subject to the approval of Major League Baseball or its clubs.