Brewers no match for Hutchison-led Blue Jays
Estrada surrenders pair of costly home runs in Interleague showdown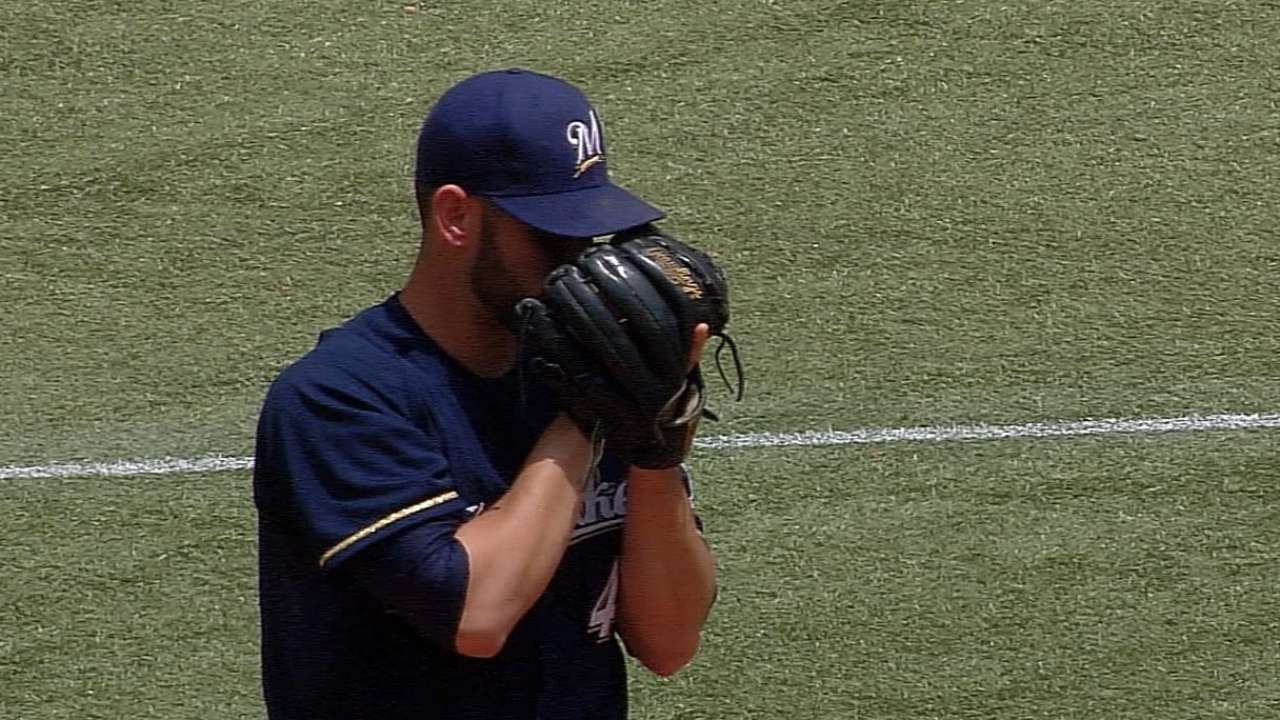 TORONTO -- After leading off the game with a lineout, Scooter Gennett returned to the Brewers' dugout on Tuesday afternoon and voiced an addendum to a scouting report on 23-year-old Blue Jays right-hander Drew Hutchison:
Beware the high fastball.
"But it looks good coming in, so you end up swinging at it anyway," said first baseman Lyle Overbay, one of the Brewers' batters who fell into that trap over and over on the way to a 4-1 loss at Rogers Centre.
"I think he had a little extra life on his fastball -- more than we anticipated," Overbay said. "The ball riding up, that extra life, kind of caught us off guard a little bit. It wasn't in the scouting report -- those things aren't."
On paper, the matchup favored Milwaukee. Hutchison entered his Canada Day start with the highest home ERA for a Major Leaguer with at least 20 innings on his own team's turf, and the Brewers owned baseball's best road record, plus the most runs, home runs and total bases on the road among National League teams.
All of which made Hutchison's 10-strikeout, seven-inning performance all the more noteworthy. He struck out two batters in each of his first four innings, didn't allow a hit until the fifth and didn't allow a clean hit until the sixth, when the Brewers finally found their way onto the scoreboard on Ryan Braun's double. Hutchison then stranded the bases loaded in a scoreless seventh and turned the game over to Toronto's bullpen having allowed only one run on three hits.
The Brewers had won eight of their last nine road games, including four in a row, before falling in the opener of this two-game Interleague series.
"I think he knew what he wanted to do against us, and he did it really well," Brewers manager Ron Roenicke said. "We chased balls out of the zone. That's what we did today. He's got good life on his fastball, and when he's throwing it up, it's hard to catch up to. And he knew what he was doing. We kept chasing it."
They couldn't help it.
"You can see it from the side; it seemed like it picked up speed as it kept going," Brewers starter Marco Estrada said. "It's hard to lay off pitches like that as a hitter because you think it's a good pitch and next thing you know, it's letter high and it's really hard to catch up to."
Meanwhile, Estrada's home run count continued to climb over six mostly effective innings.
Jose Bautista returned from a left hamstring injury to homer off Estrada in the first inning and Colby Rasmus hit another solo blast leading off the fifth. Estrada has surrendered 26 long balls this season, most in the Major Leagues. He entered the day having allowed seven more home runs than any other pitcher.
Besides the homers. Estrada pitched well, allowing two runs on six hits, with a walk and two strikeouts.
"It's a good-hitting lineup and a good hitters' ballpark," Estrada said. "But just like with any good-hitting lineup, you make your pitches and you're going to get outs. For the most part, I did that."
Hutchison was simply better. Looking nothing like the kind of pitcher who compiled an 8.13 ERA in his first six starts at home, the righty struck out eight of the first 12 batters he faced and retired the first 14 in order before Khris Davis hustled to first base for an infield hit in the fifth inning. Davis' grounder had pulled Blue Jays shortstop Jose Reyes to his left, and Reyes' off-balance throw was off the mark. Hutchison retired Overbay on a routine flyout to center field to end the inning.
In the sixth, the Brewers finally broke through. Gennett delivered a broken-bat single to left field before Braun doubled off the wall in right, cutting Milwaukee's deficit to 2-1. The Brewers had a chance for more one inning later, when Davis eluded a rundown for a stolen base that left runners at second and third with only one out, but Overbay struck out and, after a walk loaded the bases, Jean Segura flied out to right field.
"Obviously, I want to be in there in those situations," Hutchison said. "I believe in myself to make a pitch to get out of that, so to have that [show of confidence] from [manager John Gibbons], was nice to be able to have that, and then get out of it."
Toronto tacked on two runs in the eighth inning to seal Hutchison's second victory at home this season.
Adam McCalvy is a reporter for MLB.com. Read his blog, Brew Beat, and follow him on Twitter at @AdamMcCalvy. This story was not subject to the approval of Major League Baseball or its clubs.