Cano, Miggy back up likely All-Star Game starts
Voting leaders on right side of AL infield each go deep in victories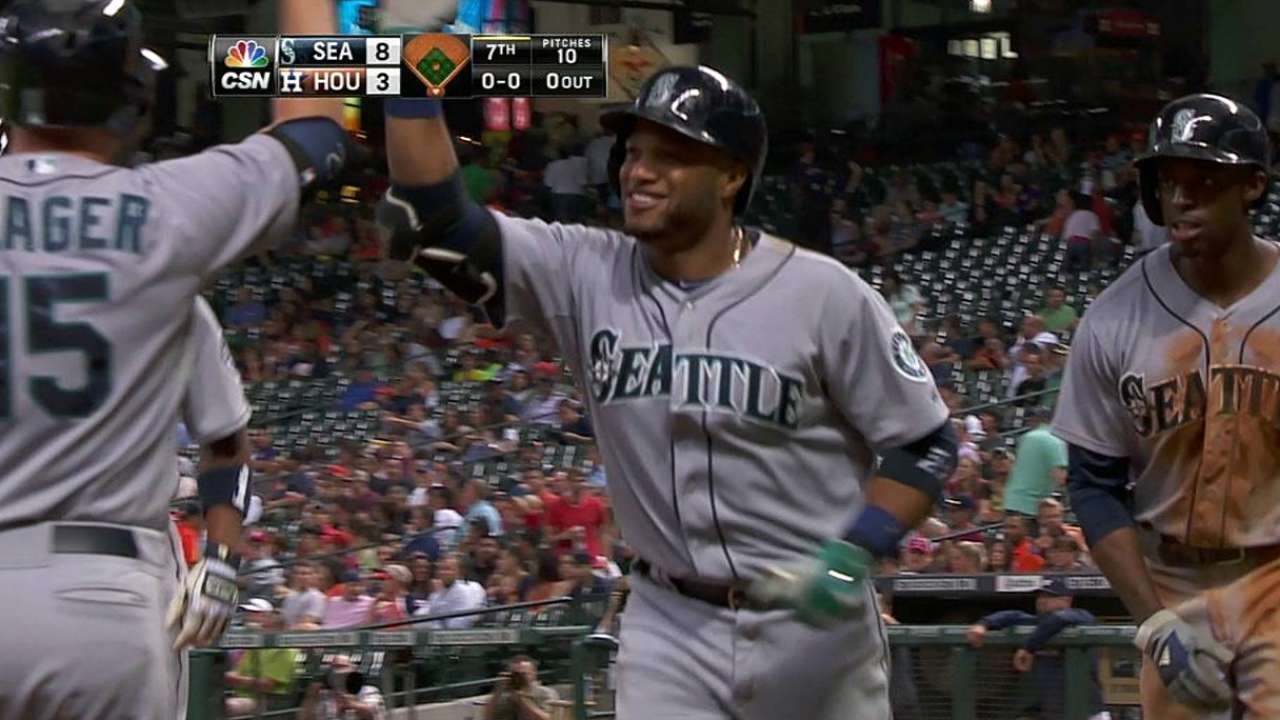 As June has now turned to July and voting for Major League Baseball's 2014 All-Star Game comes to a close Thursday, some of the top vote-getters continue to make a push for inclusion in the Midsummer Classic at Target Field in Minneapolis on July 15.
While some leading vote-getters had the night off, others used Monday to show why they've climbed to the top of their respective positions.
The Mariners' Robinson Cano, who leads the way at second base in the American League, hit a three-run home run in the seventh inning of his team's 10-4 victory over the Astros, going 2-for-5 with two runs scored. The AL's leader at first base, Miguel Cabrera, hit a solo homer, his 14th of the season, in the sixth inning of Detroit's 5-4 comeback victory against the A's.
The National League's top vote-getter, Rockies shortstop Troy Tulowitzki, went 1-for-3 with an RBI while scoring two runs. The Dodgers' Yasiel Puig, the leader among NL outfielders, went 1-for-4.
Meanwhile, others continued to make their case for moving up the ladder at their respective positions as the voting nears it end.
The Orioles' J.J. Hardy, currently third among AL shortstops, went 2-for-3 with his second homer of the season while teammate Adam Jones, currently fifth among AL outfielders, went 2-for-3 with his 15th home run of the season in a 7-1 Orioles win.
David Wright, second in votes at third base in the NL to the Brewers' Aramis Ramirez, remained in New York with a left shoulder injury while the Mets traveled to Atlanta. The Braves, meanwhile, placed catcher Evan Gattis, fourth among NL catchers, on the disabled list with a bulging thoracic disk.
Fans can cast their votes for starters at MLB.com and all 30 club sites -- online or on a mobile device -- using the 2014 All-Star Game MLB.com Ballot Sponsored by Experian until Thursday, July 3, at 11:59 p.m. ET. The 2014 All-Star Game will be played at Target Field on Tuesday, July 15.
Fans may submit up to 25 online ballots, but they can also earn a one-time bonus of 10 additional online ballots. To access these additional online ballots, you must be logged into your MLB.com account when you submit any online ballot. If you do not have an MLB.com account, register on the site in accordance with the enrollment instructions for a free MLB.com account.
Fans this year once again can participate in the . Fans will have the opportunity to select three players in each league who they would most like to see participate in the Gillette Home Run Derby. The 2014 Home Run Derby will be broadcast live on ESPN, ESPN HD, ESPN Deportes and ESPN Radio in the United States beginning at 8 p.m. ET on Monday, July 14.
The 2014 American League and National League All-Star teams will be unveiled on the Taco Bell All-Star Selection Show on Sunday, July 6, beginning at 7 p.m. ET on ESPN, with further details to follow on MLB.com. Immediately following the announcement of the AL and NL All-Star rosters, fans can begin voting to select the final player for each league's 34-man roster via the 2014 All-Star Game MLB.com Final Vote Sponsored by Experian. Fans will cast their votes from a list of five players from each league over the balloting period.
And the voting doesn't end there. The final phase of All-Star Game voting will again have fans participating in the voting for the Ted Williams All-Star Game Most Valuable Player Award presented by Chevrolet. During the Midsummer Classic, fans will vote exclusively online at MLB.com via the 2014 All-Star Game MLB.com MVP Vote Sponsored by Pepsi, and their voice will represent 20 percent of the overall vote that determines the recipient of the Arch Ward Trophy.
MLB.com will provide extensive online coverage of the All-Star Week festivities.
The 85th All-Star Game will be televised nationally by FOX, in Canada by Rogers Sportsnet and RDS, and worldwide by partners in more than 200 countries via MLB International's independent feed. ESPN Radio and ESPN Radio Deportes will provide national radio coverage of the All-Star Game. MLB Network and SiriusXM will also provide comprehensive All-Star Week coverage. For more information, please visit allstargame.com.
Alex Halsted is an associate reporter for MLB.com. This story was not subject to the approval of Major League Baseball or its clubs.