Latos' stellar start not enough to extend Reds' streak
Starter allows one hit, one run in seven innings, but Cincinnati shut out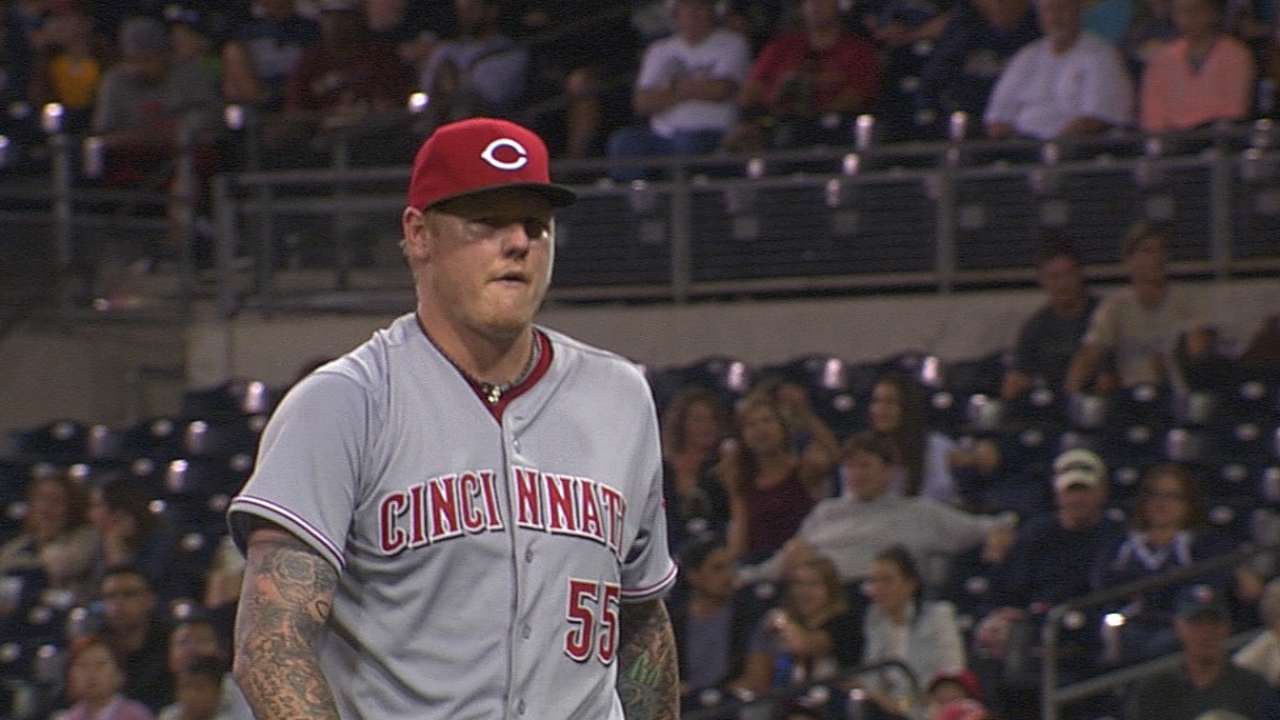 SAN DIEGO -- As prolific as the Reds have been at scoring runs throughout June, the Padres have been every bit as anemic.
Therefore it was no surprise that Reds starter Mat Latos did his part to keep the Padres' bats quiet Monday. The real stunner was how the Padres managed to hand the Reds a 1-0 defeat while being dealt a combined one-hitter by Latos and reliever Sam LeCure.
"It's what makes baseball a great game -- in this case, a painful game," Reds manager Bryan Price said.
It marked the sixth time since 1914 that the Reds lost a game where they allowed only one hit. But it was the first time it's been done to them since losing to the Brooklyn Dodgers on Sept. 12, 1950, at Ebbets Field. In that game, Ewell Blackwell was a 3-1 loser despite only giving up one hit in the game to Gene Hermanski in the fourth inning.
Meanwhile, it was the second time in three weeks the Padres won a game with one. The other time was a 3-2 victory over the Pirates on June 4. No team had won two games with one hit since the 1965 Los Angeles Dodgers.
Padres rookie starting pitcher Jesse Hahn and four relievers held down a previously scorching Cincinnati club that came to town with a season-high five-game win streak and victories in eight of its last nine.
The lone San Diego hit was a second-inning single by Tommy Medica. Latos' line was seven innings with one earned run, one hit and one walk while he struck out four.
"We saw a good slider and saw some funky swings on it," Padres manager Bud Black said of Latos. "You saw the good velocity, the good change and he had a good, deceptive arm angle that's tough to pick up."
Latos retired 12 of 13 heading into the bottom of the fifth, when the Padres manufactured their run. Leading off, Medica walked on five pitches and stole second base when he barely beat catcher Devin Mesoraco's throw. Cameron Maybin's flyout to center field advanced Medica to third base, and he scored on Everth Cabrera's sacrifice fly.
"I can't really say tough-luck pitcher. At least I won't say that," Latos said. "My job is to put zeros and try to win a ballgame. I made one mistake. I walked a leadoff hitter. It came back to bite me in the butt. That's on me. If I throw up all zeros, maybe we're here, a tie ballgame and we're still playing trying to win a ballgame."
Combining the just-completed four-game sweep of the Giants and Monday's loss, Reds starting pitchers are 3-1 with a 1.14 ERA in the last five games.
The Reds had a two-out bases-loaded rally against Hahn in the top of the second inning after a Mesoraco walk, Ryan Ludwick's single and Zack Cozart's walk. Hahn escaped when he struck out Latos to end the inning.
In his fifth Major League start, Hahn notched a career-high nine strikeouts over five innings but was lifted after he threw 97 pitches. The bullpen took care of the rest. Closer Huston Street gave up Joey Votto's leadoff single in the ninth but a ground ball to shortstop by Jay Bruce was turned for a game-ending double play.
"It's baseball epitomized, really," Bruce said. "We had some opportunities. They made some good plays. We couldn't get the hit we needed. Mat did an unbelievable job. Sam did great. We just couldn't push one across. That's the way it goes."
The Reds' 135 runs scored for the month of June was the third most in the National League. San Diego, which is ranked 30th in runs scored overall this season, only scored a league-low 60 runs for the month. The team's .171 batting average for June is the lowest team batting average for any team in any one month since 1920.
It was the eighth time this season that the Reds were shut out and the fourth 1-0 defeat they've taken. But the overall offense has been producing well lately and Bruce felt they would continue to again.
"I think the thing with baseball in general is you have to have a short memory," Bruce said. "I feel like we're a team full of guys that understand how this goes and that it's not always going to be how we plan or expect. That's what makes us a good team."
Mark Sheldon is a reporter for MLB.com. Read his blog, Mark My Word, and follow him on Twitter @m_sheldon. This story was not subject to the approval of Major League Baseball or its clubs.