Hahn shines as Padres manufacture victory
San Diego wins with one hit for second time this season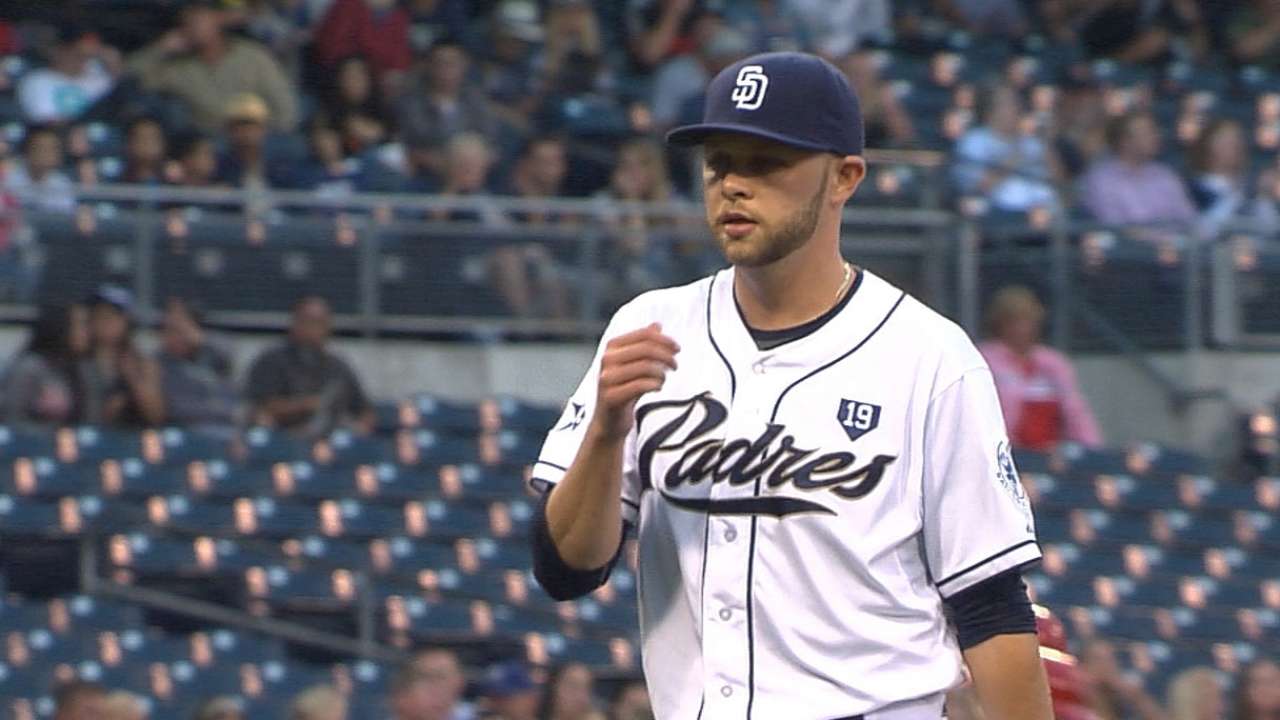 SAN DIEGO -- In the ever-expanding trade between the Padres and Rays in January, one that ultimately grew to include seven players, the Padres made sure to get the player they wanted: left-handed relief pitcher Alex Torres.
It appears they got much more than that with another player who was in the deal, pitcher Jesse Hahn.
"Our guys fought pretty hard to get him in the deal," said Padres manager Bud Black.
Hahn (4-1) struck out a career-high nine batters in five shutout innings Monday as the Padres defeated the Reds, 1-0, at Petco Park.
The Padres (36-47) didn't provide Hahn with much in the way of offense -- not just the one run but only one hit as well, a second-inning single by Tommy Medica that didn't amount to much.
This was the second time this season -- and month -- the Padres won a game with only one hit. They also did so against the Pirates on June 4.
Hahn, in his fifth Major League start, used his curveball in critical points in at-bats against the Reds (43-39), striking out eight hitters in a blissful stretch where he got nine outs. The curveball was again a big weapon for the rookie, as he continually used it to finish hitters.
"The thing about it was it was his strike pitch," said Reds manager Bryan Price. "He was a little erratic with the fastball and when he needed a strike, he was able to throw a breaking ball. For most hitters, you get into those good hitter's counts, 2-1, 3-1, 3-2, and you anticipate that you're going to get a fastball every now and again.
"Quite often he was dropping the curveball in because it was his most reliable strike pitch. And that really goes against the grain."
Not for Hahn, who said he isn't afraid to throw the curveball in any count against any hitter. It's been pretty heady stuff so far for the 24-year-old, who has a 1.95 ERA.
"I was just on page with [catcher Yasmani Grandal]," he said. "He gave me some good signs in some good situations and I executed the pitches."
Center fielder Cameron Maybin saved him from some misery in the first inning, as the made a sliding shoestring catch of a Joey Votto ball with a runner on first base, Todd Frazier. Maybin then got to his feet and doubled Frazier off first base.
"That's a huge play in the game for Jesse because it killed momentum," Maybin said.
There wasn't a lot to be had on either side.
The Reds managed five hits in the game off Hahn and four Padres relievers -- including closer Huston Street, who allowed a single to Votto to start the ninth inning before closing out the game for his 22nd save in 22 opportunities.
The Reds' starting pitcher, former Padre Mat Latos, allowed one run in seven innings on the one hit. He allowed a run in the fifth inning as Medica walked, stole second base and advanced to third base when Maybin flied out to center field. Everth Cabrera then knocked in Maybin with a fly ball.
One hit, one run, one win.
"I haven't seen that too many times," Medica said. "Any way we can produce runs here, that's the best thing. Any time we can just get any sort of runs with our pitching staff, we have to make it happen. Cabby had a great at-bat and got me in, so that's what we need to do."
Corey Brock is a reporter for MLB.com. Keep track of @FollowThePadres on Twitter. This story was not subject to the approval of Major League Baseball or its clubs.