Eighth-inning miscues derail Mets in Atlanta
Late collapse spoils strong starts from Wheeler, offense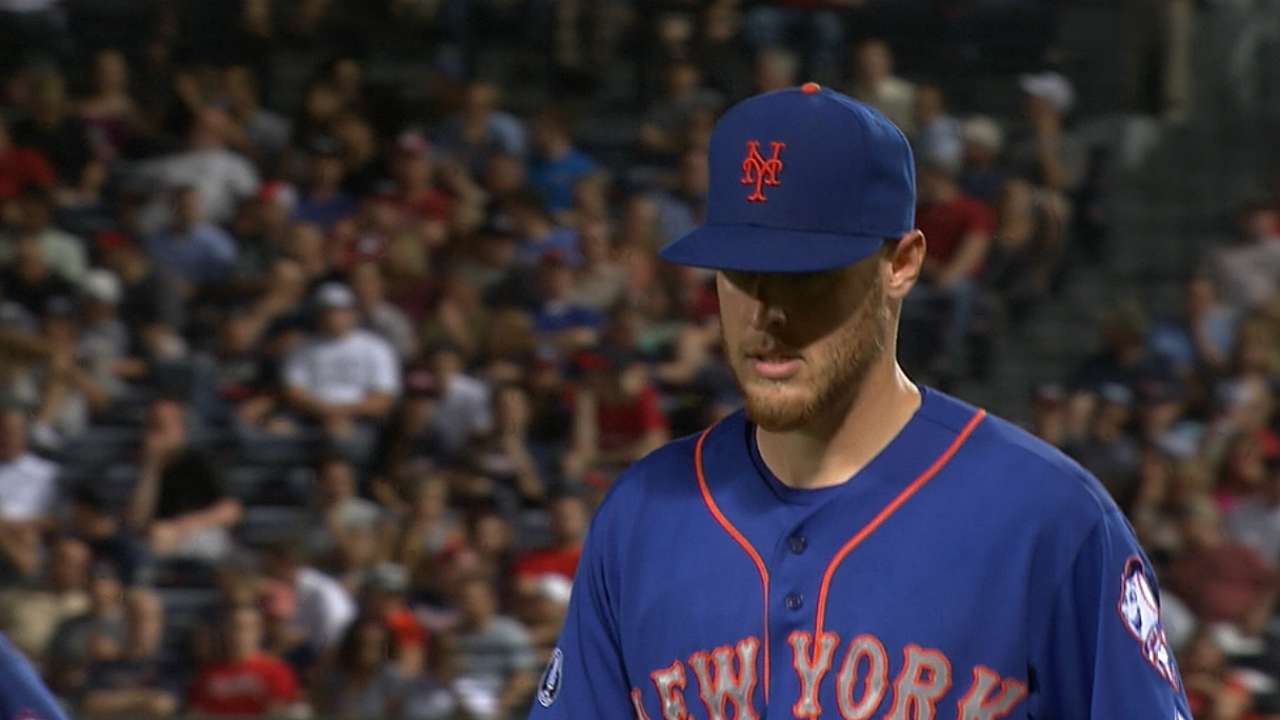 ATLANTA -- All told, the most nightmarish half-inning of the Mets' season took maybe two-dozen minutes to unfold. It included four hits, three errors and two walks in sum, completely undermining the three hours of solid baseball that preceded it.
The Mets could focus on nothing but that one ugly inning in the aftermath of Monday's 5-3 loss to the Braves.
"This," relief pitcher Jeurys Familia said, "was a bad day today."
Familia was one of three primary culprits for the Mets, who might have escaped Turner Field with an uplifting win had something -- anything -- gone right for them in the bottom of the eighth.
As it was, nearly everything went wrong. Leading by two runs, the Mets initially put themselves in peril when Familia threw a routine double-play ball in the dirt, giving the Braves the bases loaded with no outs instead of a man on third and two outs. The next batter, Tommy La Stella, hit an RBI single that center fielder Juan Lagares bobbled, allowing the tying run to score.
"It's tough because you work for something, and when you have the chance to make a double play, you don't make it," Familia said. "But it's part of the game. I did the best I could. Everything was my fault."
Not everything, in reality. Four batters later, Andrelton Simmons hit a chopper to third base that Eric Campbell -- subbing for the injured David Wright -- also bobbled. Campbell recovered in time to fire to first, but Simmons beat the throw as the go-ahead run crossed home.
"It's tough," Campbell said. "It seems like those things happen when teams are struggling, and that's what we're doing right now. Just like a week ago, we need a good game to get us back on a roll."
Familia faced eight batters, generating multiple potential double-play balls but recording a total of two outs. Ten Braves batted in the bottom of the eighth, which also featured four singles and two walks -- including one that Dana Eveland issued to Freddie Freeman with the bases loaded.
"We earned that one," Braves outfielder Jason Heyward said. "Going into that eighth inning, I was just saying, 'I hope we can get one here, and then in the ninth inning put some more pressure on them.' We came away with some great [at-bats]."
Added Braves manager Fredi Gonzalez: "You put the ball in play and funny things can happen."
The result was a no-decision for Mets starter Zack Wheeler, who, despite five walks, pitched well enough to win. Allowing just four hits over 6 1/3 innings, Wheeler cracked for a stray run in the fifth inning but nothing else. Pitching within an easy drive of his Georgia hometown, Wheeler rebounded from the worst start of his career with one of his better efforts of the season.
"It happens every once in a while," Wheeler said of the no-decision. "I fell into a little groove the more I went into the game. My command was there a little more. I just felt comfortable."
The Mets even generated plenty of early offense against Braves left-hander Alex Wood, starting with Curtis Granderson's homer to lead off the game. Additional runs came home on Travis d'Arnaud's RBI double in the second inning and Chris Young's sacrifice fly in the third, but the Mets left four runners on base in those three innings. Wood responded by retiring the final 11 batters he faced.
It was an ugly loss for the Mets, who climbed to within five games of .500 last week only to lose four of five to the A's and Pirates. A series-opening win in Atlanta would have assuaged much of the sting from those games, and the Mets were well on their way to achieving that before the late defensive meltdown.
Instead, the Mets are now a season-high nine games under .500 and a season-worst eight games out of first place. Even manager Terry Collins, who tries not to place too much emphasis on any one game, said that "given the fact we're playing the Braves, where we could have picked up a game on them, that probably was as tough as anything."
Blame a nightmare bottom of the eighth for that.
"We had some opportunities to get out of that inning," Collins said. "We didn't do it."
Anthony DiComo is a reporter for MLB.com. Follow him on Twitter @AnthonyDicomo. This story was not subject to the approval of Major League Baseball or its clubs.