Four Mariners homer to back Walker in debut
Season-high number of blasts more than enough to lift top prospect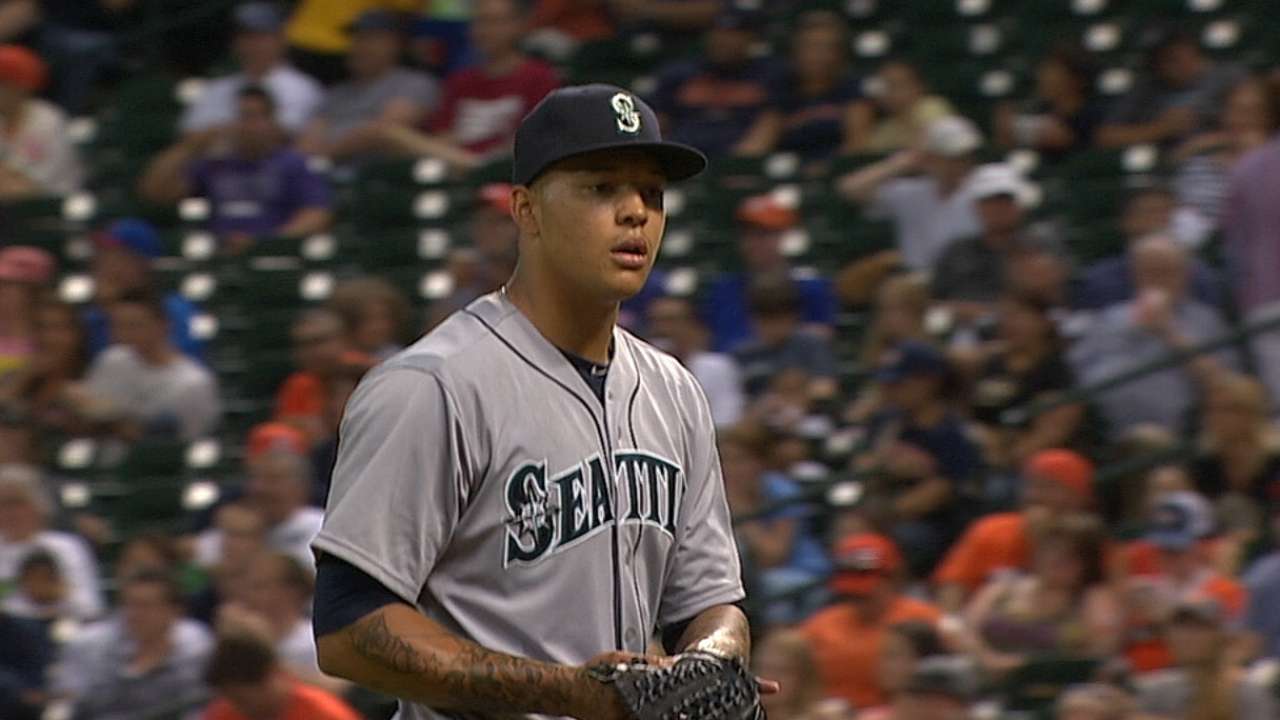 HOUSTON -- Astros rookie sensation George Springer captured the long-ball distance contest with a monster home run Monday, but it was premier Mariners prospect Taijuan Walker who won his season debut as Seattle provided plenty of power of its own with a season-high four home runs in a 10-4 victory over the Astros at Minute Maid Park.
Seattle's highly touted 21-year-old right-hander allowed three runs on five hits over six innings in his first Major League appearance of the season after dealing with shoulder problems much of the spring. Walker walked two and struck out six in a 94-pitch outing in the same park where he won his MLB debut last August.
"I thought he threw pretty darn good," Mariners skipper Lloyd McClendon said. "His command was a little shaky to start with, but I thought he settled down and threw some decent breaking balls, some decent changeups. He was starting to find a rhythm a little bit. He did OK."
So did the offense, as the Mariners scored their first eight runs via the long ball -- with a three-run opposite-field poke from Robinson Cano, two-run knocks by both Mike Zunino and Michael Saunders and a solo blast by Brad Miller -- as they improved to 45-38 with their eighth win in the past 10 games.
Walker gave up a monstrous two-run blast of his own to Springer in the first inning, with the estimated 445-foot lob bouncing off the window high above the left-field wall at Minute Maid and going down as the fifth-longest homer hit at the park by an Astro.
"I didn't watch it," Walker said. "It was high enough. I didn't want to turn around."
Walker's teammates did, however, including shortstop Miller, who worked out with Springer over the offseason in Florida and knows the youngster's natural strength.
"That's what happens when 97 [mph] catches up with a guy taking a donkey hack," Miller said. "That was pretty far. He hit it pretty good."
It was the 16th homer of the season for Springer since his callup in mid-April, just five shy of the all-time rookie record by an Astros hitter for a full season set by Lance Berkman in 2000.
But Zunino answered Springer's bolt with one of his own in the second. While Zunino's wasn't as prodigious, as it narrowly cleared the left-field wall, it tied the score at 2. Zunino has hit five home runs in his past nine games, and his 12 on the season are the most by an American League catcher.
"I told him, 'Yours was a lot more fun to watch, but I'll take it,'" Zunino said. "I guess that's the advantage of playing here. That's a nice little spot for righties to go to. When I hit it, I thought there was no chance."
The stalemate was short-lived, as Walker surrendered another home run -- again on a 2-0 fastball -- when shortstop Marwin Gonzalez drove a pitch off the right-field foul pole in the bottom of the second. Walker had not allowed a home run in his three starts with Seattle late last season, including two games against the Astros.
But Seattle responded with two more homers in the fourth, by Saunders and Miller, to stake Walker to a 5-3 lead. Miller's dinger was his eighth of the year, and Saunders' was his fifth. Cano then broke things open with his sixth homer of the season -- and second in two days -- in the seventh after Walker had rolled off four scoreless frames.
Tom Wilhelmsen pitched the final three frames and allowed just one hit and one run in the ninth to pick up his first save of the season.
The Mariners played a little small ball as well, with rookie center fielder James Jones going 4-for-5 and stealing three bases. Jones has 17 stolen bases in 55 games, the most by an American League rookie this season.
The only other Mariner with four hits and three steals in the same game was Ichiro Suzuki on July 20, 2004, against the Red Sox. The most recent Major Leaguer to achieve that feat was Emilio Bonifacio while with the Marlins in 2009.
"I'm going to leave the home runs to everybody else," Jones said. "I'm going to do what's my role and just get on base and create havoc out there."
Astros right-hander Collin McHugh took his second straight loss to the Mariners since shutting them out for 6 2/3 innings in his season debut back in April.
"Obviously the home runs hurt us today," said Houston manager Bo Porter, whose club fell to 36-48. "With Collin it was more just fastball command. From the beginning of the game he just really had trouble locating his fastball, and when he did fall behind and get into predictable fastball counts, he ran into some guys that put good swings on it."
This time it was Walker winning his debut, and the youngster says he will build off it as he survived on a day when his fastball command was not where he wanted by relying more on his off-speed pitches.
"I think he's got a chance to be OK, and I mean that seriously," McClendon said. "He has a chance to be a pretty good pitcher at this level if he can keep his head about him. One of the things we tried to impress upon him tonight is it's not always power. It's location sometimes, and sometimes it's OK to go softer. He made a couple mistakes tonight, but he'll shore those things up and hopefully he'll be better next time out."
Greg Johns is a reporter for MLB.com. Follow him on Twitter @GregJohnsMLB as well as his Mariners Musings blog. This story was not subject to the approval of Major League Baseball or its clubs.