Braves capitalize on Mets miscues in comeback win
Trio of New York errors leads to four-run eighth inning for Atlanta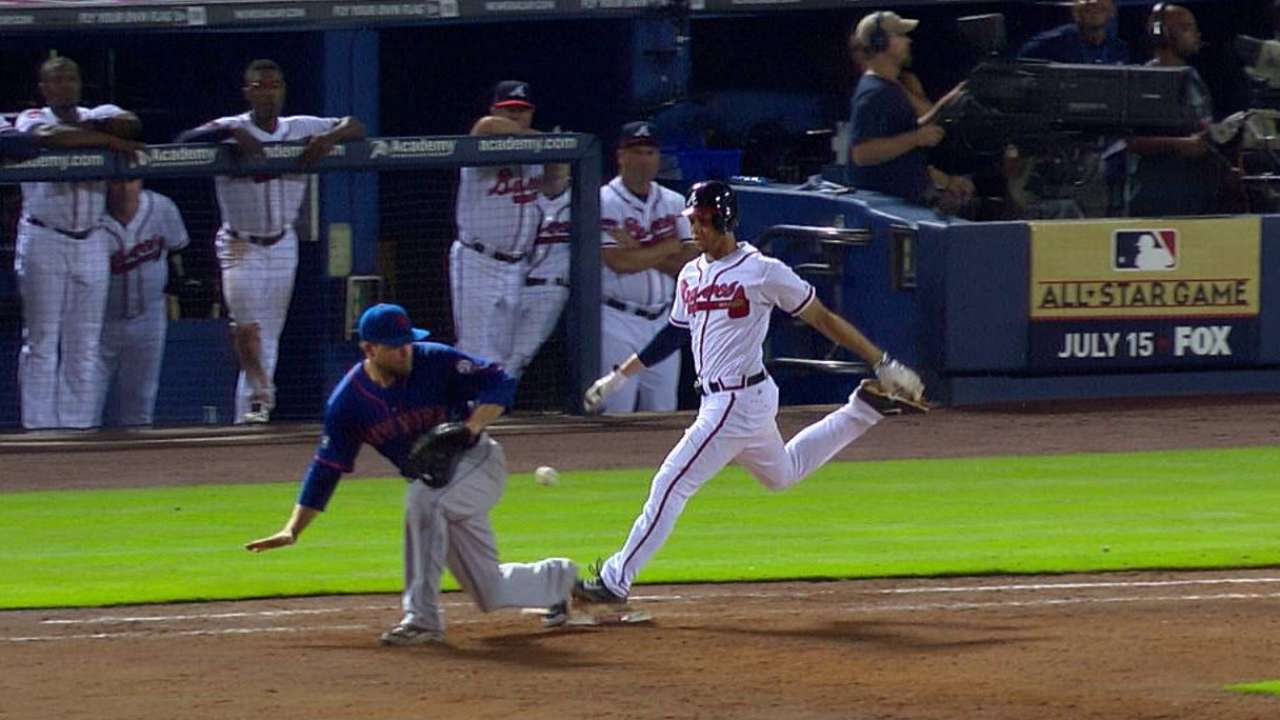 ATLANTA -- This might not have been the prettiest of the wins the Braves have compiled over the past week. But given that style points still do not have a place in the baseball world, Monday night's 5-3 victory over the staggering Mets still proved to be quite satisfying.
"You put the ball in play and funny things can happen," said Fredi Gonzalez, who was the only manager smiling as the Braves constructed a decisive four-run eighth inning with the help of three Mets errors.
While everything has been going right of late for the first-place Braves, who have won five straight and seven of their last eight, the Mets have now lost 17 of their past 26 games.
"It's tough," said Mets third baseman Eric Campbell, who made the critical error. "It seems like those things happen when teams are struggling, and that's what we're doing right now. Just like a week ago, we need a good game to get us back on a roll."
The Braves tallied the go-ahead run when Campbell fumbled Andrelton Simmons' chopper and then made a hurried throw that pulled Lucas Duda off the first-base bag. But the most costly of the three errors belonged to Jeurys Familia, who surrendered consecutive singles to begin the eighth inning and then induced a comebacker from Chris Johnson.
But instead of Johnson grounding into a double play for a 15th time this season, Familia made a low throw to second base that resulted in no outs. Tommy La Stella followed with a game-tying, bases-loaded single to center. Justin Upton jogged to the plate from third base and Jason Heyward also scored on the play after Juan Lagares could not gather the ball out of the grass.
"It's tough because you work for something, and when you have the chance to make a double play, you don't make it," Familia said. "But it's part of the game. I did the best I could. Everything was my fault."
This was certainly an inning to forget for Familia, who issued Ryan Doumit an eight-pitch walk after getting ahead with an 0-2 count. Two batters later, Simmons hit his two-out chopper that Campbell fumbled before making the errant throw that allowed Johnson to score the go-ahead run. To further fuel frustrations, Freddie Freeman capped the mistake-filled inning by drawing a bases-loaded walk off Dana Eveland.
The Braves had been relatively quiet before the eighth inning. Mets starter Zack Wheeler proved to be effectively wild as he allowed just one run as he totaled 113 pitches over 6 1/3 innings. Wheeler did not allow a hit until Heyward began the fourth with an opposite-field double. But he also needed 83 pitches to complete the first four innings.
"We earned that one," said Heyward, who teamed with Upton to begin the eighth with consecutive singles. "Wheeler had it going. ... Going into that eighth inning, I was just saying, 'I hope we can get one here and then in the ninth inning put some more pressure on them.' We came away with some great [at-bats]."
The eighth-inning events eased most of the frustration Alex Wood had gathered while allowing three runs over six innings. Though they formed a battery as the young pitcher made a start for Triple-A Gwinnett last week, Wood and Christian Bethancourt, who was making just his second Major League start as a catcher, had some trouble communicating during the early innings.
But they seemed to click after briefly meeting in front of the mound just before Chris Young delivered a third-inning sacrifice fly that gave the Mets a 3-0 lead. Young accounted for the first of the 11 straight batters Wood retired to finish his six-inning effort. "I thought Woody's outing was the key," Gonzalez said. "Very easily, he could have given up a bunch of crooked numbers and he didn't. He gave us six innings, held that team to three runs and kept us hanging around."
Wood's night began inauspiciously as Curtis Granderson hit the game's third pitch -- a 2-0 fastball -- over the center-field fence. This was certainly not an unfamiliar beginning for the Braves left-hander, who had surrendered a home run to begin two of his previous eight starts. The two previous leadoff home runs had accounted for the only run Wood surrendered in those outings. His hope to turn this trick a third time evaporated as the Mets took advantage of the shaky command he displayed while needing 68 pitches to complete the first three innings. He totaled 34 pitches over his final three innings.
Wood surrendered hits, including Travis d'Arnaud's RBI double, to two of the first three hitters he faced in the second inning. The young hurler was fortunate to allow just one more run during a 32-pitch third inning that included just two hits -- a pair of singles -- and one walk.
"I picked up my tempo a little bit," Wood said. "After the first three, I started working a little faster and going at them a little more [aggressively]. We just got together and got on the same page."
Mark Bowman is a reporter for MLB.com. This story was not subject to the approval of Major League Baseball or its clubs.