Davis belts walk-off grand slam to lift Tigers over A's
History repeats itself as slam propels Detroit on night honoring '84 title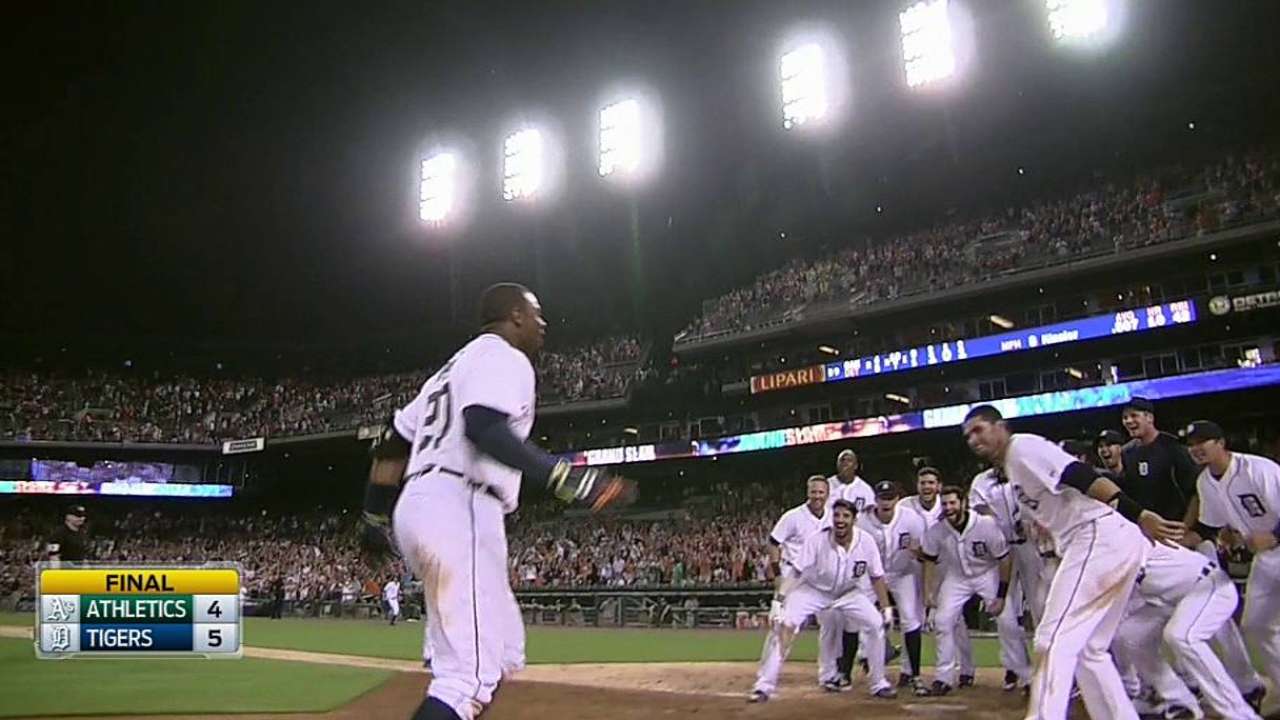 DETROIT -- For the second time in just over a month, Anibal Sanchez and Scott Kazmir put on a pitching duel decided by a walk-off homer after both pitchers had hit the showers.
"I had just put ice on my shoulder. As soon as it landed, we started yelling," Sanchez said of Rajai Davis' walk-off grand slam to earn the Tigers a 5-4 win over the A's on Monday night at Comerica Park.
For the second time all season, A's closer Sean Doolittle surrendered a walk.
"That was a heckuva battle," Doolittle said of his nine-pitch duel with Austin Jackson.
For the second time in 10 years, the Tigers celebrated an anniversary of their 1984 World Series title with a walk-off grand slam. This time, they needed all four runs.
"It's a fun way to win the game," manager Brad Ausmus said. "It's not something you want to do every night, because you'll end up having a coronary."
Or Davis could end up spraining an ankle. As he saw his drive down the left-field line clear the fence, he nearly tripped rounding first base.
"I was thinking, 'Just go, just go, go, go. That would be three grannies in your career,'" Davis said.
It was his third grand slam, but his first walk-off homer of any variety. It was the first walk-off grand slam by a Tiger since Carlos Pena's tiebreaking blast beat Arizona on June 27, 2004 -- the day the Tigers celebrated the 20th anniversary of their 1984 title-winning team.
The last Tigers walk-off grand slam before that was 10 years earlier, on June 21, 1994. Lou Whitaker, who was on hand for Monday's celebration, hit it.
Alan Trammell, who hit the Tigers' only other walk-off "super slam" -- meaning the team was down three runs when it was hit -- on June 21, 1988, was on base for Whitaker's grand slam in 1994. He was the Tigers' manager for Pena's grand slam in 2004. He was a guest for Monday's dramatics as well.
Davis got the opportunity against one of his former clubs, but the former Athletic had to beat one of baseball's best closers this season to do it.
Doolittle (1-3) was coming off a blown save Saturday in Miami, but he had still allowed just 22 hits and one walk in 39 innings all season, striking out 56 batters. With a 4-1 lead in the ninth, he seemingly had his 12th save of the year in safe grasp.
"In that situation, down, normally you're taking, just to see a pitch or take a strike to see if he's throwing strikes," Alex Avila said. "Knowing the type of year he's having, you've just got to try to get on the first good pitch you see. Nick Castellanos did that; I did that."
Castellanos fouled off the first pitch he saw, then hit the next for a leadoff single. Once Avila lined a first-pitch fastball into right field, the Tigers had runners at the corners and the tying run at the plate, but Doolittle had the bottom of the order up and Victor Martinez not unavailable with soreness in his back.
Doolittle struck out rookie shortstop Eugenio Suarez on three pitches, then put Jackson in a 2-2 count, seemingly in position for the same fate.
Jackson struck out four times Sunday in Houston, 25 times in June and 61 times through a little less than half a season. He had more strikeouts (33) than hits and walks combined (20) after a 2-2 count entering the game.
"I tried to step out and gather myself, really think the situation out," Jackson said. "I know he has a good fastball. I faced him in the past. I think the main thing was just getting myself in position to hit early enough."
Jackson fouled off three consecutive pitches to stay alive, then laid off as Doolittle missed inside with back-to-back pitches.
"You could see him really shorten up his swing with two strikes," Doolittle said. "I thought I threw some good pitches with two strikes. I went away, I went in, I elevated, and it was just a really good at-bat by him."
Up came Davis. Doolittle couldn't get him to swing at a first-pitch breaking ball inside, but overcompensated for the next.
"I was just ready for the fastball if he threw that," Davis said. "He didn't, so I was early on the breaking ball."
It was the first career grand slam allowed by Doolittle, whose previous nine home runs allowed were never worth more than two runs.
"I just hung the crap out of it," Doolittle said.
Jason Beck is a reporter for MLB.com. Read Beck's Blog and follow him on Twitter @beckjason. This story was not subject to the approval of Major League Baseball or its clubs.