Doolittle allows walk-off slam as Tigers stun A's
Closer's hiccup ends win streak; familiar script plays out vs. Detroit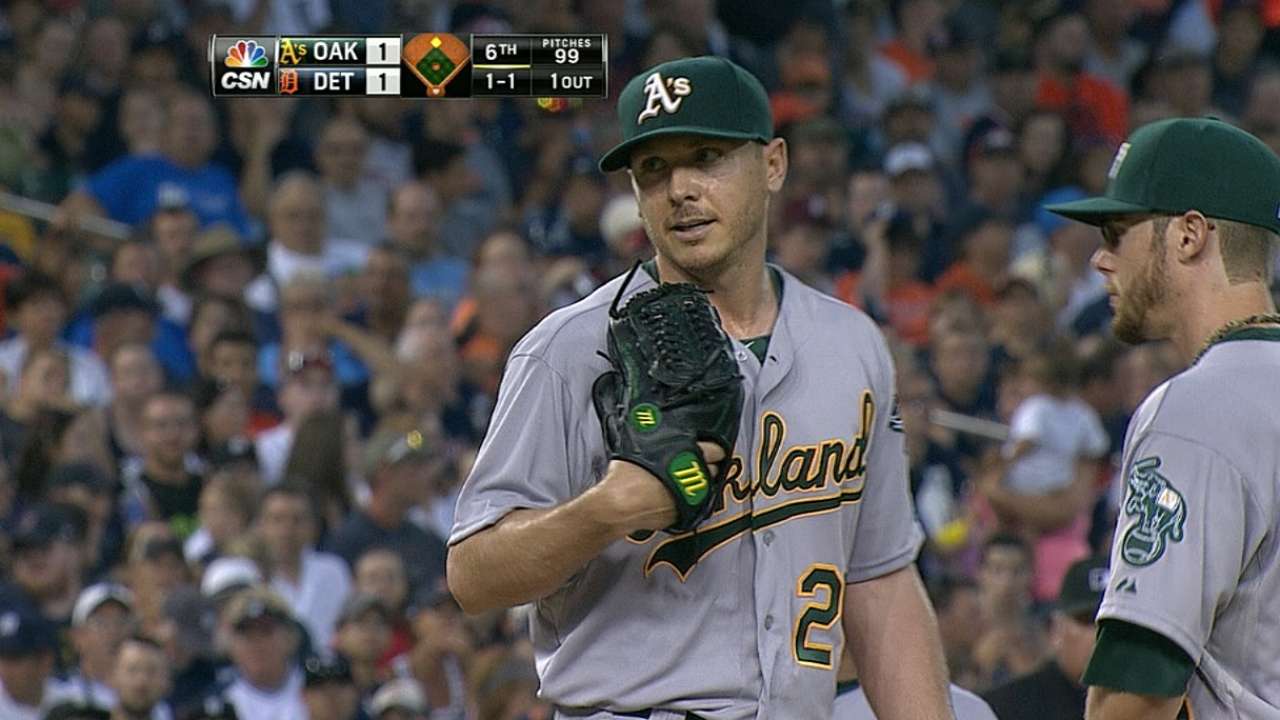 DETROIT -- This game appeared as good as won with Sean Doolittle carrying a three-run lead to the mound. But then again, these are the Tigers, who have made a habit out of stunning the A's in recent years.
Detroit did it again in the opener of a three-game set at Comerica Park on Monday. It didn't matter that it wasn't October. The A's were bitten again by their postseason nemesis on a balmy late June evening, dropping a 5-4 heartbreaker on Rajai Davis' walk-off grand slam.
The former A's outfielder drove a 1-0 hanging slider from Doolittle into the left-field stands to end the game -- and Oakland's four-game winning streak. This less than two months after Davis used his speed to spark the Tigers to a one-run win in Oakland.
Detroit leads the season series, 3-2, with two left to play this week against the A's, who have dropped Game 5 of the American League Division Series to the Tigers in each of the last two years.
Even after Monday's loss, Oakland's 51-31 record is quite superior to Detroit's 45-34 mark. But this one hurt.
"My stuff was there, it was just a little inconsistent," said Doolittle, now shouldering back-to-back blown saves after his 26 1/3-inning scoreless streak ended Saturday in Miami. "The [velocity] was there, and I thought I threw some good pitches, but I also threw some bad pitches -- and unfortunately one of the ones I really slipped up on cost us the game."
The walk Doolittle issued to Austin Jackson proceeding Davis' blast was just as significant -- and atypical, for the lefty had allowed just one other free pass in 39 innings this season. The rarity followed back-to-back hits by Nick Castellanos and Alex Avila.
"That was a heckuva battle," Doolittle said. "You could see him really shorten up his swing with two strikes. I thought I threw some good pitches with two strikes. I went away, I went in, I elevated, and it was just a really good at-bat by him."
"Those are the type of at-bats that can wear you down a bit," said manager Bob Melvin. "He's throwing a lot of pitches, it's hot out there. Those can take a little bit out of you. On top of it, it's a walk and you've got another baserunner, and it's a different game at that point."
Davis then stepped to the plate ready for a fastball.
"He didn't throw it," Davis said, "so I was early on the breaking ball."
"I saw the way he offered," said Doolittle. "He checked his swing on the first one, and for a guy that's a really good fastball hitter, I wanted to try to keep him off it and throw another to see if we could get him to roll over it. But I just hung the crap out of it."
"Things like that happen," said catcher John Jaso. "This is a team that bounces back from pretty much anything. [Doolittle] has always been there for us throughout this whole year. It's just how it goes sometimes. It's an unfair game."
The game began with a classic pitchers' duel.
Lefty Scott Kazmir, coming off what now appears to be an anomaly of a rough start against the Mets last week, was back to his domineering ways, matching Tigers righty Anibal Sanchez zero for zero through the first five innings of the affair.
Both hurlers allowed a run in the sixth, the A's getting to Sanchez first on Jed Lowrie's two-out RBI single before Miguel Cabrera clobbered a changeup for a solo shot off Kazmir in the bottom half of the inning.
Kazmir would only stick around for one out in the frame, cramping up in the middle of Castellanos' at-bat. He finished at 99 pitches, with just four hits allowed, having walked four and fanned seven while lowering his ERA to 2.61, good for fifth in the AL.
Lowrie collected two more RBIs in a three-run eighth, exiting with two hits after batting just .130 in his previous 20 games.
After the game, he was among many backing up the team's closer.
"The guy's been so good pretty much all year," said Lowrie. "I think he's allowed a little bit of leash. It's a good offense. Just like us, they're not going to give anything away. You're going to have to earn everything you get from them, and they battled down to the very end."
Jane Lee is a reporter for MLB.com. This story was not subject to the approval of Major League Baseball or its clubs.