Nats' offense erupts with Harper's return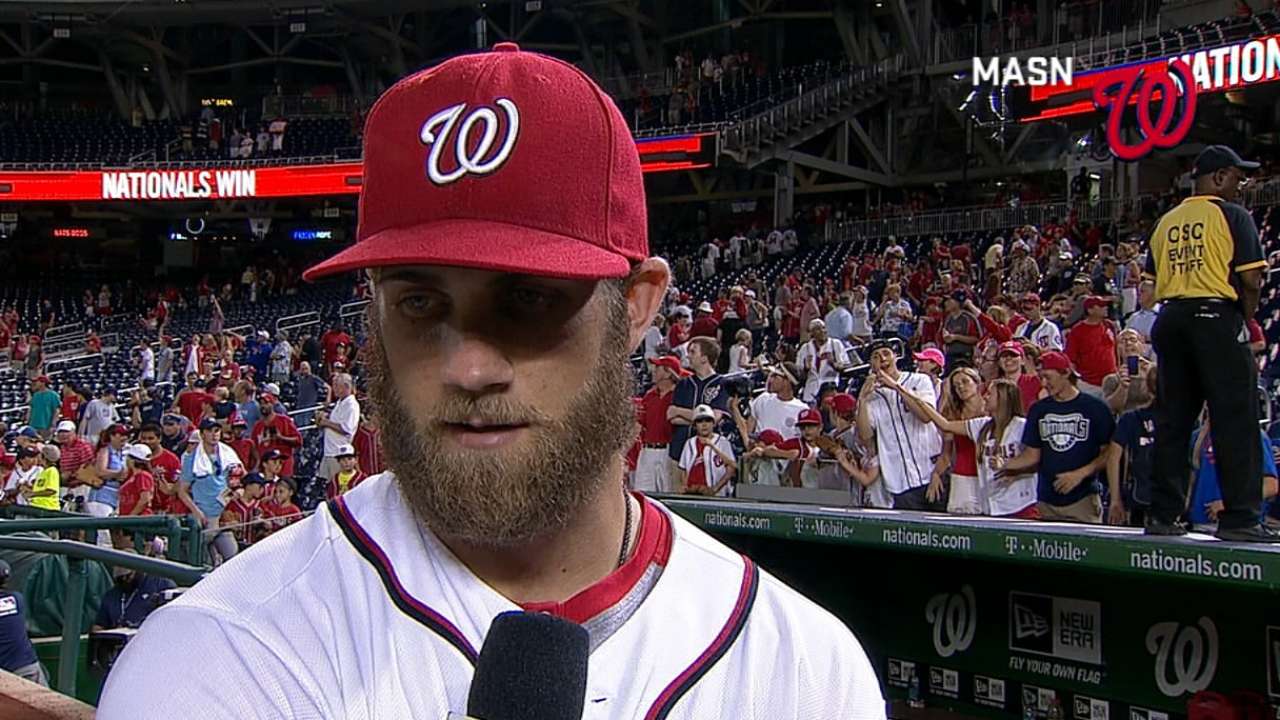 WASHINGTON -- The Nationals' offense was supposed to erupt with the return of outfielder Bryce Harper, and it did as Washington pounded the Rockies, 7-3, at Nationals Park on Monday night.
"It's good to get that W. It's huge," Harper said.
In his first game since being activated from the disabled list, Harper drove in the first run of the game with an RBI single in the fourth inning. But it was Ryan Zimmerman and Ian Desmond who were the game changers in the top of the sixth inning. All five runs were scored while reliever Rob Scahill was on the mound.
"Obviously, we had people out all year. We had a pretty good team, even with those people out," Zimmerman said. "So to have everyone back, obviously, it's a longer lineup, tougher to pitch against. We have to start getting hits and do the right thing."
With runners on first and second, one out and Washington down, 2-1, Zimmerman doubled to left field, scoring Anthony Rendon and tying the score at 2. Zimmerman ended up going 3-for-4 in the game. Zimmerman was 2-for-17 in his previous five games and saw his batting average dip to .233.
"Obviously, I haven't been hitting the ball the way I wanted to, but that's all right," Zimmerman said. "It's going to go like that sometimes during the year. I have to keep working, keep going out there. I was able to get some big hits."
Harper was walked intentionally to load the bases and up came Desmond to the plate.
"That's the kind of decision-making and pressure we want to apply," manager Matt Williams said.
Desmond cleared the bases with a double to left field to make it a 5-2 game. Desmond is now 24-for-54 [.444] with the bases loaded.
"I try to do the same thing I try to do every other time," Desmond said. "It's a good situation to hit in. Bases loaded with two outs. That's what you are looking for."
Said Scahill: "I just left it a little bit up. If I would have put it a little more down, he would've taken it or swung over it. But again, I left it up a little bit and he put a good swing on it."
Desmond then stole third and scored on a fielder's choice by Wilson Ramos to make it a four-run game.
Right-hander Jordan Zimmermann (6-4) was the beneficiary of those five runs. He lasted six innings and allowed two runs and seven hits. Both runs were scored in the sixth inning. Troy Tulowitzki highlighted the scoring with an RBI double.
"I thought I pitched pretty well," Zimmermann said. "I really had only two pitches -- fastball and slider -- the whole game. I didn't throw any curveballs. I threw a few changeups. I mixed them up pretty good."
It was also Zimmerman's return to third base after playing almost a month in left field. Playing with a bad right shoulder, Zimmerman made a great defensive play in the top of the seventh inning. After Corey Dickerson singled, Charlie Blackmon hit a liner to Zimmerman, who made a nice diving catch for the out before making a strong throw to double-up Dickerson at first.
"I just catch it and throw. I think [first baseman Adam] LaRoche made a good play. I tried to one-hop him. It kind of went in between, but he is pretty good over there."
Zimmerman, who has made it known that he is more comfortable in left field, said playing third base on Monday was "different." Zimmerman was ready to go back to the hot corner, because he was working out at the position the last week or so before games.
"It's obviously different than left field," Zimmerman said. "It's going to take some adjustment. There still a lot of work to do to. ... I felt OK."
LaRoche added to the scoring in the seventh inning by hitting a solo home run off Scahill, his 12th of the season.
It's one game, but Monday was the first time the Nationals were able to field their projected lineup since Opening Day. Harper, LaRoche, Zimmerman and Ramos all missed significant time because of injuries. But when everybody is healthy, the Nationals can have an impressive lineup.
"It's a strong lineup. I don't think there are too many opposing pitchers that want to see it," Desmond said. "It's nice to have Bryce back. He brings a lot of energy to our team when he plays this way. We need him out there every day."
With the win, the Nationals remain a half-game behind the Braves in the NL East. In its game, Atlanta was down, 3-1, but rallied to defeat the Mets, 5-3.
Bill Ladson is a reporter for MLB.com and writes an MLBlog, All Nats All the Time. He can also be found on Twitter @WashingNats. This story was not subject to the approval of Major League Baseball or its clubs.