Haren's gem vs. Tribe puts Dodgers alone in first
Robinson's first career hit, RBI make combined one-hitter stand up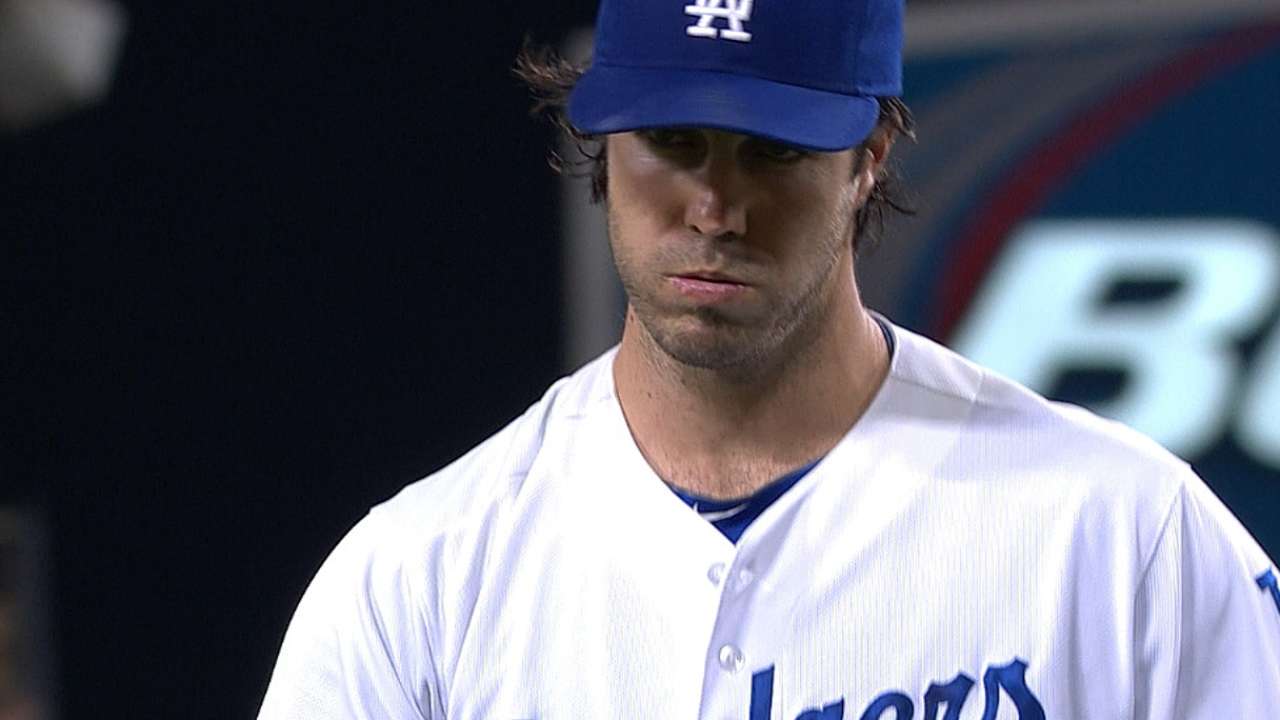 LOS ANGELES -- Puzzled after making his shortest start of the year last week in Kansas City, Dan Haren didn't know how to respond when a postgame questioner asked if he thought the Dodgers would trade for David Price, the implication being as his replacement.
Haren's answer came on Monday night -- his best start of the year. He pitched seven scoreless innings and allowed only one hit, an overturned infield single, while 29-year-old callup Clint Robinson drove in the only run with his first Major League hit as the Dodgers edged the Indians, 1-0, to gain sole possession of first place in the National League West for the first time since April 24.
"It's nice to bounce back after my worst start of the year," Haren said. "I've been on good staffs, but it's tough to hold my weight here. Every time out, the guys are dealing. I try to maintain the momentum and haven't done it until today."
Haren had five strikeouts and one walk in his longest outing since May 12.
"His last game in Kansas City, it was kind of the true only game that he didn't seem to have a lot of bite on the ball, so I'm sure he was on a little bit of a mission to get back on track tonight," said manager Don Mattingly.
Brian Wilson pitched the eighth inning, and Kenley Jansen the ninth for his 25th save as the Dodgers staff recorded back-to-back shutouts (24 consecutive scoreless innings), while the Indians were one-hit in back-to-back games.
"You sometimes run into a buzz saw and other guys have great games," said losing starter Corey Kluber. "You can't really second-guess or complain about that, you've just got to tip your hat to the other guys."
Robinson -- an eight-year Minor Leaguer with a four-game cup of coffee for Kansas City in 2012 -- pinch-hit for Haren with two out in the bottom of the seventh inning and singled up the middle on a 3-2 cutter from Kluber. That scored Andre Ethier, who led off the inning with a triple off the glove of left fielder Michael Brantley at the wall. Ethier homered on Sunday.
"Man, that feels good," Robinson said. "It put us in a position to win. The crowd was cheering, my teammates were fist-pumping."
Haren (8-4) had allowed at least one run in one of the first two innings of his last 11 starts. He also had allowed 14 homers in his last nine starts. But not this time, after he adjusted his pitch sequence by throwing more breaking balls early in the count and cutters late.
"I was working on stuff between starts," he said. "I've been feeling good, but the results are not where I wanted to be. This was the best I've thrown the ball all year."
Cleveland's hit came with two outs and David Murphy on second base in the third inning. Dodgers shortstop Miguel Rojas made a spectacular diving stop of speedy Michael Bourn's grounder up the middle, bounced up and threw to first.
First-base umpire Adrian Johnson called Bourn out, but Indians manager Terry Francona challenged. The play was overturned on review, leaving runners on the corners. Bourn promptly stole second base, but Haren caught Asdrubal Cabrera looking to end the inning. That was the first of 13 consecutive batters retired by Haren and 19 straight by Dodgers pitchers.
"From where I was, I thought he was safe," said Haren, who made 103 pitches but said he would have stayed in the game if the no-hitter had been intact. "I was feeling like I'd have to get the next guy out. But Rojas made a great play not letting the ball get out of the infield."
Haren said being part of a team that's playing well, at this point in the season, is more important than being in first place. The Dodgers went 18-10 in June, picked up 10 games on the Giants since June 8, are 4-1 on the homestand and 8-4 in Interleague Play.
"We don't really care that we're in first place, we're just playing better," he said. "We seem to have more fun out there, the clubhouse is loose. I wasn't here last year, but the guys have come together. We're having a lot more fun. Winning cures everything."
Ken Gurnick is a reporter for MLB.com. This story was not subject to the approval of Major League Baseball or its clubs.