Kluber's gem for naught as Tribe is one-hit again
Righty holds Dodgers to one run, but offensive rut continues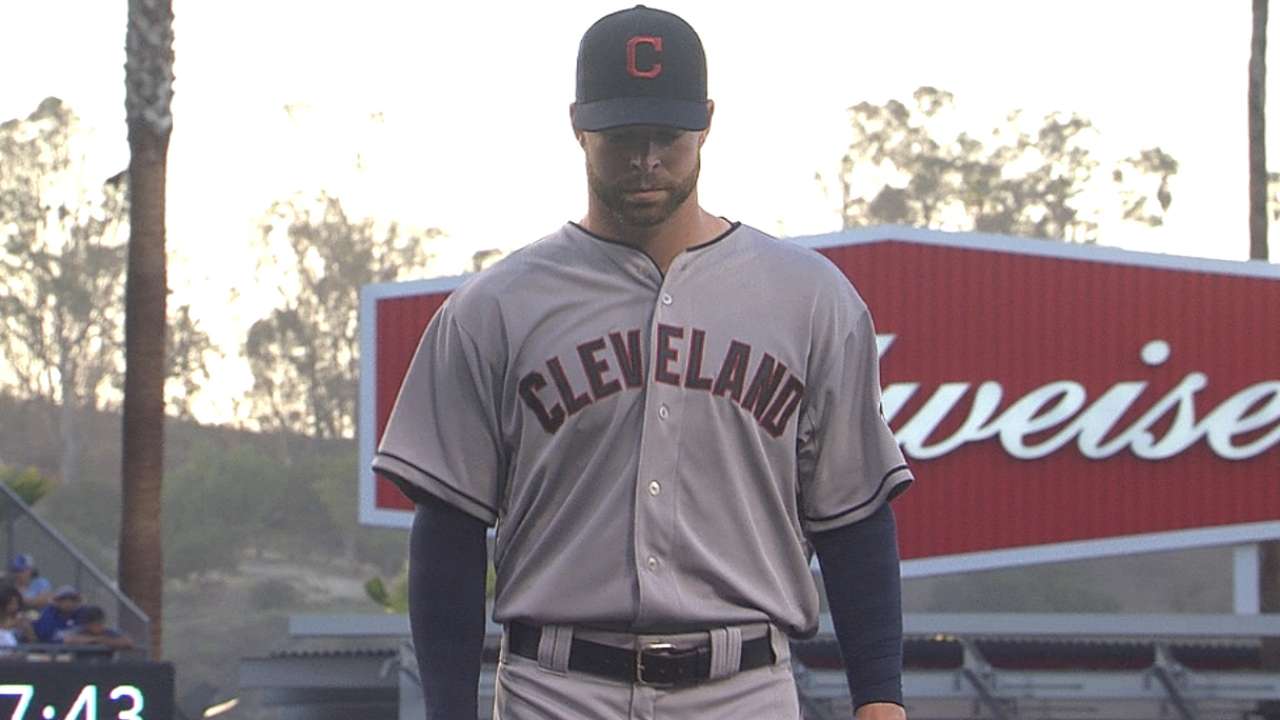 LOS ANGELES -- Corey Kluber did all he could for the Indians on Monday night. The righty starter engaged in a classic pitchers' duel with Dodgers right-hander Dan Haren, giving Cleveland a sufficient performance to find its way to a win.
Unfortunately for the Tribe, the offense went silent for the second straight game, resulting in a 1-0 loss at Dodger Stadium in the opener of this three-game Interleague series. One day after Felix Hernandez and the Mariners held the Indians to one hit, the Dodgers did the same to Cleveland, with Haren leading the charge.
Two games. Two hits. No runs.
"We're just frustrated offensively a little bit," Indians center fielder Michael Bourn said. "It's not just one of us -- it's as a whole. We know we can hit. That's how we always feel. They're carrying us on the mound."
The Indians might have been discussing a no-hitter had it not been for instant replay.
In the third inning, Bourn knew he legged out a single after chopping a two-out pitch from Haren to Dodgers shortstop Miguel Rojas. The fleet-footed leadoff hitter narrowly beat out the throw, but was initially ruled out by first-base umpire Adrian Johnson. After sprinting through the bag, Bourn turned and motioned to manager Terry Francona to challenge the call.
The ruling was overturned after a brief instant-replay review, giving Bourn an infield hit and taking away what might have been an otherwise historic night for Haren.
"Well, I don't know," said Bourn, referring to avoiding a no-hitter. "Maybe [Dodgers manager Don Mattingly] doesn't pull Haren when he did. It might've been different. I don't know how it would've gone."
Here is how things did go for Cleveland:
• Monday's game marked the first time in Indians history that they were held to no more than one hit in consecutive games, dating back to at least 1914. Cleveland became the first American League club to be held to one hit in back-to-back games since May 3-4, 1996, when Detroit was saddled with the forgettable feat.
• In fact, the Indians became only the seventh team in the past 100 seasons to be held to no more than one hit in two straight games. Besides Detroit, the other teams on that list include the Reds (April 25-26, 2013), Astros (Sept. 14-15, 2008), Mets (Sept. 10-11, 1965), White Sox (Aug. 10-11, 1917) and Boston Braves (Sept. 28-30, 1916).
That is not the kind of history any team wants to make.
"I don't even know what to say," Indians third baseman Lonnie Chisenhall said. "It's just been a tough two days offensively. You have to give the pitchers a lot of credit. It doesn't happen a lot."
Since Saturday, the Indians have been blanked across 21 consecutive innings, in which the offense has gone a combined 3-for-63 at the plate. The latest 1-for-27 showing in Los Angeles spoiled the strong effort from Kluber, who traded zeros with Haren for the first six frames.
"Kluber was tremendous -- really good," Francona said. "You pitch a big league game, in a place like this, he was outstanding."
The Indians (39-43) had a chance to break through in the third, when Haren issued a one-out walk to David Murphy, who then moved to second on a sacrifice bunt from Kluber. Bourn then came through with his replay-assisted single before stealing second base.
Haren struck out Asdrubal Cabrera to end the inning and then ran through 13 consecutive Cleveland batters before exiting. The L.A. right-hander finished with five strikeouts, one walk and 103 pitches in his seven shutout frames. Counting perfect innings from Dodgers relievers Brian Wilson and Kenley Jansen, the last 19 Indians went down in order.
"I thought Haren pitched really well," Francona said. "He threw a lot of strikes and stayed out of the middle of the plate the entire game. He was throwing cutters in and broke a couple of bats. He got us thinking in and then went away soft. That's how you pitch."
It was not until the home half of the seventh that L.A. was able to force Kluber to flinch.
Andre Ethier led off by slicing a pitch from Kluber to the wall in left-center field, where the ball glanced off the glove of Tribe left fielder Michael Brantley. Ethier pulled off the triple, but was nearly stranded as Kluber then cruised through Juan Uribe and A.J. Ellis for two outs. At that juncture, the Dodgers turned to pinch-hitter Hanley Ramirez, who was promptly walked intentionally.
That set the stage for Clint Robinson -- pinch-hitting for Haren -- who headed into the evening with six career big league at-bats in parts of two seasons. Robinson grounded a 3-2 pitch up the middle and into center field, scoring Ethier easily from third to give L.A. its only run against Kluber.
"I have so many emotions right now," said Robinson, whose hit was the first of his big league career. "It's kind of hard to put words together."
With their 1-0 lead, the Dodgers ended Kluber's scoreless-innings streak at 16 and cost him a shot at improving to 7-0 in seven career Interleague starts. Robinson's hit also ended the night for Kluber, who induced 10 groundouts, scattered six hits, struck out five and was charged with the lone run.
Kluber shrugged off the lack of run support.
"That's part of the game," he said. "You sometimes run into a buzz saw and other guys have great games. You can't really second-guess or complain about that. You've just got to tip your hat to the other guys."
Jordan Bastian is a reporter for MLB.com. Read his blog, Major League Bastian, and follow him on Twitter @MLBastian. This story was not subject to the approval of Major League Baseball or its clubs.