Wright stays in New York with ailing shoulder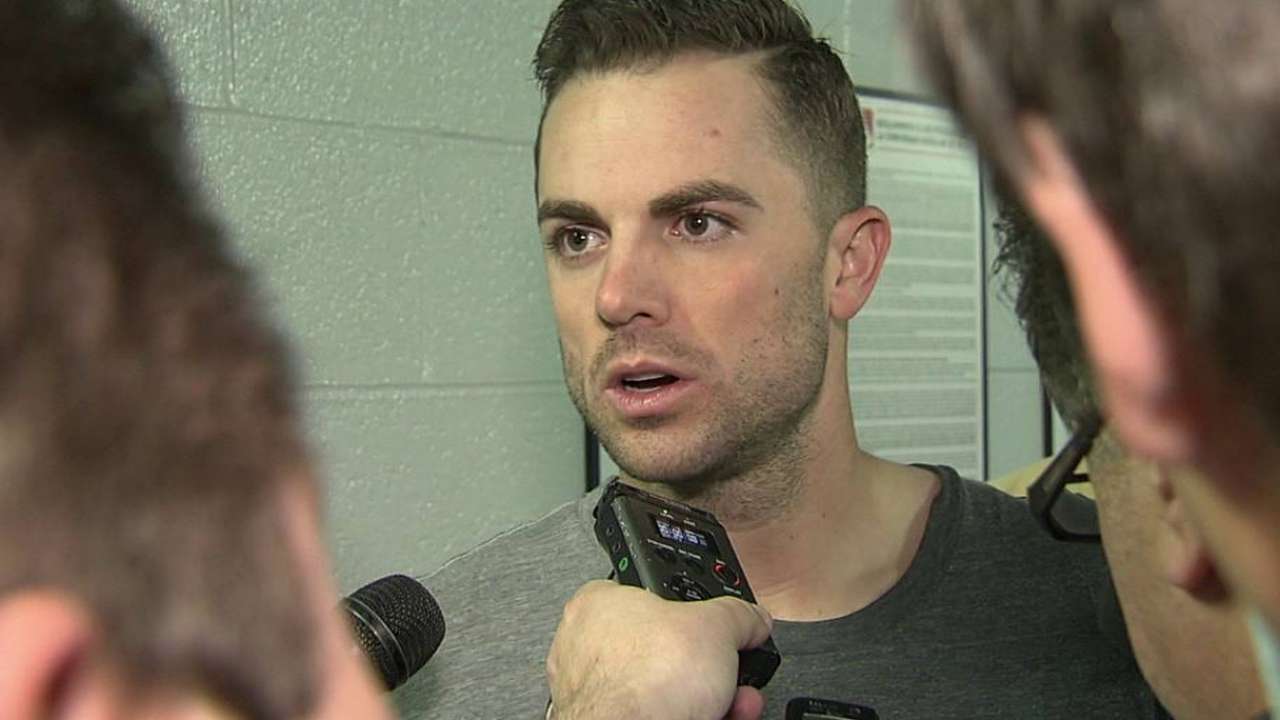 ATLANTA -- A follow-up examination on David Wright's left rotator cuff Monday revealed good, but not great, news for the Mets. Wright will remain in New York as he rehabs from his shoulder bruise, and should return to active duty Friday against the Rangers.
In the interim, the Mets will play shorthanded to avoid putting Wright on the disabled list. Wright has not played since the Mets scratched him from Friday's lineup with a sore shoulder.
"He's our star player," manager Terry Collins said. "That's a big hole to take out. Obviously we've got some guys that have to step up and fill that hole."
Primarily, Wright's duties will fall to Eric Campbell, who filled in capably for him over the weekend. Campbell was back in the lineup Monday, batting cleanup against left-hander Alex Wood and playing third base. Daniel Murphy is also capable of playing third for the Mets, should Collins decide to shift more than one player on defense.
In Wright's absence, the Mets could have optioned a pitcher to Triple-A Las Vegas, promoting an extra bench player. But Collins said he did not want to disturb a bullpen that entered Monday's play having allowed just eight earned runs in 43 innings.
"We decided to stick with what we've got, even though if we go extra innings, it straps you a little bit," Collins said. "But I kind of like the way our pitching sets up right now, and I don't want to mess with that too much."
Most importantly, the Mets wanted to be cautious with Wright, who attempted to play through a sore hamstring last August only to strain it and miss most of the season's final month.
"I thought it was important to make sure that when he comes back, we don't have issues," Collins said. "The doctors said, 'Hey look, he's going to be great by Friday.' So we'll just get by until then."
Monday's news means Wright's absence will last at least six games during a critical juncture of All-Star Game voting, with online balloting ending Thursday. Wright, who recently fell behind Milwaukee's Aramis Ramirez in fan voting, will not be able to improve upon his .277 average and six home runs before the deadline.
Fans can cast their votes for starters at MLB.com and all 30 club sites -- online or on a mobile device -- using the 2014 All-Star Game MLB.com Ballot Sponsored by Experian until Thursday, July 3, at 11:59 p.m. ET. The 2014 All-Star Game will be played at Target Field on Tuesday, July 15.
Fans may submit up to 25 online ballots, but they can also earn a one-time bonus of 10 additional online ballots. To access these additional online ballots, you must be logged into your MLB.com account when you submit any online ballot. If you do not have an MLB.com account, register on the site in accordance with the enrollment instructions for a free MLB.com account.
Fans this year once again can participate in the Home Run Derby Fan Poll. Fans will have the opportunity to select three players in each league who they would most like to see participate in the Gillette Home Run Derby. The 2014 Home Run Derby will be broadcast live on ESPN, ESPN HD, ESPN Deportes and ESPN Radio in the United States beginning at 8 p.m. ET on Monday, July 14.
The 2014 American League and National League All-Star teams will be unveiled on the Taco Bell All-Star Selection Show on Sunday, July 6, beginning at 7 p.m. ET on ESPN, with further details to follow on MLB.com. Immediately following the announcement of the AL and NL All-Star rosters, fans can begin voting to select the final player for each league's 34-man roster via the 2014 All-Star Game MLB.com Final Vote Sponsored by Experian. Fans will cast their votes from a list of five players from each league over the balloting period.
And the voting doesn't end there. The final phase of All-Star Game voting will again have fans participating in the voting for the Ted Williams All-Star Game Most Valuable Player Award presented by Chevrolet. During the Midsummer Classic, fans will vote exclusively online at MLB.com via the 2014 All-Star Game MLB.com MVP Vote Sponsored by Pepsi, and their voice will represent 20 percent of the overall vote that determines the recipient of the Arch Ward Trophy.
MLB.com will provide extensive online coverage of the All-Star Week festivities.
The 85th All-Star Game will be televised nationally by FOX, in Canada by Rogers Sportsnet and RDS, and worldwide by partners in more than 200 countries via MLB International's independent feed. ESPN Radio and ESPN Radio Deportes will provide national radio coverage of the All-Star Game. MLB Network and SiriusXM will also provide comprehensive All-Star Week coverage. For more information, please visit allstargame.com.
Anthony DiComo is a reporter for MLB.com. Follow him on Twitter @AnthonyDicomo. This story was not subject to the approval of Major League Baseball or its clubs.