How to handle pitchers in Mini Fantasy Game
Strategies vary when limited to selecting only two arms in daily format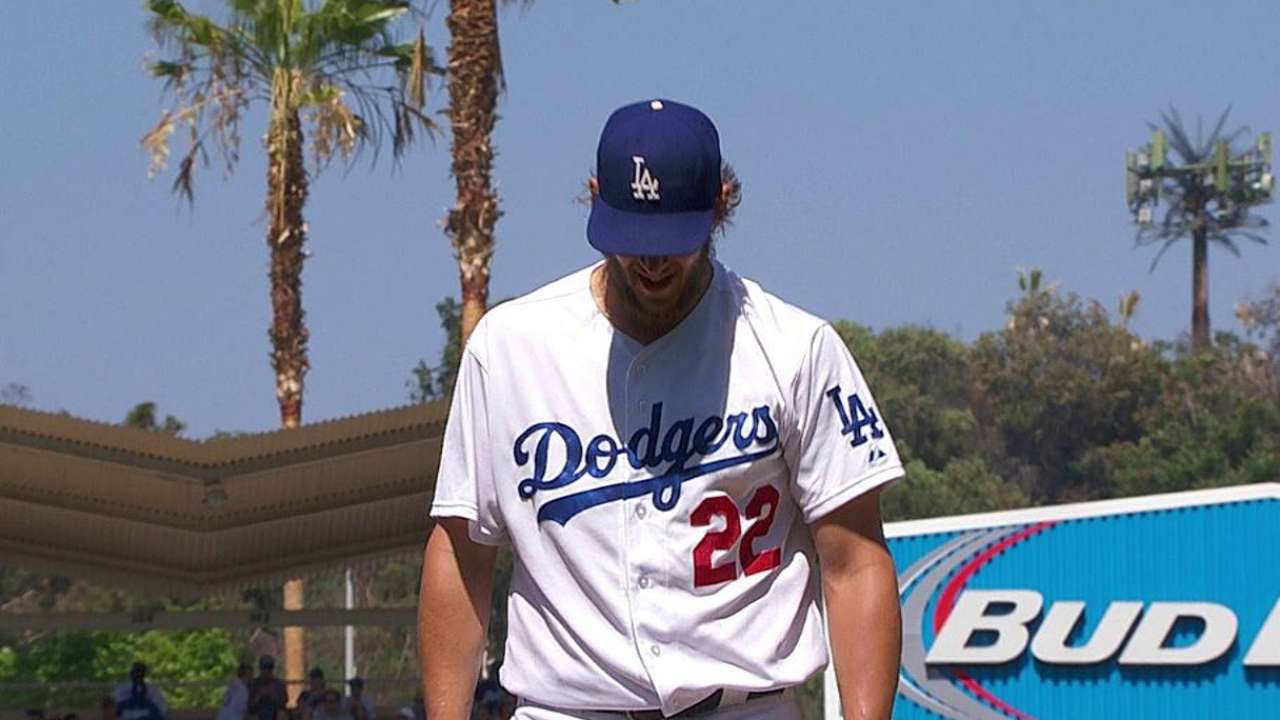 One of the unique aspects of the Official Mini Fantasy Game of MLB.com is that you must play two starting pitchers each date. Pitching is always important in fantasy baseball, but that's especially true when they make up 20 percent of your daily fantasy roster and score an even higher percentage of your points.
There are a few different ways to approach your pitching, each of which is suitable in various scenarios. Though it's generally recommended that you pay up for at least one of your pitchers to ensure a certain floor of points, there are times when it's OK to deviate from that approach. Let's examine.
Two Studs
Because pitching is so much more consistent than hitting from night to night, many daily-fantasy users find it smart to pay top dollar for two elite arms. Not only are hurlers such as Stephen Strasburg and Clayton Kershaw so consistent from game to game, but they also have huge ceilings and can almost single-handedly put you in contention to win the Official Mini Fantasy Game of MLB.com.
The downside, of course, is the price. The top arms are expensive, which means you won't have much salary cap left for your bats. However, paying for two top-tier pitchers can actually be an against-the-grain strategy. Although both might be highly utilized individually, they typically won't be in many lineups together due to the cost.
Best Use: When you like a stack of hitters on a cheap offense
Second-Tier Power
Some daily-fantasy players like to use a balanced strategy across the board, which can lend itself to bypassing the highest-priced pitchers and moving down the list just a bit. In the second tier, you typically see names such as Tim Lincecum, Hyun-Jin Ryu and Julio Teheran. These pitchers often have high upside, cost less than the top-tier flamethrowers and aren't as likely as the bargain-bin arms to ruin your team's chances with a poor outing.
The downside of going with a balanced lineup is that you could be in trouble if one of the top pitching talents excels. Because hurlers such as Kershaw are so heavily utilized when they start, you can be at a severe disadvantage to the field if everyone else uses such a player who performs at an elite level.
Best Use: When you want to find value on moderately priced bats
High-Low
Yet another strategy to use when selecting pitchers is going "high-low" -- also known as "stars and scrubs." This is done when you pick one top-priced option and one cheap, under-the-radar pitcher. The primary advantage of such a strategy is that it allows you to play a Kershaw or Felix Hernandez without breaking the bank, providing the opportunity to fit some decent hitters into your lineup.
The downside is that the really cheap pitching options have a high probability of struggling, which can really hurt your chances of winning. In the Official Mini Fantasy Game of MLB.com, there's simply no way to overcome a very poor pitching score.
Best Use: When you want to balance elite upside with a contrarian pick
Punting Your Pitchers
In the fantasy world, "punting" a position means using a really cheap player who will open up salary-cap relief elsewhere. Many users like to punt a position such as catcher, which does not have a wide variety of top-tier bats.
Punting on pitching isn't as common because the low-priced arms usually don't have elite upside, so the chances of hitting on two of them are slim. It's not generally recommended, but if you're going to use the strategy, a tournament such as the Official Mini Fantasy Game of MLB.com could be the place to do it. When the value of fielding a unique lineup is high, there can be some merit to going against the grain with your pitchers. Doing so would allow you to stack a truly elite offense such as the Blue Jays.
Best Use: When you want to go completely off of the map to field a unique lineup or pay for big bats
Jonathan Bales contributes DraftKings-related content to MLB.com. This story was not subject to the approval of Major League Baseball or its clubs.