Gattis lands on DL with bulging thoracic disk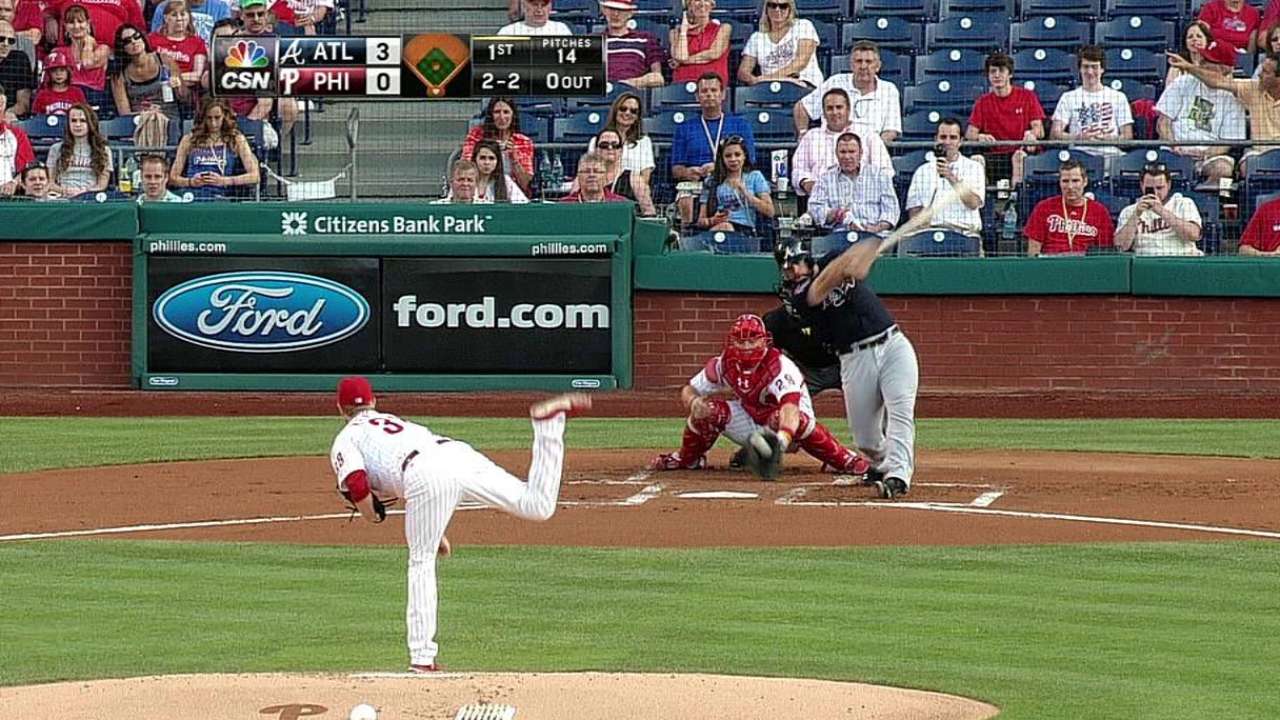 ATLANTA -- An MRI exam performed Monday revealed Evan Gattis has a bulging thoracic disk that will land him on the 15-day disabled list. The Braves will make a corresponding move before Tuesday's game.
Gattis, who will receive an epidural, had hoped to avoid a disabled-list stint after missing the past four games with back discomfort, which was diagnosed as a right rhomboid spasm. He does not anticipate surgery as doctors told him roughly 90-95 percent of issues with bulging thoracic disks eventually "resolve themselves."
"I'm not sure what the timetable [for a potential return] is, but I don't think it'll be too long term," Gattis said. "Obviously disappointing, but I'm just ready to get back as soon as I can."
Gattis has been sidelined since back discomfort forced him from Friday's game in Philadelphia during the first inning. There was uncertainty regarding the injury at first, so the MRI brought Gattis some much-needed clarity.
"I didn't really know. Kind of felt like a pinch, so the first day, initially, I felt like it was kind of close to the spine or something like that, but I didn't know if it was that or intercostal or what," Gattis said. "Initially, it just kind of hurt to breathe and stuff like that, so I've got some kind of relief knowing I've got an answer."
Braves manager Fredi Gonzalez added: "You don't know until you get the MRI. The MRI is kind of a telltale sign of everything, and I guess it was worse than what we thought. We thought it was muscular, but I guess it was a bulging disk. He's going to sit out for a little bit and get that straightened out."
Christian Bethancourt, the organization's second-ranked prospect, was called up from Triple-A Gwinnett on Saturday to provide depth at catcher. His presence helps backup Gerald Laird, who caught five of the final seven games of Atlanta's recently concluded road trip.
"If he's here, you know how I am; get him off the plane and put him in the lineup," Gonzalez said of giving Bethancourt his second start in three games on Monday. "I don't want to run Laird into the ground."
The corresponding roster move could be the activation of right-handed reliever David Carpenter. Carpenter, who has been on the disabled list since June 17 with a right biceps strain, has fanned four batters in two perfect innings on a rehab assignment with Gwinnett that began on June 28.
Carpenter struck out the side on 13 pitches in a perfect inning on Monday and will be re-evaluated by team doctors before determining whether he will activated.
"The way he felt before he left [for his rehab assignment], he felt great," Gonzalez said. "I don't see any reason why, when he's eligible, we couldn't activate him."
As far as Gattis is concerned, there is no rehab assignment in sight. In fact, once he receives an epidural, the next step is rest.
"I'm getting the epidural, and after that, I'm not sure," Gattis said. "I know I'm not doing too much activity for the next three to five days, for sure, and then after that, I guess we'll just play it by ear, but I don't really know yet."
Mark Bowman is a reporter for MLB.com. Joe Morgan is an associate reporter for MLB.com. This story was not subject to the approval of Major League Baseball or its clubs.