Rays grind out 12-inning victory over Yankees
Forsythe delivers go-ahead hit as club claims fifth win in six games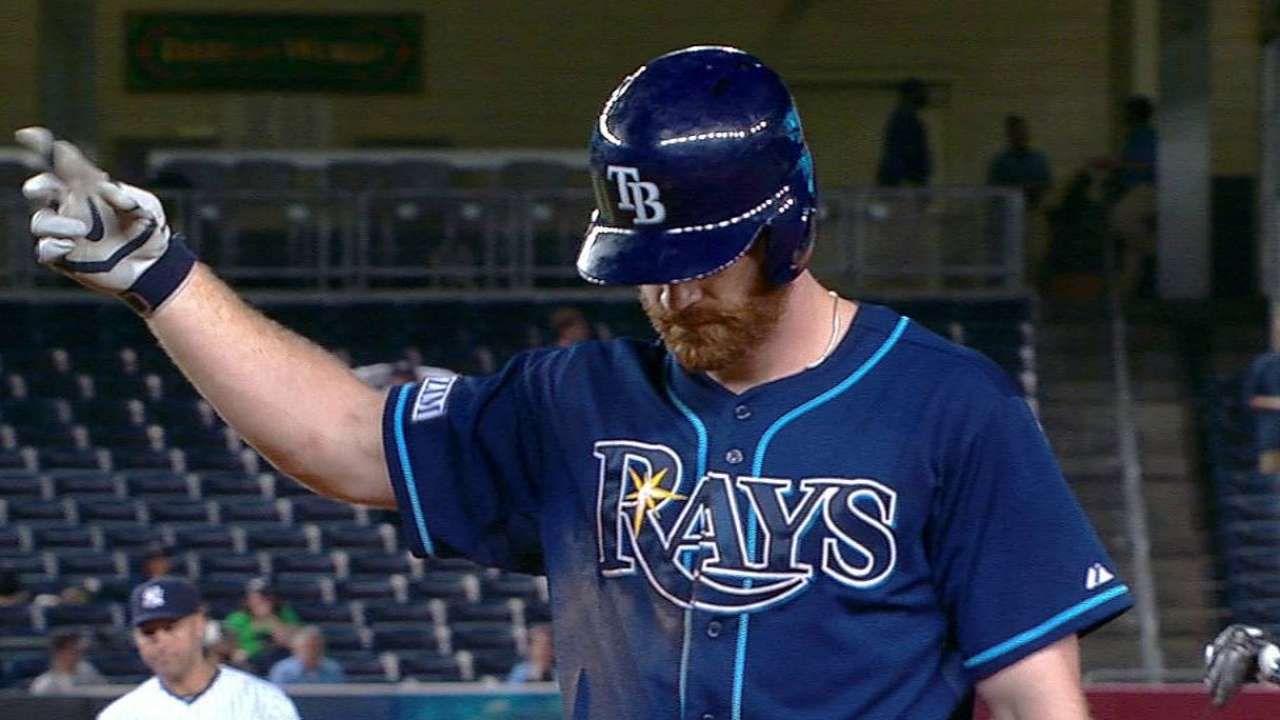 NEW YORK -- The Rays have kept the faith in Logan Forsythe, and that faith is starting to pay rich dividends.
Forsythe's two-out RBI single in the 12th inning propelled the Rays to a 4-3 win over the Yankees on Monday night at Yankee Stadium.
The Rays (36-49) have won four of five on their current 11-game road trip -- five of six overall -- and they have gone 12-7 since June 11. Though they remain in last place in the American League East, they moved to 9 1/2 games behind first-place Toronto and they no longer have the worst record in baseball, an honor that goes to the idle D-backs at 35-49.
Brandon Guyer started the winning rally when he drew a two-out walk in the 12th against Jose Ramirez and then stole second. Forsythe then dropped a single into center field to drive home Guyer.
Forsythe is now hitting .457 (16-for-35) in 10 games since June 16. That day he snapped a 1-for-23 skid and has since raised his average from .178 to .242.
Forsythe said that the faith manager Joe Maddon and the coaches have shown in him has meant a great deal.
"That shows a lot of confidence from the coaches in myself," Forsythe said. "And they understand, especially as a bench guy. You have limited at-bats. It's tough, your timing, your rhythm. But all the guys in here, our main thing is to go up there and get a good at-bat."
But Forsythe made sure that Monday night's win was bigger than just a confidence boost for him.
"Not just me, I mean the team," Forsythe said. "The guys are starting to get hot. We're starting to crank on all cylinders."
The Rays grabbed a 2-0 lead on solo home runs by Matt Joyce in the first and Kevin Kiermaier in the third.
Joyce has three home runs in his last two games, and Kiermaier has homered in three consecutive games.
Chris Archer started for the Rays and notched two scoreless innings before he hit Ichiro Suzuki leading off the third. Brett Gardner tripled to drive home Suzuki, then scored when Derek Jeter grounded out to second, tying the score at 2.
Dellin Betances started the eighth for the Yankees and retired Evan Longoria and James Loney before walking Guyer. Forsythe then fell behind 0-2 before coming back to draw a walk and chase Betances.
David Robertson took over to face Ryan Hanigan. After taking strike one, the Rays catcher laced a single to left to drive home Guyer to give the Rays a 3-2 lead.
That lead held until one out in the ninth, when Joel Peralta surrendered a game-tying home run to Brian Roberts.
Archer had been in line for his fifth win, but he came away with a no-decision after allowing two runs on five hits and two walks while striking out four over seven innings. According to the Elias Sports Bureau, had Archer claimed his fifth career win against the Yankees in five starts, he would have matched Hall of Famer Walter Johnson, who was the last pitcher to win his first five games against the Yankees.
"They were able to get the big hit at the end, and we've had two extremely tough losses so far on this homestand," Yankees manager Joe Girardi said. "Big at-bat by Brian Roberts, had a couple chances and just wasn't able to do much tonight."
Maddon seemed especially happy following the win.
"It was such a strange game, a great game, then a strange game and then it becomes wonderful," Maddon said. "... Roberts put us in this position, but nobody quit. It's not about effort, it's about performance. Performance keeps getting better. Their pitching today was really good, too."
Bill Chastain is a reporter for MLB.com. This story was not subject to the approval of Major League Baseball or its clubs.