Mookie excited to make Fenway Park debut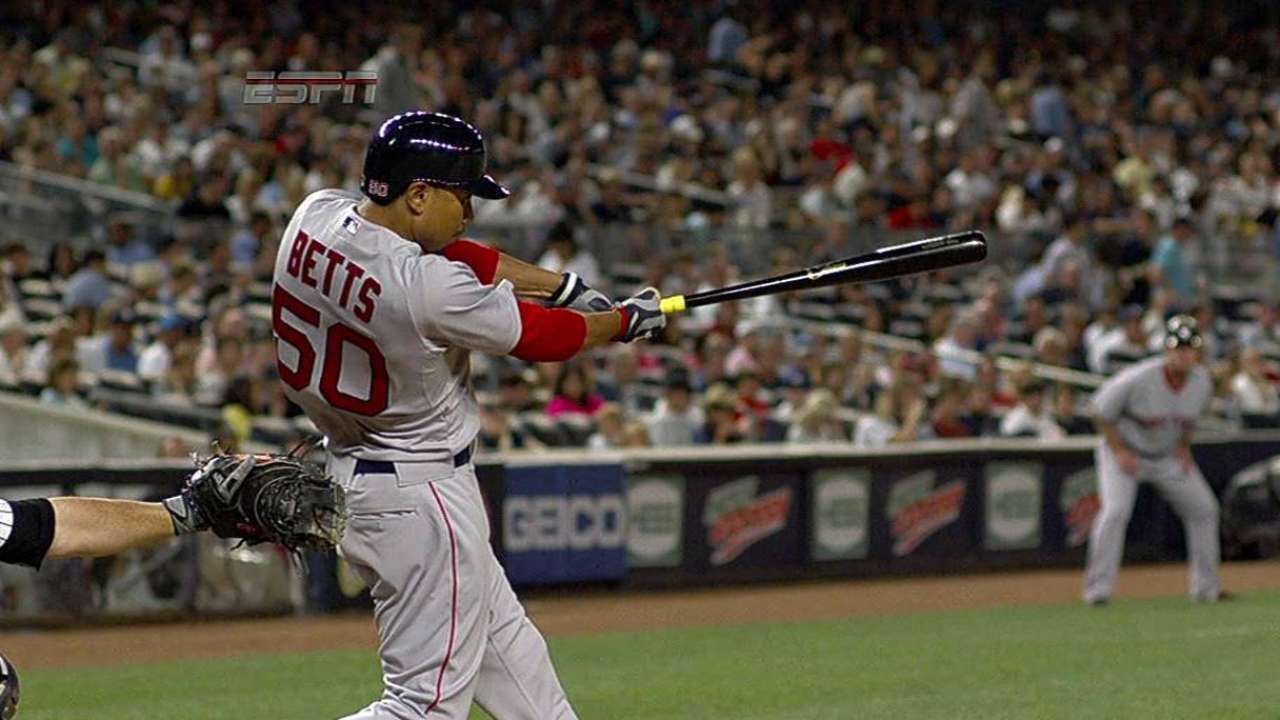 BOSTON - The excitement continued for Mookie Betts on Monday night.
A day after making his Major League debut at Yankee Stadium, which included his first hit, Betts played his first home game for the Red Sox, batting eighth and playing center field against the Cubs.
"Going from Yankee Stadium where everybody is against you, to coming to Boston where everybody is with you, that's got to be a great feeling," said Betts, who is ranked the club's No. 5 prospect.
Betts played right field in Sunday's game. He will mainly play right and center, as Jackie Bradley Jr. got a night off on Monday.
"As we mentioned, with him coming here, there's going to be a little rotation of guys through four positions," said manager John Farrell. "Mookie is in center field tonight. Jackie will be back out there, likely, tomorrow. As part of the rotation, we're trying to get close to everyday at-bats -- particularly for the young players that are on our roster."
The 21-year-old Betts exudes a quiet confidence.
"I'm not the savior of the team," said Betts, who went 0-for-3 in the Red Sox's 2-0 loss. "I'm not going to say that I am. I'm just here to contribute and do my part."
What does he view as his strengths offensively?
"I think just being able to put the ball in play," Betts said. "Make contact. Trying to keep my strikeout rate low and my walk rate high. Trying to get on base."
Though he might have been a little too aggressive on a dive for a triple into right field on Sunday night, Betts otherwise had a solid debut.
"I thought he controlled his at-bats very well [Sunday] night," said Farrell. "Particularly the one at-bat where he walked, I thought he battled inside the at-bat, took a couple of close pitches, but I thought emotionally he was well under control, good bat speed. It's one game. He looked OK."
Ian Browne is a reporter for MLB.com. Read his blog, Brownie Points, and follow him on Twitter @IanMBrowne. Steven Petrella is an associate reporter for MLB.com. This story was not subject to the approval of Major League Baseball or its clubs.