One night after bats break out, offense stymied
Drew ends no-no with single in eighth; Peavy gives up two-run homer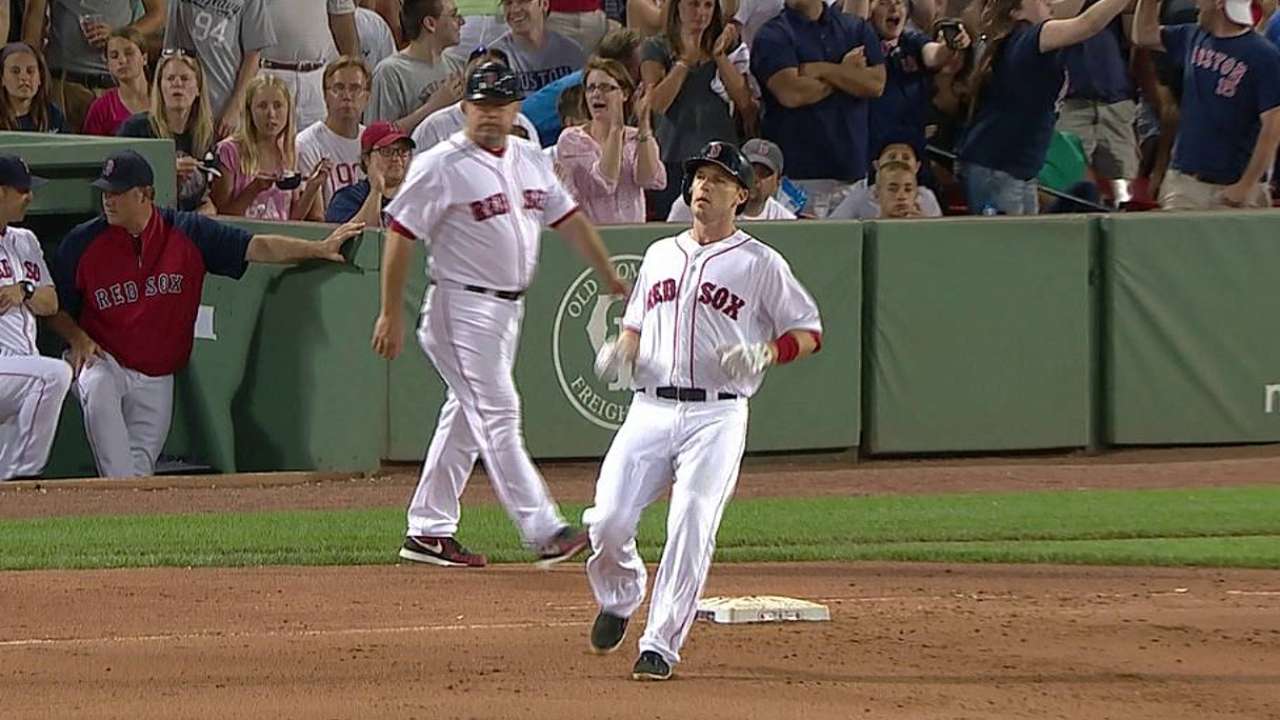 BOSTON -- Jake Arrieta was trying to do what no opponent had done at Fenway since Jim Bunning back in 1958. He was trying to do what no opponent had done to the Red Sox since Chris Bosio at Seattle's now-defunct Kingdome back in 1993.
But Stephen Drew prevented the no-hitter by rifling a clean single to right with two outs in the bottom of the eighth.
Unfortunately for the Red Sox, it was only one of two hits they would have on the night in a 2-0 loss to Arrieta and the Cubs, who, by the way, employ Bosio as their pitching coach.
After a pair of wins at Yankee Stadium, Boston's momentum was thwarted by -- as the baseball saying goes -- the next night's starting pitcher.
What did Arrieta have going for him?
"Everything," said Dustin Pedroia. "He located everything. He's got great stuff. His cutter was down in the zone. His four seam, he elevated it, his curveball was tough. He kept every pitch out of the zone. Three at-bats, I don't think I got one good pitch to hit. You've just got to tip your hat."
At first, the Fenway faithful cheered for Drew -- and then they stood up and held a sustained ovation for Arrieta.
"That's some kind of awesome," said Cubs manager coach Rick Renteria. "I tip my cap to everybody, because that was some show of respect."
For the Red Sox, it was the latest occasion in which their bats were stymied, marking the eighth time they've been shut out this season and the 13th time in the last 16 games they've scored three runs or less.
"Well, there's a combination of factors to that," said Red Sox manager John Farrell. "Acknowledging Arrieta tonight, but yeah, anytime we seemingly put together a couple of quality performances back to back, it's been difficult to extend. You can't pinpoint any one reason. But still, it is a little frustrating, particularly where we are with our record and our status or place in the division trying to get some momentum going. You credit a solid performance tonight."
At 38-45, the Red Sox are 6 1/2 games back in the American League East.
There was one silver lining in the loss. Jake Peavy turned in his best performance in a while, giving up five hits and two runs while walking two and striking out seven.
However, the righty has been snakebit this season. Even when he pitches well, nothing seems to go his way. He is 1-7 with a 4.82 ERA.
Of Peavy's 17 starts, the Red Sox have been shut out in three of them. And Boston has produced two runs or less in 13 of Peavy's 17 starts.
"You just go out and try to give your team the best chance that you can give them on that night to win," said Peavy. "And I've got to do a better job of that. It's going to change. This isn't going to keep happening. I promise you, I've got my head down and working. It'll change. There's going to be games where we score five, six, seven runs on the day I start. I'm not going to believe that this is how it's going to be for the next 16 or 17 starts."
The only pitch that damaged Peavy all night was with two outs in the fourth, when Nate Schierholtz belted a two-run homer to right. Making that more painful was that Peavy had the previous batter -- Welington Castillo -- in a 1-2 hole before walking him.
"I made some pitches to Castillo, the 3-2 pitch I thought was strike," said Peavy. "Just didn't get a call. The umpire was tight tonight. First pitch to Schierholtz, he pulled it and that was the game."
From there, the night belonged to Arrieta, who took a perfect game into the seventh inning in his last start.
"The tension kind of builds there as the fifth and sixth inning approaches, and subsides there a little bit, but the space around me kind of increases naturally," said Arrieta. "Another special night. It was special to do it in this ballpark. To do something like this last week in Wrigley and then to do it here, in these two parks, is pretty special."
Ian Browne is a reporter for MLB.com. Read his blog, Brownie Points, and follow him on Twitter @IanMBrowne. This story was not subject to the approval of Major League Baseball or its clubs.