Gem dealer: Arrieta flirts with no-hitter
Right-hander fans 10, chance at history ends after 7 2/3 innings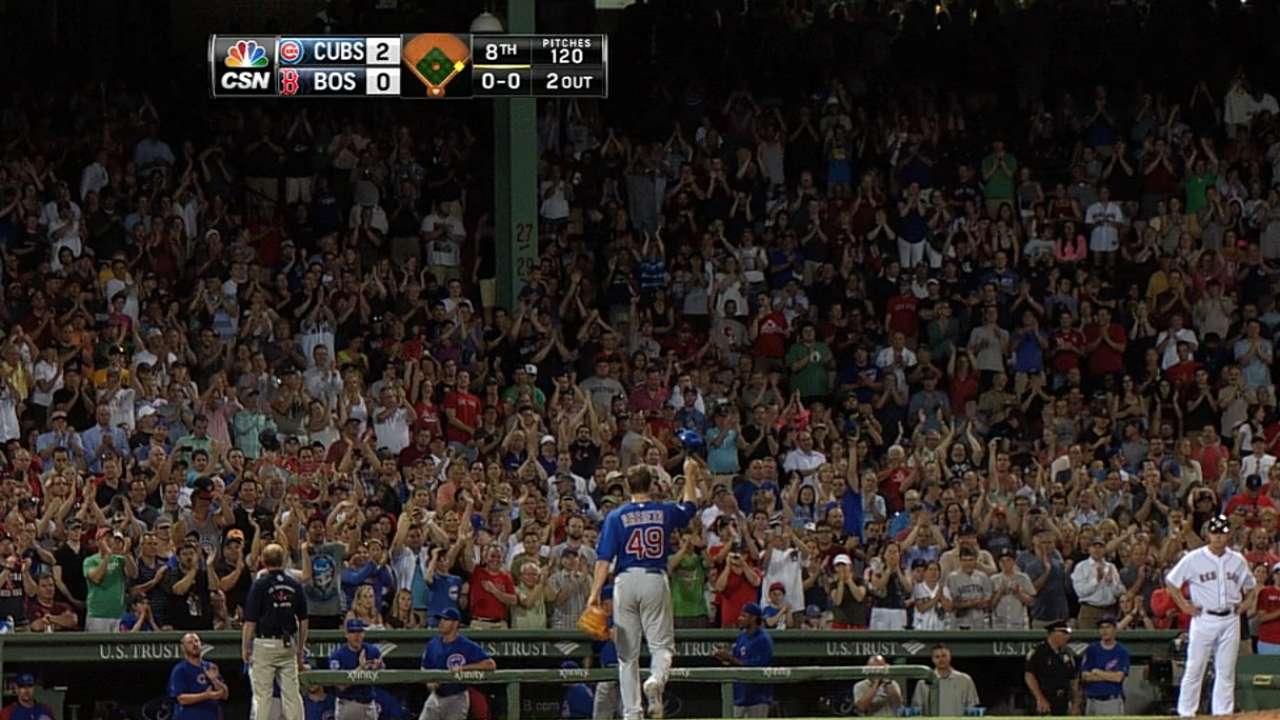 BOSTON -- In his last start, Jake Arrieta threw six perfect innings against the Reds. On Monday, Arrieta topped that and earned a rare ovation from the Fenway Park crowd.
Arrieta flirted with a no-hitter for 7 2/3 innings, striking out 10 and issuing one walk, as the Cubs posted a 2-0 Interleague victory over the Red Sox in front of 37,814.
"It's a special night," Arrieta said, "and special to do it in this ballpark."
Arrieta retired the first 13 batters he faced before Mike Napoli walked with one out in the fifth. Stephen Drew broke up Arrieta's no-hit bid with a clean single to right with two outs in the eighth on the 120th -- and last -- pitch by the right-hander.
"It was supposed to be down and away heater, and I got a little lazy and pulled it and left it middle-middle, and he put a pretty good swing on it -- he deserved it," Arrieta said of Drew's hit.
It was a career high in pitches for Arrieta, who had thrown 105 pitches in two games this year.
"We knew where he was at, and we knew how far he'd gone before. We were just going to continue to have conversations," manager Rick Renteria said.
Arrieta also was keeping an eye on the pitch count, which was posted on the video scoreboard.
"I was aware, but the stuff was still good and I felt strong throughout, so that was most important," Arrieta said.
How good?
"Everything -- he located everything," Boston's Dustin Pedroia said. "He's got great stuff. His cutter was down in the zone. His four-seam, he elevated it. He kept every pitch out of the zone. Three at-bats, I don't think I got one good pitch to hit. You've just got to tip your hat."
Arrieta was vying for the 14th no-hitter in Cubs history, and first since Carlos Zambrano shut down the Astros on Sept. 14, 2008, in a game played at Miller Park because of hurricane damage in Houston.
Arrieta entered the game 0-3 in six games (five starts) against Boston in his career, but that was when he pitched for the Orioles. This month with the Cubs, he now is 4-0 and has given up just four earned runs over 39 1/3 innings.
"He's found his routine, he trusts his stuff, he's matured as a pitcher," pitching coach Chris Bosio said. "He's had opportunity. Coming into Spring Training, he had some physical issues going on with his arm, and we backed him off and started over again. He's an intelligent pitcher with great stuff, works his [butt] off.
"He's very deserving of how he's been pitching."
Arrieta threw six perfect innings in his last start against the Reds. But in that last game, Arrieta had to run the bases in the Chicago sixth and lost the no-hit bid in the seventh. He admitted that not having to hit Monday helped him stay strong.
Arrieta had command of all his pitches, but his key pitch is a combo cutter and slider.
"It started out as a cutter, but I was able to kind of combine it with my slider and really into one pitch," he said after his last game. "Some people call it a cutter, some people call it a slider. It's a hard slider because of the depth that it has. If you go by technical terms, I would call it a slider."
Whatever it is, it worked.
The Red Sox have not been no-hit at Fenway Park since July 20, 1958, when the Tigers' Jim Bunning did so. The last pitcher to no-hit Boston was Bosio, who did so in 1993 with the Mariners.
The Cubs' defenders had the best seat to watch. There were no hit-saving plays or dramatic catches. It was as if Arrieta was playing catch with Welington Castillo.
"He was commanding all his pitches and throwing very easy," Renteria said. "His delivery is spot-on right now. It was very methodical, his approach to every hitter."
When Drew singled to right, off a 2-2 pitch, Renteria came out of the dugout and pulled his starter. Arrieta patted Castillo on the chest and tipped his cap to the Fenway Park, who gave him a nice ovation.
"Something like that in Fenway is pretty rare for an opposing team," Arrieta said of the fans' reaction. "I got some goose bumps there, and that's why you play the game is for moments like that. I'm very thankful to be a part of something like that and to get another win."
Nate Schierholtz gave Arrieta all the support he needed with a two-run home run off Jake Peavy in the fourth. With two outs, Castillo walked, and Schierholtz launched the first pitch to right for his fourth home run and first since June 18. Schierholtz entered the game 0-for-5 in his career against Peavy, and he had also doubled in the second.
The Cubs were careful with Arrieta when he reported this spring with tightness in his right shoulder.
"Fortunately for us, it's paid dividends, and he's pitched well," Renteria said.
Arrieta is the first Cubs pitcher since at least 1974 to carry a no-hitter through six innings in back to back starts. The last big league pitcher to do so was the Blue Jays' Dave Stieb, who did so in 1988.
Wednesday marks the one-year anniversary of when the Cubs acquired the right-hander from the Orioles. He's changed a lot over the years.
"I feel like I've grown so much in many areas," Arrieta said. "When I started playing this game, I was still a kid. I feel I'm a young man who is continuing to learn and grow as a dad, a husband, a player, a teammate, and those are all very important aspects of this game. I feel like combined with a pretty good work ethic and pretty good routine, those are results I can have from time to time."
Carrie Muskat is a reporter for MLB.com. She writes a blog, Muskat Ramblings, and you can follow her on Twitter @CarrieMuskat. This story was not subject to the approval of Major League Baseball or its clubs.