Ubaldo rides four homers to first home victory
Pearce hits pair of two-run blasts; Jimenez allows unearned run over 8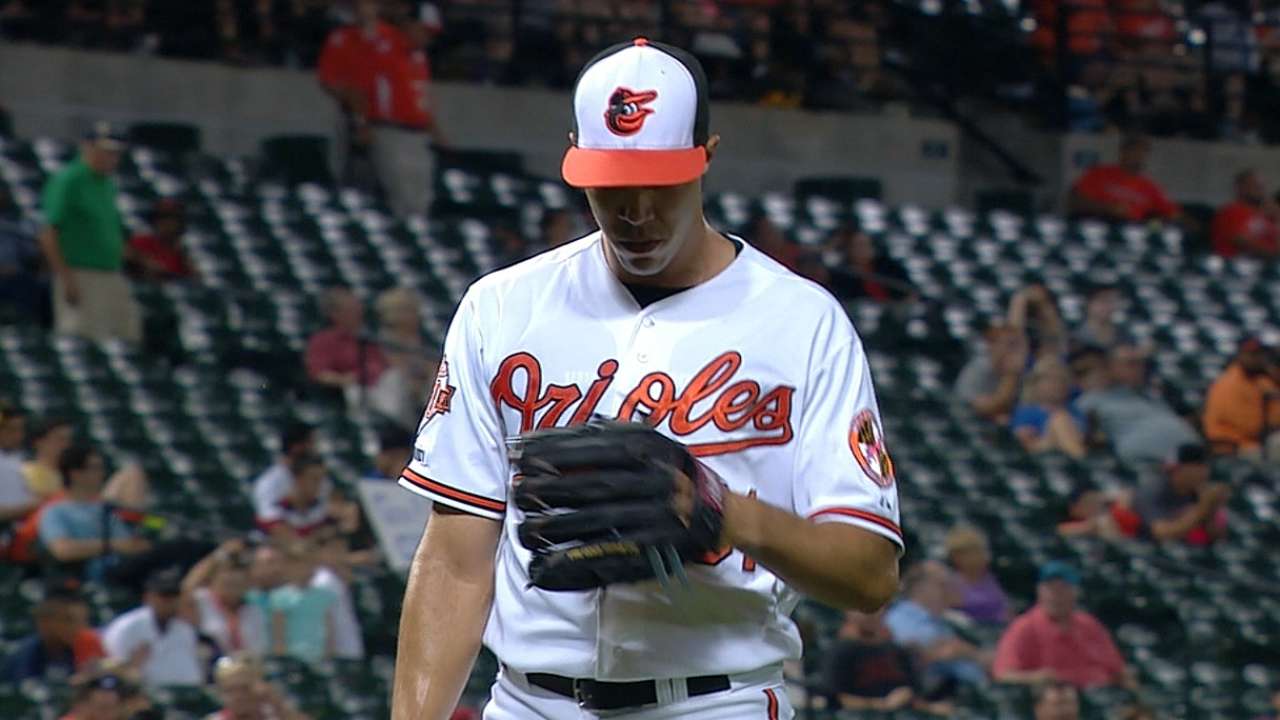 BALTIMORE -- No Manny? No problem.
The Orioles, playing a man down with Manny Machado serving the first of his five-game suspension, didn't look like they were missing much on Monday night. Backed by Steve Pearce's first career multi-homer game and a dominant eight-inning outing from Ubaldo Jimenez, the O's easily outdistanced the Rangers for a complete team win. Or as complete as one could be with a 24-man roster.
The series-opening 7-1 victory saw Jimenez exit to a standing ovation with the inconsistent right-hander finally clicking at the same time as the lineup for his first win in nine tries at Camden Yards.
It also saw the Orioles (43-39) move to within a game of the Blue Jays for first place in the American League East, evening their current 11-game homestand at 4-4.
"When you lose a guy like that, you got to find some way to do it," said Pearce, who continued his career year with a pair of two-run homers. "It's definitely good to see guys step up."
Jimenez took quite the leap, turning in a stellar outing that was his best since signing a four-year, $50 million deal with Baltimore this winter. He struck out seven and scattered four hits and a walk -- matching his season-low in free passes -- allowing only an unearned run on an errant throw from Chris Davis, filling in for Machado at third base.
"There's no doubt about it. I know it's been really tough for me in the first half, but I have a lot of confidence, a lot of faith, that things are going to change," said Jimenez, who was 0-6 with a 6.28 ERA at home entering Monday and improved to 3-8 with a 4.31 ERA on the season. "They changed before. So, I understand that. I always come in every day with a positive mind. That things are going to change."
Jimenez dominated a Rangers team that has lost 11 of its last 14 games, giving the O's a 3-1 season-series edge and a much-needed night off for most of the bullpen.
"We have very knowledgeable fans. They know how good he's capable of being," Orioles manager Buck Showalter said of Jimenez, who has exited his home mound several times to boos earlier in the year. "I heard David Cone one time outside my office in New York talking about fans responding negatively toward an outing. And he made a great statement I've always remembered and I've actually talked to Ubi about it, that everybody's waiting to embrace you. It's your responsibility to give them something to embrace you about. Especially here. They want you to do well.
"He's an extremely likable young man who cares and works hard. Never have to worry about him off the field. He's a great teammate, takes care of his family. So, you pull for him."
Pearce, who has been one of the Orioles' bright spots all season, turned in a four-RBI night to back Jimenez. He went deep both times off Rangers starter Joe Saunders, who allowed four homers overall, including a two-run shot in the first inning to put the O's ahead 2-0.
"You get into a comfort zone and you start to feel good, so I'm trying to ride it as long as possible, set the table for Adam [Jones] and [Nelson] Cruz," Pearce said of his hot stretch. "It's just good to spark the team."
One out later, Jones followed with a solo homer, his 15th on the year, to give the O's an early three-run cushion. Shortstop J.J. Hardy opened the second inning with another homer and Pearce went deep again with two outs in the fourth inning. Pearce, who has a career-high eight homers this season, is batting .366 with 11 multi-hit contests over his last 19 games.
"Stevie has the ability to get locked in for a long time because he has such a great approach and work habits, and he gives himself a chance to be successful," Showalter said. "He never had an at-bat that he's satisfied with other than getting a hit and hitting the ball hard. He holds himself to a high standard… I'd rather have to pull guys back than push them forward. He's a guy you don't ever have to push forward."
The rest was all Jimenez, who watched newly promoted Ramon Ramirez record the final three outs to seal a satisfying win.
"Once he got a six-run lead in the fourth inning, he just started pounding the strike zone," Rangers manager Ron Washington said of Jimenez. "He uses all of his pitches. He threw a good game."
David Wilson is an associate reporter for MLB.com. This story was not subject to the approval of Major League Baseball or its clubs.