Saunders allows four homers in loss to Orioles
Left-hander gives up seven runs on nine hits over five innings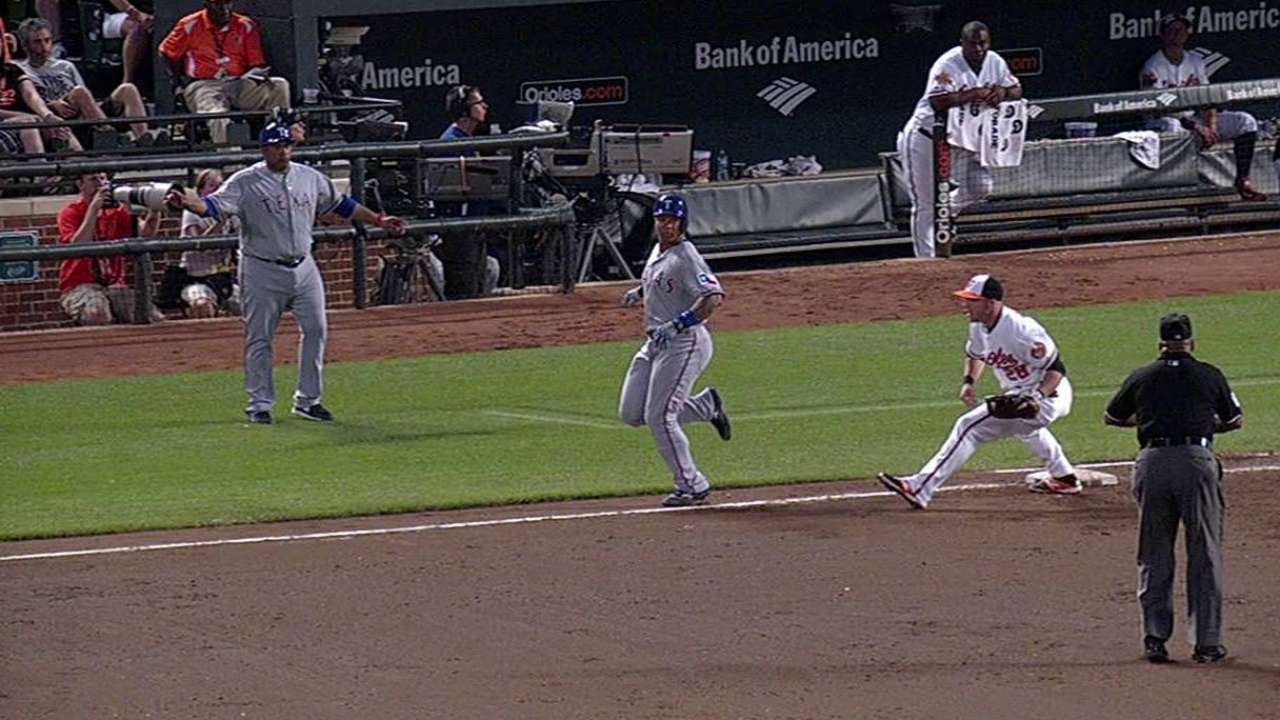 BALTIMORE -- Joe Saunders did not want to be interviewed on camera on Monday night. He was afraid he would say the wrong thing.
After three poor starts, the frustration is building.
"You can't imagine," Saunders said.
Saunders gave up four home runs for only the second time in his career and the Rangers opened a four-game series against the Orioles with a 7-1 loss on Monday night at Camden Yards.
Steve Pearce hit two of the home runs and the Rangers finished the month of June with a record of 9-17. It was their worst record for the month since going 7-20 in 2000. The last time the Rangers lost 17 games in a month was April 2008.
Saunders exited after five innings, having allowed seven runs on nine hits with two walks and two strikeouts. He has an 11.19 ERA in his last three starts and is 0-5 with a 6.13 ERA in eight starts on the season. The Rangers are 2-6 with him on the mound.
"This is a game where it's, 'What have you done for me lately,'" Saunders said. "I've done nothing. I've got to pick it up."
Manager Ron Washington was not interested in discussing Saunders' spot in the rotation. One reason is that the Rangers don't have many other choices for his spot until Derek Holland is ready to come off the disabled list -- and that's not going to happen any time soon.
"Right now, it's Joe," Washington said. "He didn't have much command and he missed his spots. As far as getting into a conversation about Joe and the future, I have nothing to say."
The only other time Saunders has given up four home runs in his career was on June 30, 2009, in a 9-5 loss to the Rangers in Arlington while he was with the Angels. This was the most home runs allowed by a Rangers starter since Colby Lewis gave up five to the Orioles in Baltimore on May 10, 2012.
Camden Yards can be particularly tough on a left-handed pitcher, and all four home runs went to left field. The left-center power alley is 364 feet, one of the shortest in the Majors, and the ball has a tendency to travel well during the summer in the Baltimore humidity.
But Saunders has found a way to win here in the past. He entered the game with a record of 6-2 and a 4.69 ERA in eight career starts. Opponents hit .342 off him in those eight starts, but he also got 5.81 runs of support per nine innings.
"I like pitching here," said Saunders, who is from Northern Virginia. "I always loved pitching here. I loved coming here as a kid, I loved coming here as a teenager."
The Rangers could not match the previous run support Saunders received in Camden Yards on Monday night. They managed just one unearned run on four hits in eight innings against Orioles starter Ubaldo Jimenez, who turned in his longest outing of the season. He walked one, struck out seven and held the Rangers to 0-for-6 with runners in scoring position. He was 0-6 with a 6.28 ERA at home before beating the Rangers.
"He pounded the zone all night and was aggressive with the first-pitch strikes," shortstop Elvis Andrus said. "We got down in counts quite a few times and it affected the way he threw. Everything he threw was on the corners and the bottom half of the strike zone."
Two of the home runs allowed by Saunders came in the first inning to give the Orioles a 3-0 lead. After Nick Markakis worked an eight-pitch walk to lead off the game, Pearce smashed an 0-1 fastball into the left-field seats to put the Orioles ahead. Nelson Cruz grounded out before Adam Jones hit his 15th home run of the season with a blast to left field.
J.J. Hardy also jumped on a fastball and hit into the left-field seats leading off the second inning to make it 4-0. Saunders pitched a scoreless third, but Pearce hit another two-run home run in the fourth. The Orioles added one more against Saunders in the fifth on a single by Hardy, a double by Jonathan Schoop and Caleb Joseph's sacrifice fly.
"The first home run to Pearce was a bad pitch," Saunders said. "It was just a bad pitch. The other pitches were decent pitches but I've got to get the ball down and get more ground balls. It's tough to see our guys battling. You try to pick them up and instead you put them in a hole. It's not fun. It's not fun for me, it's not fun for anybody."
T.R. Sullivan is a reporter for MLB.com. Read his blog, Postcards from Elysian Fields, and follow him on Twitter @Sullivan_Ranger. This story was not subject to the approval of Major League Baseball or its clubs.